Choose The Best Continuing Medical Education Platform For Your CME Activities
Healthcare professionals worldwide take an oath to offer the best possible patient care to those who depend on them.
The best way to ensure you're current on the best practices in your specialty area is to participate in continuing medical education courses.
Many healthcare providers and administrators turn to online classes to earn their CME credits, obtain new certifications, and ensure their knowledge and skills are current.
Online CME is a powerful tool. Not only does it have the ability to improve learning outcomes for medical professionals, but it allows them to access CME opportunities from anywhere without having to take time out of their busy schedules.
So you must learn how to build and deliver a great CME course for your target audience. To leverage everything CME courses offer, you must choose the best learning platform to implement your virtual continuing medical education activities.
Let's take a closer look at a CME learning platform, some features you need to look out for, and the top five LMS tools you can use to offer your CME programs.

What Is A CME Learning Platform?
CME stands for continuing medical education. It refers to educational activities physicians, nurses, and other healthcare professionals complete to earn CME credits. These credits go towards certification and licensure requirements.
According to ACCME, physicians, nurses, and other healthcare professionals have completed over 1.3 million hours of continuing medical education. This means there's a place for providers like you to provide high-quality CME.
A CME learning platform is an online learning management system that allows participants to access course content online, either entirely or in part. It simplifies eLearning by offering online courses, content, and tracking all in one place.
CME providers can leverage CME platforms to help streamline workflows, automate tracking, and provide participants with the best educational activities.
It's a great way to enhance your company's healthcare marketing to attract a younger generation of healthcare workers.
If you're in the market for a CME learning platform, we can help. Let's look at seven features every CME provider should look for in the right learning platform.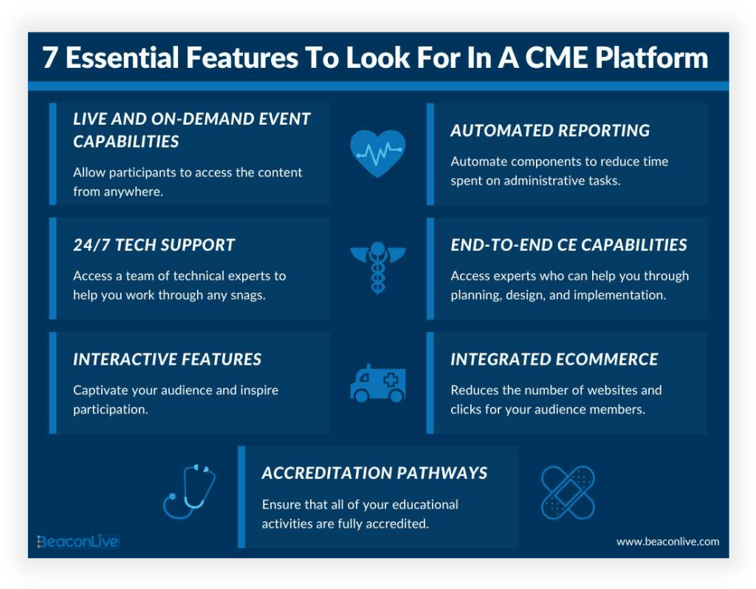 7 Essential Features To Look For In A CME Platform
eLearning is a relatively recent trend. Still, more and more professionals are turning to online course providers to earn professional development and continuing education credits.
You need a platform that can do it all to offer the most substantial CME courses available. From live meetings to automation for administrative tasks, the right platform can make or break your CME activities.
Let's look at the top seven features you can't live without.
1. Live AND On-Demand Event Capabilities
Live events, like webinars and webcasts, make great CME activities because they allow participants to access the content from anywhere.
This means they can join your CME webinar between shifts or during their lunch break to earn credits in their downtime.
Webinars and webcasts can be recorded and offered on-demand to interested parties who were unavailable to join live. This is a great way to stretch your investment and offer CME opportunities to anyone interested.
2.
Automated Reporting
One of the most stressful parts of hosting CME activities is tracking participation. The right CME learning platform will automate tasks.
From simple tasks like registration to more complex ones like tracking participation, choose an eLearning platform that will help automate components of your CME course and reduce time spent on administrative tasks.
An essential perk to look for is free certificate generation. This means your CME platform will automatically create certificates for your participants and send them via email. This will take a tedious task off your to-do list and free you up to tackle other projects.
3. 24/7 Tech Support
Whenever you use technology, there's always a chance something can go wrong. This is incredibly stressful when trying to provide CME courses to your target audience.
Look for a learning platform that offers 24/7 technical support to both your users and your team. It should be easily accessible from your LMS dashboard and allow you to find help when you need it.
This will prevent participants from clogging your inbox with tech questions and allow you access to a team of technical experts who can help you work through any snags on your end.
4. End-To-End CE Capabilities
As you design your CME course, having a team on your side can help take it to the next level. Choose a CME learning platform that offers end-to-end capabilities.
This means your LMS support team will be there for you from start to finish. The best platforms have experts who can help you make the right decisions during your CME activities' planning, design, and implementation stages.
End-to-end support will give you the tools you need to offer your audience the right continuing medical education courses that will attract even more participants.
5. Interactive Features
Educational activities should be engaging. And when you're offering virtual CME, holding your audience's attention can be challenging.
Your CME learning platform must offer features to captivate your audience and inspire participation. Here are some examples of which features work best for engaging your participants:
Breakout rooms

Live to poll

Chat capabilities

Social media integration

Integrated slide decks and multimedia
Check to see if the CME platform is mobile-friendly. Many physicians and healthcare professionals access CME activities on the go, so using their phones to earn credits is a huge perk.
6. Integrated eCommerce
If you want to monetize your virtual CME activities, you'll need an integrated eCommerce feature that allows participants to register and pay fees directly on your LMS.
This reduces the number of websites your audience members need to visit and the clicks they need to complete to register for your virtual CME courses.
It also allows you to establish another income stream for your brand as you expand your CME offerings.
Integrating eCommerce into your CME learning platform means you'll have fewer applications to juggle and can focus your efforts on other essential tasks.
7. Accreditation Pathways
For CME activities to count towards initial licensure and recertification, they must be approved by an accreditation council.
One of the main accrediting boards for CME is the Accreditation Council For Continuing Medical Education or ACCME. Without this accreditation, most licensing boards will not recognize the CME credits.
When choosing a CME learning platform, look for one that can help ensure that all your educational activities are fully accredited.
Choose one that will help you find the correct accreditation pathways and work with the appropriate organizations to help your courses get accredited.
Top Five CME Tools To Help Launch Your CME Courses
Now that you know what to look for in a high-quality CME learning platform, you may wonder which tools can do the job.
After all, you'll need the right learning platform with all the features required to make your CME activities meaningful, engaging, and highly sought after.
Let's look at the top five CME tools you can use to create a top-notch CME experience.
| | | | | | |
| --- | --- | --- | --- | --- | --- |
| | | | | | |
| Accreditation Pathways | ✅ | ❌ | ❌ | ✅ | ✅ |
| Integrated eCommerce | ✅ | ✅ | ✅ | ❌ | ✅ |
| Live and On-Demand Program Hosting | ✅ | ✅ | Cadmium Integration | ❌ | ❌ |
| 24/7 Tech Support | ✅ | ❌ | ✅ | ✅ | ✅ |
| Interactive Program Features | ✅ | ✅ | Cadmium Integration | ❌ | ❌ |
| Configurable Logic to Meet Advanced CE Requirements | ✅ | ❌ | ✅ | ✅ | ✅ |
| Automated Certificate Delivery | ✅ | ❌ | ✅ | ✅ | ✅ |
| Automated Reporting | ✅ | ✅ | ✅ | ✅ | ✅ |
Want to see the full platform feature comparison?
1. BeaconLive
From white-labeled content catalogs to engaging, interactive features, BeaconLive offers a wealth of benefits for both CME providers and eLearners.
Their platform is geared towards seamlessly delivering CME courses while eliminating hours spent on administrative tasks. BeaconLive has lots of experience building and providing content for medical professionals, so you can leverage their knowledge to design your best online course.
Not only that, they offer an in-house team of experts who are available to help during the production, delivery, and management stages of your continuing education virtual courses.
BeaconLive can also help you get your course accredited by the proper organizations, which boosts the chance of a successful CME activity.
Where BeaconLive shines is its integrated virtual program platform. Not only does their LMS offer all the bells and whistles that make eLearning engaging and meaningful, but they also allow providers to host live sessions for a scalable audience.
This means you can offer your CME course to a larger audience without worrying about meeting a maximum number of participants.
Additionally, their cloud-based solutions mean participants won't have to download plugins, which reduces the chance of tech errors during pivotal moments in your course.
2. Paradiso Solutions
Paradiso is a mid-size LMS that offers essential tools to help you launch your CME eLearning venture. And since they are Silicon Valley experts, their LMS software is a great choice.
Their team of coaches and IT consultants are well-versed in software technology and can help you find the solutions you are searching for.
Their LMS integrates with the most popular apps used in the eLearning community and offers a collection of free resources that users can leverage to help design their courses.
You'll need to look elsewhere if you're looking for an LMS that automates certificate delivery. But Paradiso does boast easy performance tracking that will make documenting participation a breeze.
3. Ethosce
Ethosce is a continuing education platform specializing in learning solutions. They offer an easy-to-use LMS that has intuitive management features.
Their features focus on keeping learners engaged before and after your CE program with discussion boards, networking opportunities, and follow-up surveys. Plus, the intuitive interface is great for users and CE providers.
Ethosce offers a variety of registration options, live meeting capabilities, and even self-service certificates, meaning clients can generate their own certificates at the end of their course.
This tool is great for delivering different types of CME credits and even provides certificate templates you can use for your CME activities.
4. Medtrainer
Medtrainer offers support to healthcare professionals looking for CME activities in three distinct categories: learning, credentialing, and compliance.
This customizable platform allows users to choose which courses they participate in, which cuts costs. The prebuilt compliance packages are a great option for CME providers who are new to the business and are unsure of the ins and outs of medical compliance.
Medtrainer offers enrollment tracking, incident reporting, and custom coursework designed by eLearning professionals.
You'll need to find an additional provider for live meetings since Medtrainer doesn't support large-scale virtual classes. But their learning service allows you access to automated tracking and reporting functionalities that let you see how your participants interact with the courses.
5. CME Tracker
CME Tracker offers software solutions that grow with your CME program. The company's learner self-service system and mobile-friendly design make it easy to access continuing medical education on the go.
The CME tool allows you to choose from an extensive list of features as you build your CME course. So you can add on the functionalities relevant to your audience without bombarding them with unessential features that bog down their dashboard.
CME Tracker can batch-load information so you can submit it to accrediting bodies. This streamlines the accreditation process and eliminates the need to gather data manually.
Choose BeaconLive As Your CME Learning Platform To Take Your Courses To The Next Level
If you're in the market for a continuing medical education learning platform, you need a one-stop solution that can lend a hand in the design process, streamline administrative workflow, and help you host engaging live meetings.
BeaconLive offers a fully customizable CME learning management system with the ability to handle all of your CME workflows. Their cloud-based solutions and in-house expert team will elevate your online courses and attract the right participants to grow your brand.
Not only can you expect end-to-end support for your CME courses, but BeaconLive can also help connect you with the right accrediting bodies to ensure your continuing medical education activities are fully accredited. This ensures you are offering the highest-quality CME possible.
Contact us today for more information on how our state-of-the-art LMS and virtual meeting platform combine to offer a powerful CME learning platform.
References
ACCME Data Report Shows Steady Growth in Accredited Continuing Medical Education–2019. (2020, July 31). Accreditation Council for Continuing Medical Education. https://www.accme.org/news-releases/accme-data-report-shows-steady-growth-accredited-continuing-medical-education-2019
---