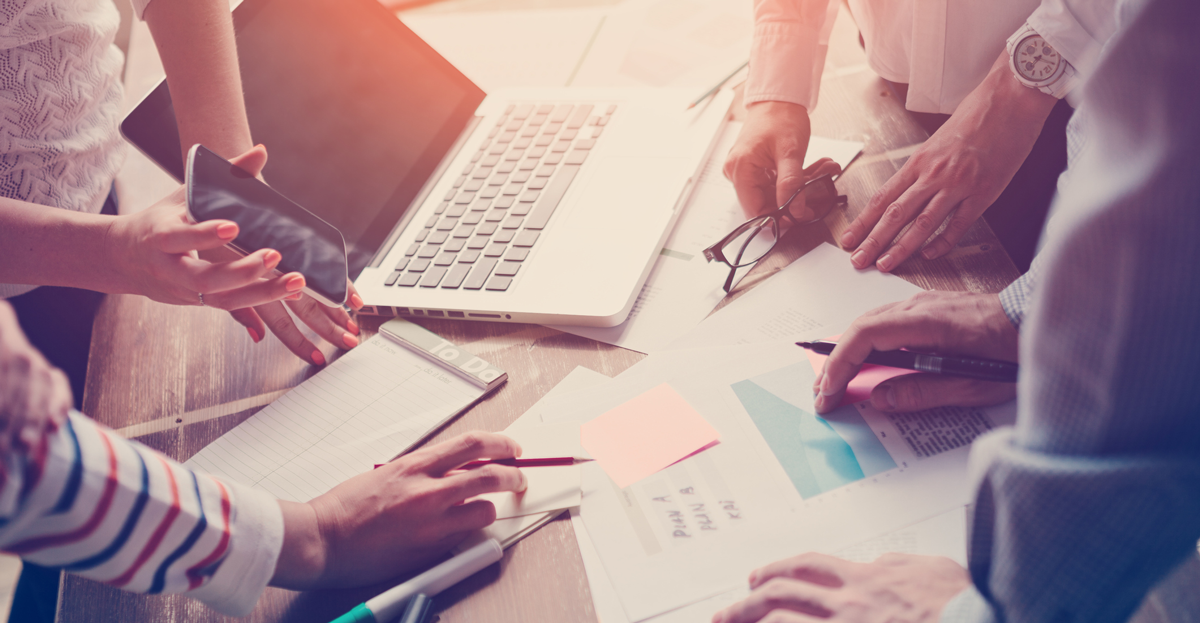 Marketing in Continuing Education today requires so much more than designing a nice brochure and creating a sharp-looking website. The modern eLearner, particularly in the healthcare field, is a savvy consumer with high expectations. And in the world of CME, the competition is getting tougher every year. Therefore, it's critical that your organization is working hard to not only stay in front of prospects and convert them into customers but also to retain them once they've completed a purchase.
As a CME provider, you're already likely marketing your online courses. But there are a number of CME marketing techniques you may not have tried yet. Here is a shortlist of tactics that will help your organization increase its visibility in the marketplace, generate new leads, and ultimately attract and convert sales-ready consumers into loyal customers. You might be surprised at the results you'll achieve!


1. Google Retargeting
Have you ever visited a website to peruse the latest product inventory – and then later, you visit another site and you see an ad show up for the first site? That's called Google retargeting! And if your organization isn't using it, you're missing out on opportunities to generate brand awareness, audience engagement, conversions and revenue. In fact, website visitors who are targeted with display ads are 70% more likely to convert on your website!
Here's how it works: Google (as well as Bing and Facebook) will tag a visitor who comes to your website and continue to show them your company's ads—for the next 30-90 days—acting as a reminder that your CME courses and other products are readily available. This is particularly helpful because many eLearning customers shop around before they make a final purchasing decision, so retargeting keeps your business top-of-mind when they're finally ready to buy.
Paying for clicks on Google can get a little pricey – but retargeting is a much more affordable solution than a typical PPC campaign if your CME business or organization is considering targeted paid advertising. We're talking less than $1 per click in many cases. And the best part is that you can specify which pages on your site trigger the retargeting ads. If you're looking to produce quick results and stretch your marketing dollars, retargeting is a viable option.


2. Automated Cross-Selling
Even after a sale, there should always be a path for the customer to continue through the buyer's journey. If someone paid to attend one of your CME courses online or purchased an OnDemand replay, why not serve up relevant content to them afterwards? If your marketing or sales team members are doing their jobs right, they're probably sending emails to specific segments of your customer database that promote upcoming courses and other opportunities to earn CE credits. But what they may not have implemented is the automation of these processes.
A first step would be to outline a logical series of related courses that a customer might be interested in if they've already made a purchase. Once you have this completed, you can set up "smart content" on your website that caters to each customer's unique needs, as well as personalized email marketing workflows.
Smart Calls-to-Action: If your website is built on a platform that "cookies" visitors as they come along (there are also a variety of Word Press plug-ins to help you do this), you can replace a Call-to-Action image, button, ad, etc. that a customer or returning lead has previously seen with another that presents a clear next step in his or her curriculum.
Segmented lead nurturing campaigns: It's critical that your customers are not just receiving blanket emails that end up in everyone else's inbox, too. Your customers want information that aligns with their interests. If they signed up for and/or highly rated a specific class, it's much more effective to funnel each customer into a targeted and automated workflow where they receive a lineup of emails (at reasonable intervals, of course) promoting a similarly themed class or another one taught by the same speaker.
3. LinkedIn Groups
Do a quick search of Groups on LinkedIn related to eLearning, continuing medical education or healthcare, and you'll find there are plenty out there waiting to be tapped into. Do your research and find a couple of them that are best suited to the type of CME content you're producing – and then get involved or request to join! Just be sure you review any relevant rules or guidelines you should be adhering to as a member of the group – some are more strict than others.
The key here is to truly be a part of the conversation. Or to start one! Pose questions. Answer questions asked by members of the group. Share articles from third-party sources. Demonstrate that you are a reliable resource and industry expert. And THEN—once you've established some credibility—promote something to the audience that they would find valuable.
Here's why it's critical that you avoid "shameless plugs" at all costs: If your content is considered to be too "spammy" by whomever is moderating or actively participating in the group, you may get "SWAMed" by them. LinkedIn's SWAM (Site Wide Automatic Moderation) occurs when a member of a LinkedIn Group is flagged in one group and subsequently blocked from it. The compounded consequence is that the user is also automatically marked for moderation in all other groups for which they are a member. Yikes! So be sure you are really engaging with people – and not just joining simply to endorse your course catalog.


4. Other Social Media
LinkedIn is a great social site to promote your content, whether it be in Groups, through paid advertising and sponsored content, or organically through the newsfeed. That said, other social channels provide ample opportunity to uniquely market your CME programming, as well.
First, to accumulate followers on any platform, you can't solely post about your own organization. It just doesn't work. Why? Because people don't want to only hear about you! Abide by the 60-30-10 rule, where 60% of your content is third-party content that relates to your industry, 30% is non-promotional content (perhaps a good mix of trivia, team photos, quotes from CME experts and any purely educational content you've published on your site), and the remaining 10% is dedicated to promoting courses, discounts and other offerings.
Here are a few other ideas to leverage social media marketing techniques for CME:
Create a Facebook Group: If you are marketing a specific set of CE courses, it may be a good idea to create a private Facebook Group for the instructor and any interested participants. This would be a great place for students to interact with the instructor, ask questions outside of class, and post additional resources that are not a part of the official syllabus.
Use Google Hangouts for Office Hours: Similar to setting up a Facebook Group (but requiring less of a commitment), advertise an "Office Hours" session where CME course participants can chat online with the instructor after reviewing and digesting the material. Having this Office Hours option personalizes the user experience and can help retain existing customers.
Get visual on Pinterest and Instagram: Pin educational resources that have an aesthetic flair (an industry infographic or interactive eBook, for example) to your CME organization's Pinterest account. Or post introductory video clips to course material, "hello" or "thank you" videos from instructors, or customer testimonials on Instagram! Your followers will be happy to see imagery instead of text from time to time – and social is an easy and inexpensive way to make this happen.
5. Loyalty Programs
Have you considered building out a loyalty program for your existing customers? A customer loyalty program is an easy way to increase customer retention. When one of your end users is given additional value through a rewards program or points system (for buying from you), the likelihood they'll go to another CME provider for their next purchase is a lot smaller.
Offer up a discount to loyal customers – or allocate points to them for registering by an early-bird date, taking two classes in a row, referring another customer to your program, and/or writing a review. You could even offer a subscription of unlimited Continuing Education offerings for a full year. Studies show that acquiring a new customer is actually 4 times more expensive than upselling to a current customer, so it's important that you are marketing to your current customers in order to grow revenue in addition to maintaining it.


6. Blogging
Publishing blog articles isn't just for consumer brands and marketing agencies. Not only is a blog on your website a great way to showcase your eLearning industry expertise, it's an excellent trust-building mechanism for prospects. Consider your blog a free resource for both potential and existing customers that will boost engagement with your website and compel healthcare professionals to sign up for more classes.
If you're not quite convinced, know that 47% of buyers consume 3-5 pieces of content before making a purchasing decision! (Source: HubSpot) And as an added bonus, a blog helps you get found in the search engine results pages. How exactly? Google regularly crawls websites for fresh content that demonstrates authority on a relevant topic. There are numerous factors incorporated into these algorithms, but Tech Client reports that featuring a blog as a key part of your website has been proven to give companies a 434% better chance of being ranked highly on search engines.
Now, you may be wondering… what do I write about? The answer is simple: write about anything that your target customers would find interesting or helpful! If you're still stumped, a great place to start would be answering FAQs. What are the questions you, your sales team or your operations team often encounter during conversations with customers and prospects? These answers make for great blog fodder. Are there emerging technologies in healthcare or medical education you'd like to highlight? Discussing your take on a hot-button industry topic will enhance your credibility. You can even take a more direct approach to ideation and survey customers via email to find out what they'd like to read.
Again, what you shouldn't write about is why your CME program is better than the next one. That's what the rest of your website is for! With a blog, it's about "showing" your audience, not "telling" them.


7. Co-Marketing
You know what they say… two heads are better than one. To get double the visibility and potential conversion opportunities, it's a great idea to leverage your connections to colleagues in related fields. Perhaps if you market your partner's new medical technology product via social media, they'll promote your latest CME offering. Or, team up with a science museum and provide discount codes to those who buy a membership.
Most importantly, ask your instructors to market their presentations via social media, newsletters or whatever means they typically communicate with their own audiences. As industry influencers, their words carry a lot of weight – and can certainly drive traffic to your website.

If some of these marketing tactics resonate with you, test them out on your audience! If you commit to any of these seven suggestions, you'll likely see great improvements in your traffic, leads and sales over time.
Have any other CME marketing techniques that get the job done? Let us know in the comments below!