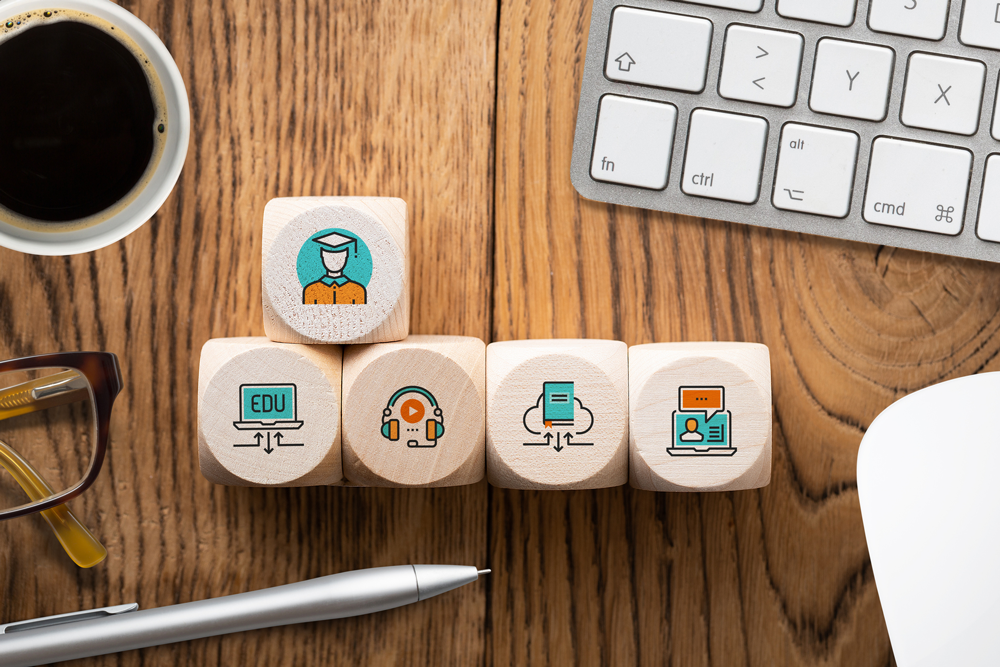 Recent legal industry survey results show that more than half of attorneys prefer to complete CLE online rather than through live presentations. Online CLE is convenient, it's cost-effective, and it's only going to become more prevalent. But unless your firm partners with a particular bar association or organization, selecting the right CLE provider can feel like taking a shot in the dark.
Unfortunately, not all mandatory CLE courses are going to deliver the goods, so it's important to have ways of weeding out providers that aren't going to give you the ROI you're looking for. The following virtual CLE components can help you evaluate your options. Let's take a look at five qualities to look for in a topnotch online CLE provider!


1. On-Demand Content
CLE content needs to be delivered in a learner-friendly format. And these days, the majority of CLE program participants prefer to learn online. Because not every course fits in with the demanding schedules many attorneys have, the availability of on-demand content is that much more important. While some days can be more accommodating than others, as a professional in the legal industry, it's a good idea to keep an eye out for on-demand CLE that still meets your CLE credit requirements.
You'll find that a number of state bar associations and provincial law societies employ on-demand catalogs— some including more beneficial features than others. For example, some associations leverage a platform that includes an online library of your content, categories and groups of content that tie together a participant's learning experience, quizzes to test your recollection, and access to a personal classroom or dashboard filled with customized on-demand programs, credit history, subscriptions, purchase records and more. We're obviously partial to our robust Beacon360 platform many best-in-class providers utilize for CLE delivery, but the point is that the system they use should create a seamless experience for learners, where they have access to everything they need in one convenient location.


2. Automated Certificate Delivery
Speaking of having access to everything you need in a single place, automated certificate delivery is a huge plus when it comes to CLE program value-adds. If you spent hours working towards completing your state or provincial CLE requirements, don't you deserve to have the proof in hand as soon as possible? If your Continuing Legal Education provider leverages a platform that allows end users to track their own CLE credits, purchase new events, and obtain certificates of completion in real-time, you're in the right place. What's more, simple tasks like tracking and verifying participation and administering and grading exams is also going to streamline the processes you go through to complete your CLE requirements.


3. Courses Relevant to Your Practice
Working in the legal industry, your time is precious—and your goal is ultimately to take courses that are relevant to you and your practice, is it not? After all, the purpose of Continuing Legal Education is to help you stay current with respect to the legal changes that impact your clientele and your business. While location is quickly becoming a non-factor due to the rise of virtual events and price isn't as important as it used to be as CLE becomes increasingly affordable, it's important that you look for relevant content that truly sparks your interest.
If your CLE provider is on their A-game, their website will offer a wide variety of content. This content should also include courses that help you earn specialty credits (ethics, mental health, professionalism or diversity and inclusion), as most states and provinces require completing this type of CLE. If your provider isn't offering courses that incorporate what's happening now in the industry—new policies, strategies, reports, etc.—and what is predicted to happen in the near future, they are doing you a disservice. When perusing your online options, consider this: how is the course going to enhance your services and satisfy your clients' needs? Hint: a clear, compelling CLE course description right on the website can help you figure that out!


4. Credible and Diverse Speakers
A CLE program's credibility is largely dependent on the quality of the instruction. And high-quality instruction requires speakers who are qualified by their education and experience. In a nutshell, the person teaching a CLE course should have expertise in the subject matter on which they are presenting. How else can he or she provide an impactful learning experience for legal professionals? This may seem like a no-brainer, but you'd be surprised how many CLE courses out there are taught by people who aren't particularly skilled in the area they're covering in class. An easy way to determine if your CLE program of interest is led by qualified industry experts is to find out who the speaker(s) is/are and do a little research on LinkedIn.
In addition to seeking out a credible program, survey data consistently shows that more and more attorneys are actively seeking out courses taught by diverse speakers. CLE providers can certainly benefit from expanding their faculty to include not only more presenters from diverse racial backgrounds but also from different parts of the legal community (small practice vs. large firm, plaintiff vs. defense, etc.) Attending a Continuing Legal Education program influenced by a wide variety of perspectives is only going to help your work as a legal professional.
One more thing to look for in a great CLE program (with respect to faculty)? It's an advantage for learners if access is provided to the speakers for a period of time after their course material has been presented. Even if this takes place via Slack, Skype, Zoom or some other form of "digital office hours", having an opportunity for Q&A outside of the limited time the virtual event offers is very valuable to CLE participants.


5. Data Protection and Security
If an organization happens to be charging for any product or service online, including Continuing Legal Education, the protection of personal and financial data needs to be a chief priority. With the enactment of the GDPR in the European Union, in addition to stricter information privacy laws being rolled out in Canada and several states across the US, the topic of data privacy and protection is under a microscope like never before. And many consumers from all industries are much more wary of websites that do not comply with these new standards—including the practice of sending website visitors marketing communications without their explicit permission.
In fact, simply having a website that isn't SSL enabled sets off a big red flag to both end users and search engines. Given that 77% of website visitors worry about their personal information being intercepted or misused online and 84% say they would abandon a purchase if they knew their data was going to be processed via an unsecured connection, website security is an absolute must-have in today's digital world. While you might be hard-pressed to find popular CLE providers without that extra 's' following the 'http' in their website URLs, a number of these organizations have not yet implemented all of the increasingly important data privacy and protection best practices and technical set-up. If you're looking for a new CLE resource, topnotch providers can currently differentiate themselves in this way.

Those of you who work in the legal industry—from both the CLE delivery and CLE consumption sides—we'd love to hear from you! What matters most to you in a CLE platform? Feel free to comment below!