Make Sure Your Continuing Legal Education Course Provider Is At The Head Of The Pack
The legal profession is always changing. This means that lawyers demand CLE that is high-quality and accessible on a busy schedule.
Online CLE is convenient, it's cost-effective, and it's only going to become more prevalent in the years to come. But unless your firm partners with a particular bar association or organization, selecting the right CLE provider can feel like taking a shot in the dark.
Unfortunately, not all mandatory CLE courses are going to deliver the goods, so it's important to have ways of weeding out providers that aren't going to give you the ROI you're looking for.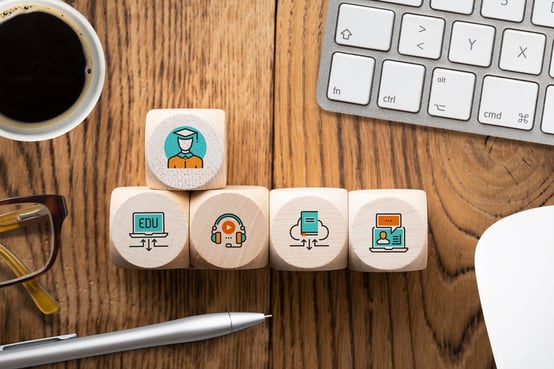 The Importance Of Continuing Legal Education Courses
Your law education doesn't end once you pass the bar. Attorneys must provide evidence that they completed continuing legal education, or CLE, credits to show that they are staying on top of the information they need to provide accurate legal counseling to their clients.
Whether you are fresh out of law school or already established in a well-known law-firm, you need accredited CLE for a variety of reasons.
Career Direction: New attorneys will be able to see an overview of different fields of law in which they can practice. This will help you determine your career trajectory so you can practice in an area you are passionate about.

Networking Opportunities: When you attend CLE seminars, you are instantly connected with other legal professionals. This allows you to put names to faces, make new connections, and build your professional network.

Insight To How Firms Run: You may know how to work cases, but are you confident in how a law practice runs from day to day? CLE gives you insight into how you can ensure your business runs efficiently.

Knowledge On Working Tough Cases: Since lawyers at CLE events surround you, there will be an elimination of bias when you ask for advice on a difficult or tricky case. Seasoned professionals will be able to give you a fresh perspective.
CLE courses give you new ideas and information to stay updated on current industry issues and legal trends. And in the modern world, it's easier than ever to find valuable CLE opportunities that fit into your busy schedule.
5 Signs Your CLE Provider Is High-Quality
Virtual CLE courses offer similar benefits to lawyers looking to improve their skills. It's easy to determine that in-person CLE is valuable: it's typically hosted by a law institute or promoted in a reliable law journal.
Not alI CLE courses are created equal. But how can you tell if your virtual CLE is worthy of your time? First, you need to know the tell-tale signs that your CLE provider is top-notch.
Let's take a look at five qualities to look for in a high-quality online CLE provider and how you can evaluate their services to ensure they will meet your needs.
1. OnDemand Content
CLE content needs to be delivered in a learner-friendly format. And these days, the majority of CLE program participants prefer to learn online.
Because not every course fits in with the demanding schedules many attorneys have, the availability of OnDemand content is that much more important. As a professional in the legal industry, it's a good idea to keep an eye out for OnDemand CLE that still meets your CLE credit requirements.
You'll find that several state bar associations and provincial law societies employ OnDemand catalogs with unlimited access to past webinars, webcasts, and course materials.
Here are some examples of content to look out for when choosing a high-quality CLE provider.
Online Media Library

Online Registration

Practice Areas

Grouped Content

Quizzes

Access To A Personal Dashboard
The point is that the CLE provider's system should create a seamless experience for learners attending online courses, where they have access to everything they need in one convenient location.
2. Automated Certificate Delivery
Speaking of having access to everything you need in a single place, automated certificate delivery is a massive plus for CLE program value-adds.
If you spent hours working towards completing your state or provincial CLE requirements, don't you deserve to have the proof as soon as possible?
Suppose your Continuing Legal Education provider leverages a platform that allows end-users to track their CLE credits, purchase new events, and obtain certificates of completion in real-time.
You want to make sure your technology provider has advanced platform features, including:
Chatrooms, Live Polling, Questionnaires For Audience Interaction

Integrated APIs

White-Label Capabilities To Display Sponsor & Exhibitor Branding

Detailed Data With Custom Reporting

Mobile-Friendly Platform

CART & Closed Captioning
What's more, simple tasks like tracking and verifying participation and administering and grading exams will also streamline the processes you go through to complete your CLE requirements.
3. Courses Relevant To Your Practice
Working in the legal industry, your time is precious—and your goal is ultimately to take courses that are relevant to you and your practice. After all, the purpose of Continuing Legal Education is to help you stay current concerning the legal changes that impact your clientele and your business.
While location is quickly becoming a non-factor due to the rise of virtual events and reasonable prices for CLE, it's essential that you look for relevant content that genuinely sparks your interest.
If your CLE provider is on their A-game, their website will offer a wide variety of content. This content should also include courses that help you earn specialty credits (ethics, mental health, professionalism, or diversity and inclusion), as most states and provinces require completing this type of CLE.
When perusing your online options, consider this: How will the course enhance your services and satisfy your clients' needs? Hint: a clear, compelling CLE course description right on the website can help you figure that out!
4. Credible and Diverse Speakers
A CLE program's credibility is mainly dependent on the quality of the instruction. And high-quality instruction requires speakers who are qualified by their education and experience.
Essentially, the person teaching a CLE course should have expertise in the subject matter they are presenting. How else can they provide an impactful learning experience for legal professionals?
This may seem like a no-brainer, but you'd be surprised how many CLE courses out there are taught by people who aren't skilled in the area they're covering in class.
An easy way to determine if qualified industry experts lead your CLE program of interest is to find out who the speaker(s) is/are and do a little research on LinkedIn.
5. Data Protection and Security
If an organization happens to be charging for any product or service online, including Continuing Legal Education, personal and financial data protection needs to be a chief priority.
With the enactment of the GDPR in the European Union, in addition to stricter information privacy laws being rolled out in Canada and several states across the US, the topic of data privacy and protection is under a microscope like never before.
And many consumers from all industries are wary of websites that do not comply with these new standards—including the practice of sending website visitors marketing communications without their explicit permission.
Simply having a website that isn't SSL enabled sets off a big red flag to both end-users and search engines. Given that 77% of website visitors worry about their personal information being intercepted or misused online.
Choose A High-Quality Continuing Legal Education Provider To Earn CLE Credits
No matter where you are in your law career, choosing a top-notch CLE provider is crucial to ensure you are receiving accurate information through an accredited online course.
If you're looking to design and implement your own CLE online courses, BeaconLive can help. Our workflow systems and LMS will improve, simplify, and revolutionize your CLE workflow from production to certificate delivery.
Contact us today for more information on how our high-level LMS capabilities can improve your CLE online courses.
---