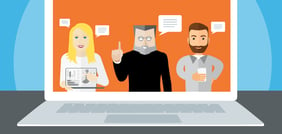 Today's technology industry consumer wants to be highly educated and thoroughly informed before making any meaningful purchase. Consequently, without a product demo, the probability of salespeople acquiring a new client is slim to none.
That's why delivering an informative (and memorable) product demo is more important now than ever. This session often serves as the last opportunity to show a prospective client that your product or service is worth their time and money—making it the ultimate 'make or break' moment in your customer/sales funnel. Nail your next interactive product demo delivery and secure that big lead with the following tips:
1. Research your prospective client and understand where they are in the buyer's journey. When you map the buyer's journey from their point of view, you can make a better assessment of when to offer a product demo and what type of information you should emphasize.

2. Make it as relevant and personal as possible. It's essential to develop an understanding of your prospect's environment, processes, goals and challenges. Then, you can create a playbook of messaging sound bites, content to provide, and ultimately, potential presentations to deliver. A great one would open with: "Before I jump in, let me play back what I believe to be your current process. Based on what I heard, I believe we can improve X. Let me show you a couple things that will help you understand how we can help." This sort of language makes it clear that you understand where they are coming from, what their pain points are, and how to solve the issues at hand – which is exactly what they want to hear!

3. Rely on proper training more than a script. The starting point is structured training, including role-plays based on the anticipated opening phase of the conversation. Then, managers need to listen and watch their reps conduct their demos and provide coaching. Strong sales people deliver great presentations because they know what they are trying to achieve; when demos are memorized from a script, this doesn't seem like the case. Scripts are okay, but they aren't as effective as a sales person who knows exactly where they want the viewer to be afterwards – and that takes proper training.

4. Focus on what really matters to them. Walking the viewer through the entire process can be painful – for everyone. Rather than boring your audience with painstaking details, focus on the big points. Think about what your prospects really want to learn and cut to the chase. They'll appreciate it and it will be more concise, helpful and enjoyable.
The demo is the part where everything comes together – or falls apart. That's why it's so important to get it right. Take the time to prep, understand your prospect, and tie your product back to their needs. This way, you'll have a realistic likelihood of closing the deal and having your audience walk away feeling like that was a great use of their hour.