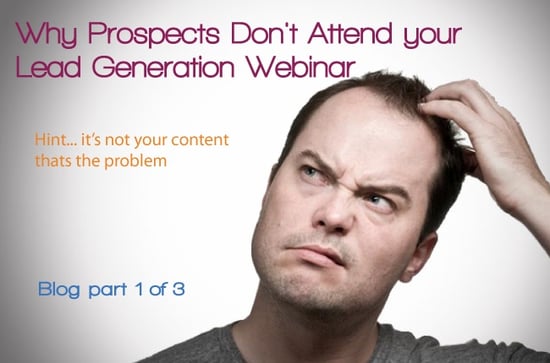 Does this sound familiar? You build a great webinar or on site event, and promoted the heck out of it, but you only reach 30% of your registration goal, and only expect 50% to attend the event. What happened? We have created a blog series that will explain why prospects don't attend your lead generation event, and deliver a solution or two on how to promote a webinar for future success.
While many of the reasons may be something beyond your control, there are several things that marketers do to promote a lead generation event that will ensure that people will attend your event. In this blog, we'll describe the scenario of why you might be lacking attendees, and suggestions for auditing your event plans to ensure you don't lose even more prospects for your event.
Scenario #1: You're promoting it to the wrong people.
Who is the right audience for your event (or product/service)? Are you sure? While the final decision maker may be the CEO, its often the marketing coordinator who do the initial research to source and narrow down the options for the CEO to later examine. And while the CEO may approve the final purchase or subscription, its often the IT, Marketing or Operations department who have to use your product/service/widget on a daily basis, so their opinions matter.
Consider tailoring your content (and registration) to the first point of contact within the company. For Demand Gen purposes, a manager, coordinator, or assistant is easier to get a hold of than a C-suite, VP or director.

To get a better idea of who your prospect really is, take a look at your registration list, or the day-to-day users of your service. What are the job titles of the what you expected? If they are, then great job finding the correct audience for your product. If the titles are different, consider researching what their job function is, and how you can make their day in the office run a little smoother. But don't forget the C-suite team, they are another persona, and deserve a completely different message.
Scenario #2:

You didn't clearly identify the benefits.

This is one of the most common mistakes made when promoting a demand generation webinar. Adding a bio to the reputable presenter is great, but if you waste space on the registration page talking about all your company can do, then you are missing the boat to reach an interested audience. People are busy and their time is nearly worth more than money. You have to provide them with a solution that solves a they already have. And you need to personalize the content to cater to their needs, not your need to promote your product (which why its important to know the persona). Here are some suggestions on how to create content that your persona will want:
Sometimes the best lead generation webinars are the ones that have absolutely nothing to do with your business at all. The content needs to be about your personas business needs. Providing them tips on how to write a better blog, or how to work with difficult personalities in the office might be irrelevant to your company, but if it a problem your prospect is dealing with, then you are providing a solution. Does this sound counter intuitive for your 'Lead Gen' event? Well, its not. If you provide valuable content for your prospects, they will see you as a valuable resource, and trust you when they receive an email or a sales team member calls them.

You have to make the event intriguing enough to garner their attention in the first place. Don't let your event registration page scream "webemercial", especially for lead generation webinar. Don't forget, a registrant may convert into an attendee, but they can drop off the webinar at anytime. Use their time wisely by providing them with the information they want first, then you can deliver a quick pitch for your company at the end.

Don't forget to provide what the key takeaways for the audience would be. Each takeaway should answer a problem for which they are seeking a solution. Providing 3 or 4 takeaways is sufficient enough for an hour long program. If you add more, you the audience might assume that you won't go in-depth into each topic.

What else do you have to share with your audience? Take advantage of your captive audience and your webinar platforms tools. Most webinar platforms have a handouts section for the attendee to download items. Let the registrant know that upon signing up for the event, they can have access to the recording of the event, a copy of the PPT slide deck, and any relevant white papers you may have. This is a great way to move the registrant through your sales funnel
---