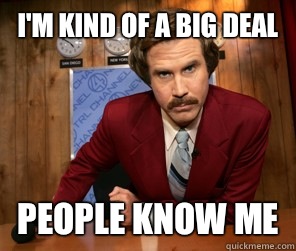 Presenters are not all created equal! Seems obvious right? But it seems that as marketers, we get caught up on selecting a Big Name Presenter and rely on their reputation to draw in the audience. But is this the best solution to filling your event seats?


Who is the Big Name Presenter?
We all know them, and have likely attended a webinar presented by them. These are the thought-leaders in your industry that you want associated with your event. It makes sense; Big Name equals Big Email list and Big Following. You're sure that your webinar attendance rate will be through the roof with this presenter. Except its not.


What Happened With the Big Name Presenter?
Big Name Presenter delivered a webinar last week, and the week before that. They recently contributed to an eBook, write a blog every other day, and they're active on social media. Your prospective attendee is probably thinking, 'if I miss this one, I can always catch the next one.'


How Do You Beat the Big Name Presenters Syndrome?
Sure, having a reputation is bound to boost registrations, a bit. But if you want to offer your attendees quality content that they cannot find elsewhere, ask your presenter to provide some exclusive research or content for your audience only. Differentiate your event by promoting the exclusivity of that content.


How to Work With a Big Name Presenter?
Often, as a marketer, we get excited over the reputation of the presenter, and forget to go over the details of co-promotion with them. It's important for all presenters, to help promote the event to their followers, connections and email lists. As a Marketer, compile a packet of links, landing pages and images to make it easy for the presenter to promote their participation within the event. Work with the presenter to write a pre-event 'interview style' blog to tease the content and to give credibility to the presenter.

And don't forget to make sure the presenter does a tech-run in your web room. While most webinar platforms have similar tools, you want to make sure the presenter knows where to find them. You can also ask the presenter to write a follow up blog answering the questions submitted during the Q&A session he/she didn't have time for. Remember, when you partner with a presenter, you are partnering with them, not with their name.


Concerned about your presenter not showing up for showtime? We've compiled 6 unfortunate virtual events and how to de-escalate.
Perhaps a Big Name Presenter is Not For You
Take a chance and hire an unknown presenter. Find someone who has proven their knowledge in the industry (perhaps a blogger who has never presented a webinar before) and ask them to do a couple tech runs with an Event Producer prior to the event to get use to the webinar format and provide him/her with a resource of tips and tricks for delivering virtual events. When it comes to promotions, it's likely that someone trying to build their reputation will work harder to promote their event's success than someone who is already too busy with their own work.
Interested in learning more about selecting a presenter and building your webinar? Check out our latest OnDemand webinar, The Good, the Bad and the Ugly of Marketing Webinars.
---