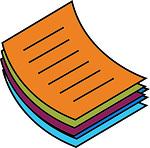 Whether you are delivering a Demand Generation event or a Continuing Education webinar, your webinar goals should always include increasing the attendee's content retention and branding your organization. Branding your login and webroom with a logo is a nice start, but you should always consider the takeaway (such as a webinar handout) for the attendee beyond the live event. Below, we will discuss 5 ways to take advantage of webinar handouts.
Providing Slides Before the Webinar
Remember in school when you were learning to take notes during a class? We often spend more time copying down what the teacher was writing or saying than actually listening to the presentation. Learning is essentially the same now, but professionals have learned to determine what information is important to note, and which is important to hear. In nearly all of our webinars, we hear the question 'will the slides be available after the webinar?' Providing an attendee with your webinar's slide deck prior to the event no longer means they wont pay attention to your content, but it gives them an opportunity to really listen and take notes on what should be understood.
Worksheets Boost Engagement
Often, when listening to the presenter, an attendee is also considering how to implement this information into their own day-to-day in the office. Providing worksheets in the conference materials section of the webroom allows you to share formulas and checklists with the attendee to fill out during the event. This not only gives the participant a physical takeaway, but a gentle reminder to stay engaged throughout the presentation.
WhitePaper Supplements
Benchmark reports and guides allow you to provide more in-depth detail, statistics, and the dry information that doesn't translate well over a webinar. Often, virtual events skim the high level of an in depth topic, but it is required of professionals to follow up in order to learn more about the subject matter. Uploading supplementary white papers places your organization as a source for more than just webinar content, but useful information to learn more.
Presenter/Author's Content
Often a presenter on a webinar topic is a thought-leader within their industry and has additional content to share with an audience. Allow the presenter to share a first chapter 'tease' of their new ebook, or their company's white papers as a bonus for presenting. When a presenter shares their content with the audience, it increases their reputation within the industry.
Market Your Company
Use the webinar as an avenue to promote your organization, content, and future events. There is a common misconception that you should limit the things an attendee can focus on within a web room, or risk losing their attention all together. However, as we see it, providing supplemental materials promoting your company is not only a reminder of their purpose during the webinar, but an untapped promotional opportunity for attendees to learn more about what your organization does.

Webinars are often thought of as a virtual presentation delivering knowledge, but when used correctly, your webroom can provide you with vast untapped branding and learning opportunities.
Learn more about preparing for a webinar in our OnDemand webinar, How to Design, Develop and Execute a Successful Webinar.
---