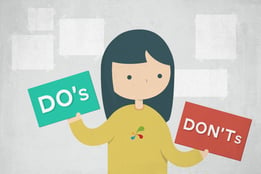 Managing a virtual audience is no easy feat; one wrong move and your presentation can completely crash and burn. In some scenarios, the momentum never even picks up--and you end up with a poorly attended presentation that no one will ever speak of again. However, there are a few things you can do (and not do) to avoid the unthinkable. See what they are below!
DO'S
1. Do start on time
and keep your introduction short and sweet; if you spend more than 5 minutes just going over the agenda and introducing the speaker, people will lose interest. Get to the good stuff sooner than later.
that doesn't require you to download their app or software. Your attendees should be able to access the link to your presentation with no immediate restrictions. Adding this extra step could cause you to lose some attendees.
during the presentation with surveys and questions. Most web platforms allow you to create survey/polling questions prior to the seminar so they can be easily launched during your event without disrupting the flow.
DON'TS
1. Don't speak too fast or too slow;
if your presenter speaks at 3 miles per minute, your attendees will feel disconnected and drop off the webroom. Have your speaker do a test run with you to make sure his pace is not going to be the 'make it or break it' factor of your presentation.

2. Don't let the presenter just read
through the slides; review the slide deck ahead of time to ensure that the slides are not too text heavy. The powerpoint presentation is there to help illustrate your speaker's point, not to guide him/her through the entire presentation.

3. Don't forget to follow up
with your attendees; it's a great opportunity to introduce them to your products or services. It's also a great time to share your OnDemand recording with them; perhaps they will share with their friends and colleagues--furthering your content's exposure.
---