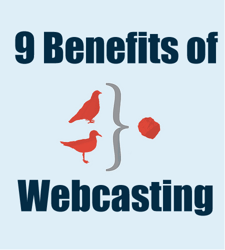 Recently, we have seen increase in requests for benefits, tips and tricks for delivering webcasts. Whether you call your in-person event a seminar, conference, or meeting, the need to capture and broadcast the presentation to a wider audience is there. Below are 9 benefits of webcasting your event.
1. Accessibility
Capturing your in-person event with a professional videographer who understands the space, lighting, sound, and broadcasting technology is key to creating enduring content for future viewings. Often, professionals are too busy in the office to find time to travel to, and attend an in-person event. By providing them access to the event when it suits their schedule increases the opportunity for people to learn about what you have to offer.


2. Creating Evergreen, OnDemand Content
Using the recording of your webcast, you can create a library of OnDemand events for your members, customers, or prospects to access. We know that video content is the secret ingredient to your content plan. When you host this larger piece of content on your website, you are increasing the website rankings, SEO, and viewings of your site.


3. Expand Your Audience
Expand the reach of your presentation outside the conference room, which will ultimately increase the ROI of your event. Giving the option of attending online or in-person will ultimately be split evenly. However, with a recording of your event, you are creating a piece of content that will continue to gain views even after its original broadcast.
4. Convenience
Allow your members to access continuing education events online when it is convenient for them, rather than requiring them to travel to access your information. All professionals are busy, so when you add seeking CE credits to their schedule, they often wait till the last minute and attend OnDemand events that meet their requirements. With today's technology, you can embed Continuing Education checkpoints throughout the recorded event that meet your accredited bureaus' requirements.
5. Publicity
Turn your company or employees into thought-leaders by publishing and promoting the events with them as speakers.
6. Giving your Audience Options
While some professionals prefer to access content online, some people still prefer to attend in-person events for the networking opportunities. Allow your members to choose which option works best for them and their schedules.
For more info on this topic, you might find this blog helpful: Evaluating Webcast Solutions - What Matters Most.
7. Access to Speakers
People are often interested in meeting the speaker in person, or to learn about the latest technologies from event sponsors. If you deliver the presentation both online and in person, you could invite the speaker to participate in a half hour group chat (online) so the virtual attendees receive the full benefit of your event.
You can curate speakers by researching industry experts or by recruiting professionals from your sponsor's organization. Trying to gain sponsors for your webcast? Read our short blog on that here.
8. Repurposing Your Content
After the conference, you can create clips of the presentation to create commercials of YouTube videos. The repurposing opportunities are endless.
9. Marketing Materials
When you capture the Keynote of your conference, often you can use it to promote next year's conference, or offer it as an incentive to online viewers to attend the next event.
Whether you are delivering your event online or in-person, its always important to consider how you are creating a professional experience with those people who are not in the room. Merely capturing your event for future viewing ultimately gives you more opportunities to reach your audience.
---