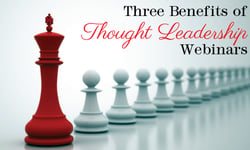 Thought leadership webinars can seem like a luxury for the average marketer. While presenting your company as a thought leader in the field is certainly a good goal, it often falls behind other marketing goals that are easier to achieve and measure.
While it might not seem like a marketing tool at first glance, there are three compelling reasons to consider thought leadership webinars for your marketing plan.
Search engine optimization for your company: Thought leadership webinars are not just a one-time occurrence. You can record your webinar and post it online, which puts it out there for search engines. Video can be an excellent tool for promoting social sharing, which benefits search engine rankings.

Content sharing ratios: The art of self-promotion on social media is not a one-way street. In order to build connections with people, you need to share content that isn't related to marketing your products. By offering non-marketing content, you help secure yourself as someone contributing to the community that people want to hear from. This type of thought leadership builds a reputation that is priceless when it comes to business growth.

Lead generation: As the old saying goes, you catch more flies with honey than you do with vinegar. Thought leadership webinars are tempting treats that entice participation from those who might not attend your regular webinars or exist on your current mailing lists. Immediate revenue from these webinars might be slim, but you create an investment that pays off in the longer-term - you will make more money by providing better value to your customers.
In business, whatever helps your clients can benefit you; however, webinars offer a number of direct benefits to companies that help them stand out against competing marketing tactics. Webinars are a fantastic tool that can assist your clients, thus providing you with an advantage over the competition.
---