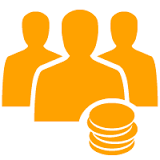 Live stream webcasts take an on-site audience of several hundred people and grow that audience to tens of thousands; making your virtual event exponentially more valuable to the potential sponsors who want access to your audience. Finding sponsorships is a matter of selling benefits from the point of view of the sponsor --here's 4 ways you can get sponsors for your webcast:
1. Branded Signs
Logos and images are the easiest way to incorporate a sponsor into a broadcast. There are numerous opportunities in the looping slide shows, marketing materials and any qualifying signage through out the event.
Consider partnering with a webcasting platform that offers white-label and incognito capabilities so that your sponsors' & exhibitors' branding can be displayed on all webpages, email communications and marketing materials.
2. Interviews
Interviewing your premier sponsor in between sessions allows the company to explain how they're involved with the event and how their product is relevant to the audience. At the end, your audience will have gained a new resource and your sponsor will have effectively delivered their message to your audience.
This can also be a time for your audience members to network with the executives of these organizations. Audience members will appreciate the value-add of this connecting with industry professionals and your sponsors and exhibitors will appreciate the exposure to potential new clients.
3. Sponsored Awards
If your webcast presentation has an awards element to recognize others in the field or industry, naming the title of the award after your premiere sponsor is an effective way to acknowledge their contribution and support while adding value to your award.
Sponsored awards are a great way to guarantee ROI to your event sponsors & exhibitors.
4. Promotional Offers
Giveaways are a win-win situation: sponsors get to share their product with your audience and obtain essential information in the process and your audience has the opportunity to take home something free or discounted. Have your sponsor set up a booth outside the presentation hall so as people are leaving the webcast room they can interact with your sponsor right away.
When partnerships work like they're meant to, there is more to be gained than money; sponsors help promote the event to their networks and build your reputation. Learn how BeaconLive can help add more value to your event with our webcasting services.
---