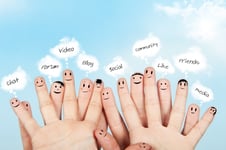 According to MarketingSherpa's 2012 B2B Marketing Benchmark Report, Multichannel messaging is the most effective tactic for increasing engagement. Meaning, the more your audience receives the same message from you across different media platforms, the more likely you are to reach them through the channel of their choice --resulting in higher engagement.
Limiting your content to the channels you are most familiar with may seem like a safe choice, but if you want to broadened your content's reach you're going to have to consider broadening your delivery methods as well. Businesses that understand the importance of this and have a multichannel messaging strategy in place are able to reach various different audiences.
One of the methods organizations have come to see great potential in is lead generation webinars --and its a no brainer: you give your audience content and information they need and you gain their trust and the ability to continue delivering your message to them in different ways (i.e. follow up emails, etc.). The only obstacle with this method is getting your event promoted to the right people and getting those people to actually attend your event.
If you've delivered a webinar before or have briefly looked into the requirement and details you know that promotion plays a big role in how successful your event is going to be. If people don't become aware of your lead gen event, how will they know when to attend? I'm sure you know that social media and webinar email invitations are a must, but did you know that co-producing your webinar with a partner business or vendor/organization can place your message in front of an audience you may have not had any access to before?
Partnering with another business has a significant amount of benefits, including growing your marketing database, but in this case the most important benefit is the ability to increase your promotion efforts without having to stretch your budget.
To find a good potential partner, first, you must identify that there is no conflict of interest and that the relationship makes sense so that your audience is not confused by the partnership. You may also want to look into what kind of partnerships they've had in the past and what's resulted from them; beware of companies that promise benefits but deliver no results or do little to help with promotion. Interviewing a few potential candidates is the safes route.
Though partnerships are a sure way of increasing your reach, its not for everybody. There are still many other ways you can attract a decent audience to your lead gen webinar. To help, we have developed a Webinar Promotion Checklist with tested and new ides and suggestions for promoting your webinar.