As our lifestyle changes of Covid-19 have dominated the better part of 2020, many of us have gotten used to remote work and virtual gatherings. But let's be honest, "zoom-fatigue" is getting real. This lack of engagement can have a detrimental effect on the success of your Virtual Events and can be a threat to your ROI. As PCMA stated, "now is the time for creativity and innovation for virtual events."
Event curators must experiment with new ways to encourage a higher level of interaction with attendees. At BeaconLive, we've found that "humanizing" a Virtual Event has led to higher presenter and attendee satisfaction, creating a more natural and exciting experience for all. Below we've compiled 6 pro tips to help you humanize your Virtual Event.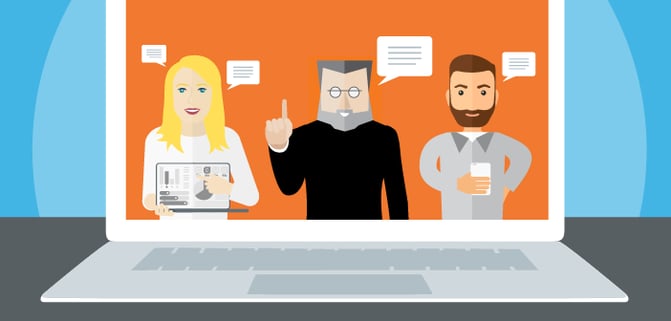 1. Free Stuff: SWAG Bags & Experience Boxes
There is a reason why every time you've attended an in-person conference, trade show, or event, you've come home with SWAG - from pens and pop-sockets to t-shirts and reusable bags. SWAG builds brand awareness and reminds attendees about what they learned, who they met, and the value they gained far after the event has ended. SWAG items can turn your event attendees into brand promoters and will help you retain new and existing clients.
Drop-shipping companies make it very easy for you to send SWAG items to all of your attendees prior to the event. Event organizers can drive early registration for exclusive SWAG bags. Commemorative SWAG items can also be sent to all participants post-event as a reminder and thank you for attending. Utilize creative messaging like "I attended the 2020 BeaconLive Virtual Event" on stickers or hand-sanitizer bottles.
SWAG bags can even go as far as becoming "experience boxes" for your event. Event organizers can curate the opening of items during specific parts of the event. For example: package a koozie inside a bag that reads "open at 6pm during the company cocktail hour." Event Organizers can get really creative with this - business cards & brochures to open during keynote speaker presentations, creative conversation-starter cards to open during breakout sessions, or personalized thank-you notes to open at the end of the event. SWAG packs can be customized for every stage of your event.
Sending physical items to event presenters & attendees can increase engagement, satisfaction and a more personalized, humanized experience for all participants. After all, who doesn't love free stuff?
2. Spark Conversation Through Networking & Breakout Sessions
Networking sessions are the number-one ways for participants to communicate directly with each other. Event Organizers should not cut themselves short when planning for designated Networking times. Allotting time for Breakout Sessions as well as One-On-One conversations is pertinent to on-going relationship building between attendees.
Although we are all used to networking at in-person events, Virtual Networking can sometimes feel a little less natural; It might be harder to spark meaningful conversations. Event Organizers can prepare for this in a few ways:
To start, they should provide their attendees with an icebreaker, which can help with those first few moments of awkwardness. Organizers can create topics around the Breakout Sessions that come with a list of conversation starters. Specific questions, opportunities to share favorite parts of the event and additional content can help to spark the dialogue.
An Event Organizer should set clear expectations for these Networking Sessions. Let your attendees know how long the session will go. An Organizer can even require that attendees exchange contact information with a certain number of other attendees, or set another designated time for follow-up. Providing conversation topics and questions will give your attendees an understanding of the desired chat flow. Our research has shown that, when it comes to Virtual Events, more structured free-time will increase attendee engagement and satisfaction with the overall event.
Although very similar to Networking Sessions, Breakout Sessions can provide time for even more structured attendee engagement. Instead of curating the what, like in Networking Sessions, Event Organizers can curate the who in Breakout Sessions.
Event Organizers can bring specific groups of people together in Breakout Sessions for meaningful conversations. Consider Executive Roundtables, Department-Specific Lunch N' Learns, IT hackathons, VIP Lounge with the highest level Sponsors or Fireside Chats between the CEO & new hires.
Create space for intentional conversations. Be specific about the value-add of these sessions, and what attendees might be missing out on if they don't engage. Be personal when sending out invitations and make those attendees feel special when receiving it. This will make Breakout Sessions feel more purposeful and increase the chance that they will be active participants in those conversations.
3. Take Advantage of Interactive Features & Simulive Presentations
Make sure to choose a Virtual Event Platform that ensures interactive features like Live Polling, Q&A sessions and chatroom opportunities. Although the content of keynote speeches and presentations will be very similar to the content delivered at an in-person event, presenters should be sure to incorporate some of these interactive features.
Attention spans are shorter for Virtual presentations than they would be for in-person events. Attendees can be more distracted by their smartphones, their dog running around in the background or their backup of emails. It is important to show attendees the value they are gaining from participating in your event. A huge part in doing that is centering the presentations around attendees' needs and questions.
Start the presentation asking attendees to answer a live poll. Ask attendees to submit responses in the public chat throughout the presentation. Always leave time for Q&A. Presenters might even want to shorten their presentation and allot more time than usual to accept questions from the audience that will drive the dialogue, keep attendees engaged and respect attendees' virtual attention spans.
Presenters might even want to consider a simulive presentation. Simulive presentations are previously recorded and then played during their designated time, followed by live Q&A. This allows presenters to curate, edit and optimize the time they have their attendees' attention. Presenters can stay on stand-by monitoring chat rooms, live polls and Q&A. Presenters can gauge where attendees are most interested and come on their video to answer live questions once the recording has finished.
Giving attendees control over the conversation is a great way to keep them engaged in the presentation. BeaconLive offers over 100 features to tailor a Virtual Event and incorporate interactivity between presenters and attendees. Check out the complete feature list here.
4. Utilize the Power of Social Media
Social Media can be a powerful tool for public exposure of your event. Utilize free media to encourage attendees to be a part of the public conversation that will continue far after the event has ended. Make it exciting for attendees to post about the event and encourage participation with your social media channels.
Always have an event-specific hashtag so that you can monitor the conversations around your event. Enter attendees into a raffle or special drawing every time they use the hashtag on LinkedIn or Facebook. Encourage attendees to post photos of their home office, desk space or WFH attire. Make it a contest where participants can vote on their favorite submissions.
Implementing creative ways to incentivize posting on social media will be key to launching a successful campaign. #selfies encouraged.
5. Surprise Your Audience!
You want your attendees to remember your event. You want them to shut their computers off at closing time feeling like it was a productive and worthwhile use of their time. An easy way to do that: keep it fun! Implementing surprises throughout the event will keep attendees excited and on their toes.
Offer special giveaways for attendees who participate in breakout sessions, share insider information or launch of a new product or announce a surprise guest speaker. Start your event with a funny or engaging video to hook your audience. Provide thank-you notes or SWAG items for attendees who stay the entire event.
Increase anticipation with countdowns or email teasers prior to the event starting. Announce at the beginning of the event that there will be surprises and perhaps let audience members know at what point you are releasing the surprise so that they stay engaged until then.
Surprises can lighten the mood of your event and overall just make it more fun for your attendees. After all, you want your attendees to want to be there. Create a more lively and interesting experience by releasing surprises intermittently throughout the event.
6. Keep it Fun with Live Entertainment
To go along with releasing surprises, Live Entertainment will make the overall experience of your Virtual Event more enjoyable and feel much more human. Audience members will appreciate this attention to detail and will feel more comfortable and relaxed, which allows for more natural and casual conversations throughout the event.
Hire a band to play live music at the beginning, end and during intermissions of your event. Plan for one or two light-hearted presentations that are fun for audience members. Create an activity for everyone to participate in during an event intermission. Hire a fitness professional to lead everyone through a short stretch or yoga session. Incorporate interactive features to hold running polls or contests on topics like "Essential WFH item" or "Favorite Netflix series right now" or "Who Can Tell the Best Version of Our Founding Story."
Live entertainment and initiating conversations around non-work related items is overall good for attendee engagement, good for event satisfaction and good for your brand. Although these are the items that don't necessarily heed ROI or deep, meaningful conversations, one should not overlook the importance of making sure that at the end of the day, attendees are enjoying themselves. After all, Events are supposed to be fun. They are supposed to bring your audiences or employees together for shared experience that will be remembered far after the Event is over.
As long as Covid-19 persists, the world of Virtual Events will constantly evolve. Event Organizers will continue to come up with creative ideas that make Events more engaging and feel even more human. Follow this guide to stay relevant in the Virtual Event space and gain all the desired rewards of bringing your audience together.
Partner with BeaconLive to deliver a Virtual Event that implements all of these ideas. We can produce Multi-Track, Multi-Day Virtual Events that scale to 40,000 attendees. Our solutions are completely cloud-based and required no plug-ins, extensions or downloads. Our in-house Event Services team and Technical Support Staff will ensure a seamless, professionally managed Event
Other blogs you might be interested in:
---