As the BeaconLive CEO once said, "The more I drink the more I know about wine!"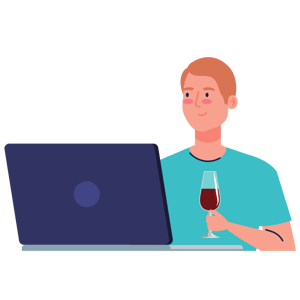 Whether for corporate get-togethers, family celebrations, or virtual event receptions, chances are you've either planned or participated in a virtual Happy Hour in the past year.
Covid-19 created a climate for us to not feel so uncomfortable with virtual celebrations and social experiences - and we're not mad about it.
Turns out you can have plenty of fun within the virtual company of others, cheersing to friendship or the end of a successful event. Virtual celebrations are becoming a regular part of our personal and professional lives.
But there are some obstacles people often encounter when trying to get a large group together for a video chat - how to navigate everyone talking at once, or worse, no one talking at all? How do you "break the ice" and warm people up to the situation? How do you make an optional gathering a worthwhile hour of social time?
We've got some ideas for you to get the most out of your time together by planning some events and activities that'll be sure to hype the energy and enjoyment of your crowd:
Hire a Sommelier
A sommelier (in case you missed the class on elite french lifestyle) is a "trained and knowledgeable wine professional, normally working in fine restaurants, who specializes in all aspects of wine service as well as wine and food pairing."
A Sommelier can create a luxe experience for those high-profile clients you are trying to impress, or the teammates you are trying to show appreciation for.
Your Sommelier can walk your audience through an hour of wine explanations, wine pairings and commentary on crowdsourced questions.
Having a presenter guide the course of conversation for the time you have together can be great for avoiding everyone talking at once, or not knowing what to talk about at all. You can encourage your attendees to utilize chat rooms or live polling to interact with the speaker and each other.
If you really want to take this experience to the next level, and have the budget to do so, you can work with your Sommelier to ship wine and cheese to your attendees prior to the event. This shared experience will be sure to please and impress your virtual crowd.
If you don't have the budget to send the wine itself to everyone, consider shipping out SWAG bags with wine tumblers, cheese knives or other wine-related accessories. Have your Sommelier provide a suggested wine list for your attendees to buy prior to the event so that, even if it is BYOB, there is an opportunity for that shared tasting experience.
To raise attendance, consider creating a fun game or raffle, where the winner will be shipped some wine hand-picked by your Sommelier. Offer exclusive wine discounts for those that attend and have your Sommelier curate a wine list based off of the conversation and responses of your crowd.


Paint N'Sip
Nothing screams "team bonding" quite like watching your COO try to paint a Starry Night impression while cheersing with their favorite beverage.
Prepare your crowd with some painting materials and have the most artistic of your group lead you all through an easy tutorial of a chosen painting. There are also plenty of YouTube tutorials you can choose from, or even paint party hosts you can outsource online.
Like the Sommelier presentation, a paint and sip allows your audience to be occupied with their activity instead of navigating the waters of talking over each other, waiting for someone to guide conversation and feeling like your social hour is a cluster of frustrating conversation.
You can have your presenter or tutorial video walk you through the painting process and have everyone go around and show their paintings at the end. Use this as an opportunity to ask people about their hobbies outside of work and maybe express their favorite pieces of art or music.
Paint N' Sips can also be opportunities for you to send out SWAG items related to painting, or to hold awards based on crowd favorite paintings.
Can the phrase also go: "the more I drink, the better artist I think I am" ?



Stand Up Comedy
Who doesn't love a good laugh? Bring the comedy club experience to your audience by hiring a comedian for some appropriate and timely jokes on your Virtual Event experience.
Comedians are great at breaking the ice and making your audience members comfortable with sitting back and enjoying the show. They need not worry about keeping up virtual conversations, but instead can enjoy some well-placed jokes about how many times it takes Peter to find his mute button.



Mixology Class
Hire a bartender, or ~mixologist~ to lead your audience through a cocktail making class.
Create a theme-inspired menu for mixing, like:
Prohibition Era Drinks

Holiday Favorites

A Taste of Summer

Southern Staples

Simple Drinks to Please Any Audience
This is a fun and engaging opportunity to teach your crowd some useful new skills (granted they are drinkers, of course) in the beverage department.
Like the previous ideas, there are opportunities here for SWAG to be sent to the homes of your attendees. Think: a shaker, measuring glasses or the bitters for that perfect Manhattan.
Don't forget to incorporate some mock-tails on the menu for the non-drinkers in the crowd!



Guided Conversations
Seemingly less exciting compared to listening to a Sommelier or Comedian for an hour, guided conversations can actually be one of the most fun and rewarding Virtual Event activities you could host.
While the other ideas focus on steering a jumble of chatter away from the virtual experience, this idea brings conversations back to attendees, but in a very curated way. Have your moderator go around and ask people some specific questions to spark an interesting dialogue.
Here are some examples:
Virtual Event wrap-up questions:
What was your favorite part of the event?

What is something that you learned at the event?

Who is someone that you are glad you met?
Ice-breaker questions:
What are three words to describe you?

What's your favorite thing to do on the weekends?

What did you do on your last vacation?
Or you can really spark interest with questions, like:
If you had a theme song that played every time you walked into a room, what would it be? Why?

What was a funny fad that you were REALLY into as a kid?

What are the three things you would bring to a stranded island?

Favorite trend from the past that you wish would come back?
Click here for more conversation starters.
Best part of a virtual happy hour? You don't have to worry about people driving home. Create a relaxing, comfortable and enjoyable experience for your next event with these fun ideas!
Related: 6 Pro Tips to Humanizing Virtual Events
---