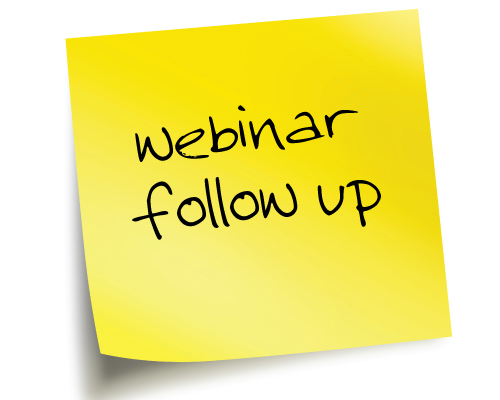 Last week, we hosted a very successful follow up webinar to last years, How to Design, Develop and Execute a Successful Webinar. This webinar helps future webinar presenters developing their own best practices.
During this webinar, attendees learned:
How to understand the main components of webinar presentation and deliver
Discovered tools that will help engage their audience
How to make your webinar relevant, impactful, and memorable.
Hot topics discussed
Should you use a hashtag for CE events?

Presenter, Ruwaida Vakil says: "I think Twitter is a great way of advertising any event include one that has CE. Keep in mind the ACCME has guidelines for advertising CE events. I am not sure how that translates to Twitter, you may want to look into that for details. I think perhaps providing a link to the registration/disclosure page in the Tweet may address that issue."

Our perspective: Following this webinar we wrote a blog analyzing the pros and cons of using social media during continuing education webinars.
What is the prefered PPT ratio for webinars?
Our experts say: 4x3 is the best ratio for webinars. This suits most attendees, whether they are viewing from a desktop, laptop, iPad, or smart phone.
Can you discuss webinar followup, and measurements/assessments of results/outcomes.
Ruwaida wrote a blog about this for BeaconLive last year. You can check it out
here
How can we convince your speaker to take their inperson event online?
Great question. We recently published a blog on this very topic. Check it out
here

Mentioned during the event
The winners of our social media campaign will recieve a $25 Amazon Gift Card:
Heather Peters from Partners in Medical Education
Julie Phelan from Biomedisys
Kalen Parks from Childrens Healthcare of Atlanta
Michael Pommier from the University of Kansas Medical Center


Analytics from this webinar
We believe its extremely important to view the analytics of every webinar to see whats working, what needs improvement and what needs to be changed. Further, we don't believe it would be appropriate to HAVE all this information, and not share our best practices with you.
55% of Registrants logged in to view the webinar
60% of attendees heard about the webinar through an email from the host
27% heard about the webinar through referrals from colleagues or the presenter
3% heard about the blog via social media.
8% of the attendees participated on Twitter, using the hashtag #webinarrules
18% participate in the Q&A session
Length of the presentation: 33 minutes
Length of the Q&A session: 15 minutes
Learn more about the importance of Evaluating your Webinar Analytics.
From the Conferencing Materials Pod
Watch
Check out the webinar that led to this webinar, How to Design, Develop and Execute a Successful Webinar.
Watch OnDemand: The New Rules of Webinar Presenting in 2015 OnDemand