Create A Webinar That Will "WOW" Your Audience
Webinars are a popular way for business owners to connect with their target audiences in a virtual setting. A webinar, or web seminar, is a digital workshop, lecture, or presentation hosted using online webinar software.
These virtual events offer great opportunities to keep attendees on the journey towards conversion.
Brainstorming webinar topics can be a tedious task. You have to select a topic that you are knowledgeable on while identifying ways to keep your target audience's interests and needs in mind.
If you don't brainstorm and choose the best webinar topic for your event's purpose, you risk losing audience interest and missing the mark on your event goals.
To help you get started, we have put together seven webinar topics that will lead you to more valuable content.
Why Is Audience Engagement Important During A Webinar?
When an attendee completes the registration process for your online event, it means that something about your webinar marketing strategy has caught their attention.
Now, you have the opportunity to engage them during your virtual webinar by choosing the right webinar topic further.
Ensuring audience engagement is essential because engaged users are more likely to trust a brand that works to captivate them. They return more often to the website, are more likely to sign up for an email marketing list, or visit more pages during a session.
Most importantly, they are more likely to convert from potential customers to new clients.
7 Ways To Identify Great Webinar Topics
When planning a live webinar, choosing the topic is the very first step. Your case will determine your webinar content that will attract new customers to attend and hopefully convert.
Here are seven webinar tips for choosing the best topic for your next live webinar.
1. Ask Your Audience Directly
The best way to pinpoint the ideal webinar topic is to go straight to the source. Consult members of your target audience about exciting topics. Ask existing customers what type of content they would be interested in learning more about.
Following BeaconLive's Healthcare and Legal Marketing webinars, we deliver an evaluation form seeking feedback for our future events. This is also an excellent opportunity to see who would be interested in working with you to present that event.
2. Identify Chunks Of Digestible Information
Unless you are crafting an entire webinar series, the topic you choose needs to be concise enough to fit within a 60-minute webinar session.
Concentrate on topics that you can teach through short presentations, not topics that require lengthy explanations or substantial exchange. Webinars are great tools for one-to-many content delivery.
Use webinars to start a conversation with a prospect or customer. Perhaps someone is joining your event to learn more about your service.
When they register and attend the webinar, you can better understand where they are in the buying cycle and tailor your future conversations and promotions to them.
ENJOYING THIS BLOG? CHECK OUT OUR EXPLAINER VIDEO ON YOUTUBE!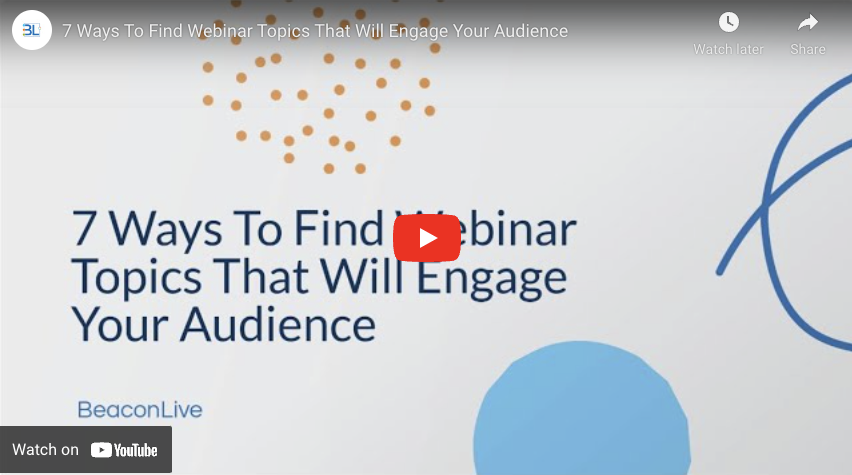 3. Research Successful Webinars
Because webinars are hot right now, marketers like you can benefit from doing a bit of research on the most popular webinar topics that lead to successful virtual events in your industry.
Look at a conference's agenda and identify the popular sessions. A room full of people means high interest in the topic – take note of it. Create similar content for your own webinar, and target it towards the audience that couldn't make it to the event.
Take a look at the agendas of past (industry/associations) conferences, and build a virtual event around them. Add your perspective or recent research to your event to offer more value to your webinar topic.
Read: The Do's and Don'ts of Managing a Virtual Audience
4. Use Social Media Platforms To Get Ideas
If you are looking for a great topic, look at past webinars thrown by industry peers. You can then participate in discussions held on social media platforms.
Search for webinar recordings. Participate in virtual industry groups on LinkedIn. Monitor the conversations, and create an event detailing both sides of the idea as you work to integrate it into your webinar plan.
Often, professional social networking sites have niche industry groups where your virtual peers share ideas and content. When you find a topic gaining a lot of engagement, this will likely make an exciting webinar topic.
You can even invite the person who started the thread and participated in the conversation to join the webinar for a panel discussion.
5. Keep An Eye On Your Competitors
Look to competitive organizations. We're not suggesting that you steal ideas from your competitors, but perhaps deliver the webinar with a different perspective and new research. Unless the other company is specifically discussing their proprietary product, chances are, there is room for your company's outlook as well – after all, you have similar effects and customers.
6. Revamp Old Webinars
The first webinar debuted way back in 1999. Since then, there have been countless virtual events on popular webinar topics in your industry.
Repurpose old webinars with fresh content, research, and statistics. All too often, webinars become stale while sitting on their OnDemand library shelf. New reports and research has taken over prospects' and coworkers' attention, so there's no way a simple 'replay' will suffice when resurrecting your old webinar from the grave.
If the content once brought an audience to the web-room, it might do it again. Give your event a facelift, updated SEO keywords, and a new title. Add new research and your webinar topic ideas. Don't forget to discuss what NEW information the attendee will learn from this webinar that they did not understand the first time around.
7. Offer Highly Sought After Training For Online Tasks
Webinar attendees often look for specific information from experts and thought leadership in their industry when they register for webinars.
Train your customers or colleagues on using a particular service or website to make their lives easier.
For example, industries that are typically very personal don't see the value in using social follow-up with their clients through their method of choice.
By creating a 'how-to' or 'best practices' webinar on how your industry can use social media, you are placing yourselves as experts and thought leaders.
Sharing tips for successful entrepreneurship and content marketing strategies you have successfully used will build trust with your audience.
Choose The Best Webinar Platform For Your Next Virtual Event
No matter the size and scope of your webinar, BeaconLive's webinar platform will ensure that you have a professionally executed event.
Our webinar services are cloud-based. They require no problematic plug-ins, extensions, or add ons. Your team and attendees can use them from any device with an internet connection.
Contact BeaconLive today to learn how to bring your webinar to the next level and meet the needs of your company and target audience.
---