Find Out Everything You Need To Know About Becoming A Mental Healthcare Professional
If you've been considering becoming a psychiatrist, congratulations. It's a noble profession.
According to the Bureau of Labor Statistics, there are about 45,000 practicing psychiatrists in the United States.
While this may seem like a large number, the mental health crisis in America means more and more people are seeking treatment for their mental health issues. So it's an excellent time to begin your journey toward becoming a licensed psychiatrist.
But what do you need to do to become a mental health professional?
Let's take a closer look at what you need to do to become a psychiatrist and start helping those with mental health disorders find the right treatment plan.
What is a Psychiatrist?
A psychiatrist is a medical professional specializing in diagnosing, treating, and preventing mental illness. They are equipped to help develop treatment plans for the following issues, among other mental health conditions:
ADHD

Schizophrenia

Eating disorders

Anxiety

Depression
People often confuse psychiatrists with psychologists. However, there is a crucial difference that sets the two professions apart.
Practicing psychiatrists are medical doctors who can prescribe medication, while psychologists are not medical doctors. Psychiatrists work with patients, while psychologists have clients.
Psychiatrists can work in a residential hospital setting or run private practices. Either way, they work daily with people dealing with mental disabilities or mental health issues and provide critical relief for those who need it.
Let's take a closer look at some specializations you can choose as you plan your academic path.
What Are Some Specializations a Psychiatrist Can Study?
Psychiatry is a broad term. It means that the person is a medical doctor who can diagnose and treat mental illness.
However, there are some areas you can specialize in, depending on what special interests you discover during your residency rotations, such as:
Adolescent psychiatry

Pediatric psychiatry

Geriatric psychiatry

Forensic psychiatry

Bipolar disorder specialist

Eating disorders

Substance abuse and addiction psychiatry
Each specialization has subspecialties you can study to fine-tune your skills and give you the tools to help patients in need.
This allows you to focus your energies on the psychotherapy practice that resonated most with you during your residency training.
Let's look at the specifics you need to know to start your journey toward being a mental health professional.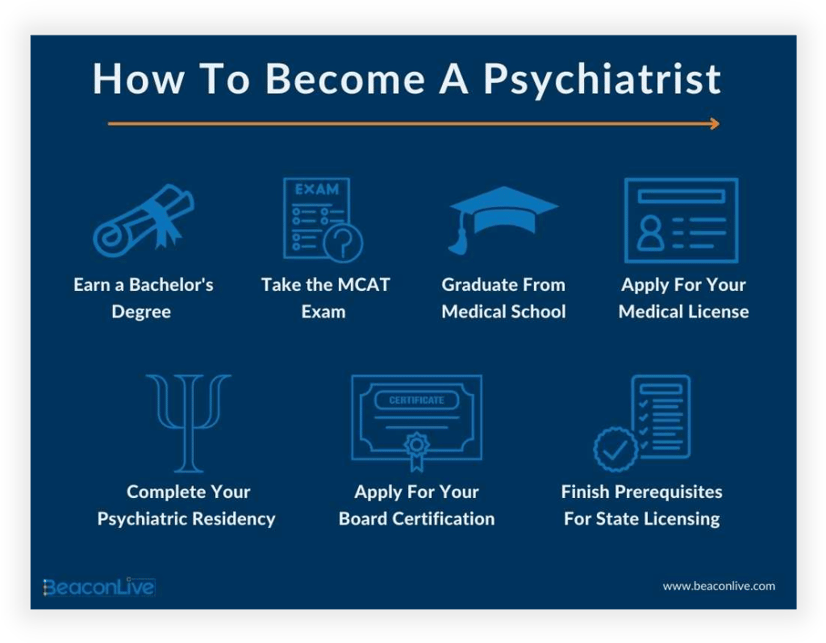 How Do I Become a Psychiatrist?
According to the American Psychiatric Association, four in ten Americans struggle with anxiety and depression.
This means psychiatrists are needed now more than ever to help patients cope with mental health issues. So if you're considering a career as a psychiatrist, you are needed.
Though the journey to becoming a psychiatrist is long, it is well worth it in the end. You will provide essential services to those in need and have job security and a wealth of options for how you practice.
Now that you know all the possibilities let's look at the steps you must take to become a psychiatrist.
1. Earn A Bachelor's Degree
After completing high school, psychiatry hopefuls must obtain their bachelor's degree. It doesn't have to be a specific program.
Some students major in a psychology program, while others go the pre-med route. You may want to minor in psychology to help expedite your path.
There's lots of flexibility at this point in your studies. However, you'll need to take many science and mathematics courses to ensure you're prepared for the next steps.
2. Take The MCAT Exam
The Medical College Admissions Test or MCAT is necessary for your application to medical school.
This 7 ½ hour exam contains four sections. It covers topics like biochemistry, biological systems, and critical analysis and reasoning skills.
The average score for applicants who get accepted into medical school is 511 out of 528 points. So you'll need to prepare extensively to gain admission to med school.
Look for eLearning opportunities that will fit easily into your busy schedule.
3. Apply To, Attend, And Graduate From Medical School
With the MCAT behind you, you must start applying to medical school. Once admitted, you'll complete four years of medical school.
Medical students will tell you that this is a very stressful time in the journey to becoming a practicing psychiatrist. Med school is definitely a challenge, but don't give up. You'll see the fruits of your labor during your years of residency.
Once you graduate, you will receive a. M.D. or O.D. degree and be ready to move on to the next phase.
4. Apply For Your Medical License
Once you have your medical degree, you will need to apply for a medical license for the state you plan on completing your residency.
This means you'll take a medical licensing examination and meet additional requirements, such as passing a background check.
You'll need to pass this exam before you're allowed to complete your hands-on preparation in a residency program.
5. Complete Your Psychiatric Residency
This is the most critical part of the entire process. You'll experience three to four years of residency after you graduate from medical school.
During your psychiatric residency program, you will complete several rotations and learn to care for various mental health conditions, most likely in a hospital setting.
You'll rotate through outpatient services, emergency settings, and in-patient services. By the end of your psychiatry residency, you'll gain a wealth of knowledge and be prepared to choose your specialty area.
6.
Apply For Your Board Certification from The American Board Of Psychiatry And Neurology
While board certification is optional, it definitely improves your chances of attracting clients and landing a great job right out of residency.
You'll need to study for the board certification exam and renew this certification every ten years. However, you can begin your journey as a practicing psychiatrist before becoming board certified.
7. Finish Up Any Prerequisites For State Licensing
Each state has different requirements for obtaining and maintaining state licensure.
You'll need to complete continuing medical education courses regardless of where you practice. Many of these can be completed online and fit nicely into a busy psychiatrist's schedule.
There are a lot of CME events to choose from, so be sure to mark them on your calendar to ensure you are all caught up on your CE requirements.
Find The Right CME Courses For Mental Health Professionals
From providing talk therapy to prescribing essential medications, physiatrists are a beacon of light to those suffering from mental health issues.
Through rigorous coursework and lots of determination, you'll become a practicing psychiatrist. Once you have enough experience under your belt, you can branch out to other endeavors, such as creating your own CME courses.
BeaconLive can help you design, implement, and deliver continuing education webinars and courses that allow you to connect with other professionals and provide essential CE credits needed for recertification.
Contact us today to learn how we can help you create continuing medical education courses for your future psychiatry practice.
References
New APA Poll Shows Sustained Anxiety Among Americans; More than Half of Parents are Concerned About the Mental Well-being of Their Children. (2021, May 2). American Psychiatric Association. https://www.psychiatry.org/newsroom/news-releases/new-apa-poll-shows-sustained-anxiety-among-americans-more-than-half-of-parents-are-concerned-about-the-mental-well-being-of-their-children
Occupational Employment and Wages, May 2021 29-1223 Psychiatrists. (2022). U.S. Bureau Of Labor Statistics. https://www.bls.gov/oes/current/oes291223.htm#nat
---