Are you a healthcare educator or a CME service provider? Or perhaps you're a professional working in the medical field and you'd like to learn more about the latest CME technology updates, eLearning trends, medical writing techniques, content delivery tools, or any other changes taking place across today's Continuing Medical Education landscape.
If this is the case for you, you'll likely find this listing of upcoming industry events helpful, or perhaps quite familiar!
Our National Sales Director John Craine – who leads BeaconLive's healthcare division – has been a member and exhibitor at these conferences and meetings for many years. We've been more than happy to support these organizations with our time and resources because they are truly valuable CME events for our friends, colleagues and customers in the healthcare field, and we absolutely encourage you to join and participate.
As these conferences are held by accrediting organizations, you'll even have the chance to receive CE credits yourselves! Not to mention you'll have plenty of time to network and connect with professionals active in your industry, as well as a chance to get your name, institution or service out there, too.
Alright, let's get right down to it! Here are the top 5 CME events that we highly recommend healthcare professionals attend in 2017 and 2018…

1. Alliance Quality and Innovation Summit
When? September 25-27, 2017
Where? Park City, UT – Intermountain Healthcare
Just around the corner is the 2017 Quality and Innovation Summit (QIS) hosted by Intermountain Healthcare, a non-profit based in Utah comprised of hospitals, clinics, physicians & advanced practitioners, health service organizations and a health plans group called SelectHealth. The focus of QIS is to find ways to integrate critical learning and behavioral strategies into the practice transformation required to improve overall patient care and patient outcomes.
While BeaconLive is not exhibiting at this particular event, we take part in the Alliance for Continuing Education in the Health Professions – and we recommend participating in QIS for an immersive learning and networking experience, particularly for healthcare stakeholders involved in CPE, implementation research, quality improvement or patient care!
Plus, QIS is designed for participants from all kinds of organizations—ranging from academic institutions to healthcare systems to governmental institutions. Attendees will receive great exposure to new innovations and research in educational design and a number of other related fields. So if you haven't registered and you're considering the trip out West, check out the link for more info!

2. Mid Atlantic Alliance for CME 7th Annual Conference
When? November 16, 2017
Where? Hunt Valley, MD – Hunt Valley Resort
Save the date for MAACME's 7th Annual Conference this fall! Just like last year's event, you'll be able to find us there as an exhibitor and sponsor, so feel free to connect with us beforehand if you'd like to set up some time to meet. We're always happy to talk CME and technology!
Registration is not yet open, but to give you the lay of the land, MAACME is a non-profit organization that was created to promote high-quality Continuing Medical Education throughout the Mid-Atlantic region. The group frequently works collaboratively with the ACEHP and other organizations to support the professional development of CME educators. And the 7th Annual Conference will be a great place to connect with likeminded people and exchange knowledge and experiences in the field.
The photo below was taken at the Mid-Atlantic Alliance for CME – 2016 Annual Meeting. Really looking forward to sponsoring again this year!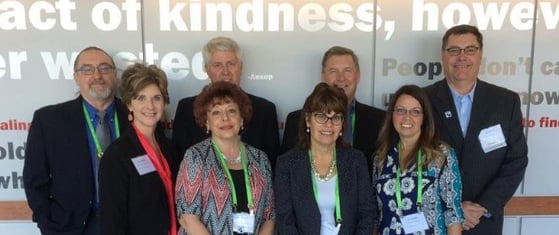 3. Alliance for Continuing Education in the Healthcare Professions 43rd Annual Conference
When? January 20-23, 2018
Where? Orlando, FL – Grande Lakes
The theme for the upcoming ACEHP 43rd Annual Conference is: Destination: Patient Outcomes — Our Journey to Improving Patient Care. Like the name suggests, the focus will be on the primary responsibility of healthcare professionals… their patients! And the organization is leveraging the 2018 conference as an opportunity "to showcase the successes [they] have had in positively impacting patient outcomes." Should make for a great event!
If you aren't familiar with the ACEHP yet, this long-standing organization (actually incorporated back in 1976) is the recognized leader and trusted partner for professional healthcare educators across all healthcare professions. The Alliance facilitates and supports a community that creates and shares industry best practices that empower its members to succeed and build credibility in their specific field as professional CME providers.
In addition to exhibiting at past conferences (and we plan to again!), BeaconLive has also hosted a number of webinar speakers from the ACEHP, one of whom is Dr. Brian McGowan – who served as Founding Chair of the Alliance's Emerging Technologies in Education Committee. If you're interested in specialized CME content, feel free to check out some of our OnDemand CME programming here.

4. Society for Academic Continuing Medical Education 2018 Annual Meeting
When? April 24-28, 2018
Where? San Antonio, Texas – San Antonio Marriott Riverwalk
Founded in 1976 (and renamed in 1998), the Society for Academic Continuing Medical Education (SACME) is made up of about 280 professionals representing leading medical schools, academic medical centers, teaching hospitals, and medical specialty societies in the US and Canada. Their vision and mission? To be the premier academic CME and inter-professional education society that advances the field in the interest of patient communities, by promoting the highest value in patient care and public health through scholarship and continued learning.
The presentation of research in Continuing Medical Education and Continuing Professional Development is a regular feature of the SACME Annual Meeting. More details will be coming soon as to what the 2018 Annual Meeting will entail, but you can count on the review of dozens of abstracts to pinpoint those topics of greatest interest to the community, as well as workshops for hands-on training in various areas of CME/CPD.
Interested in this past year's meeting content but couldn't make it to the event in person? You're in luck! BeaconLive is a Platinum Corporate Supporter of SACME, and our Event Services Team provided a live webcast of the 2017 Annual Meeting (which also happened to be the 40th Anniversary), so virtual attendees were still able to get in on the action. The Plenary Sessions highlighting many prestigious faculty are available OnDemand here. We also plan on doing the same thing this coming April – so if you have a conflict with next year's dates, fear not! We've got you covered.

5. 2018 Texas CME Conference
When? TBD
Where? TBD
To show our support for the Texas Medical Association – the nation's largest state medical society boasting over 50,000 physician and medical student members – we exhibit at the annual Texas CME Conference each year. The 2017 program in Houston (June 21-23) offered a series of learner tracks and breakout sessions, introducing CME newcomers to the accreditation process, providing industry updates, and establishing a forum for CME providers to exchange ideas. You can check out this link posted by the Texas Alliance for Continuing Medical Education (the organization with whom the Texas Medical Association partners to facilitate this event) for additional details and photos.
Who should attend next year? CME activity planners and program staff; physician CME committee chairs and members; CME staff and physicians from organizations seeking accreditation as a CME provider; and individuals in related professions who collaborate with CME providers. Essentially, if you are responsible for creating educational content for healthcare professionals, we encourage you to register for the 2018 Texas CME Conference! Official dates and location will be announced soon – and if you're interested in submitting an abstract, the deadline is December 1, 2017.

We hope to see you at some of these upcoming CME events! Reach out if you'd like to know more; we're always happy to share our insights!
For some related light reading on the evolving technology trends taking place in the healthcare industry today, check out our complimentary eGuide: 5 Reasons Why the Healthcare Industry Needs Webinars.