Businesses Expand With Online Meetings & Events
As companies and organizations of all sizes turn to online meetings and conferences to save time and money, it can become difficult to understand the difference between different types of events and the functionality of platforms needed to deliver a great event experience to your audience.
Different types of virtual experiences require different integrations to provide an interactive experience for your viewers. Event management continues to get more complicated as event planners need to consider the purpose of an online event and the type of event platform they need to ensure the event is delivered as effectively as possible.
If you are confused about the difference between a virtual event platform and video conferencing, then let's dive into the article to discuss what you should look for with each type of online event and how you can deliver a great virtual experience for your audience today!
What Is A Virtual Event Platform?
A virtual event platform is an online space where you can host or hold an event, meeting, or conference. There are a huge number of virtual event platforms out there today, but, it's important to note that not all online platforms are created equal.
Not every platform is meant to house every type of event either, because some virtual event platforms lack essential functionality like breakout rooms for larger events. Virtual event platforms are meant to provide a keynote digital event that your audience would expect from a traditional in-person trade show, and this is delivered in real-time.
If you are looking to deliver a memorable event in your industry, then it's important to do your research and find the platform that best suits your needs for your specific event. You will want a platform that is easy to use and provides you and your attendees with ease of accessibility and security, and these types of platforms typically house many tools and functionalities like video conferencing.
What Are Video Conferencing Tools?
A video conference is typically a straightforward meeting that includes video functionality for those on the call. It is similar to a video call that most people can make on their cell phones but includes additional features like recording and transcriptions.
Video conferencing tools are things like screen sharing, virtual whiteboards, along with settings and permissions designed to limit who can be heard or participate in a meeting. Video conferencing works well for remote office meetings and small roundtables, but when it comes to hosting virtual events like webinars, conferences, or online classrooms, you are going to have to invest in a legitimate virtual event platform.
It's important to understand the different purposes between virtual events and video conferences since you will need more features, functionalities, and integrations to deliver a full-scale virtual event or conference. On the other hand, video conferences are typically easier to host, and these tools usually come with a more robust virtual event platform.
Now that we have a basic understanding of what a video event platform and video conferencing tools are, let's take a look a the differences between these two online experiences and what you should look for depending on the type of event you want to host.
How Are Virtual Event Platforms & Video Conferencing Tools Different?
Virtual event platforms allow you to host meetings or conferences, and they also provide you with the video conferencing tools you need by having them integrated into the platform. Different platforms do not all offer the same tools. Make sure you choose a platform, such as BeaconLive, which can provide you with any tool you need through their customizable options.
If you are wondering how you can tell when you need to use a virtual event platform, here's a breakdown of the distinct differences between virtual event platforms and video conferencing tools.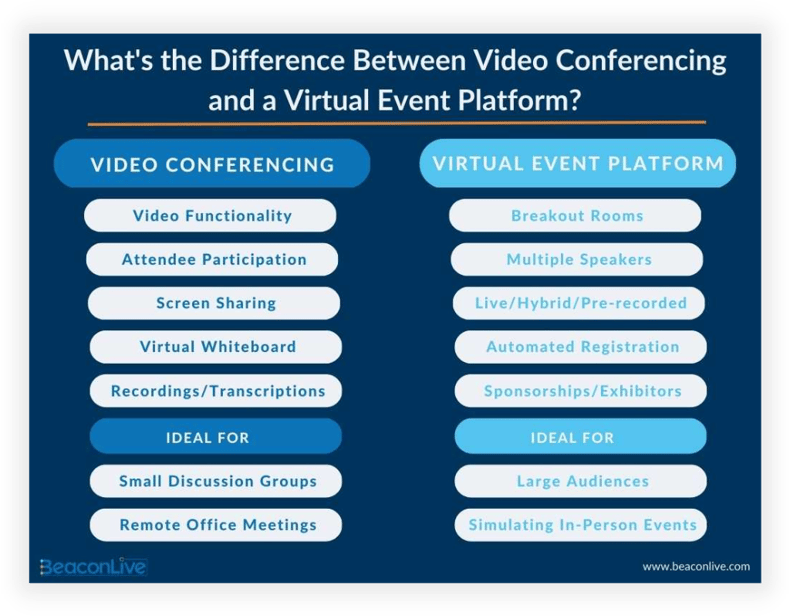 1. Virtual Event Platforms Simulate In-Person Meetings
One of the biggest reasons that organizations started using virtual event platforms is that these tools can emulate face-to-face conferences and events without the overhead associated with traditional in-person events. You can do almost everything virtually that you can in person if you choose the right virtual event platform, and this can help you connect with your customers and train your staff no matter where they are located.
The best part is, a virtual event doesn't cause the hassle, disruption, and expense for your attendees but still delivers a great opportunity to learn and network, just like a conference or industry tradeshow.
As you can see, if you are just tossing back and forth a few ideas with a coworker, you may not need a virtual event hosting platform. However, for a virtual conference, virtual tradeshows, or other events where audience engagement is important, you will need a platform that can give you more tools and support more than just a conversation with a more robust virtual event platform solution.
2. Virtual Event Platforms Are Made For Larger Audiences
A sales team can have their morning meeting using video conferencing without too much of a problem, supposing it is a fairly small team that is running a basic meeting. However, you will need more functionality and integrations if you want to encourage audience engagement or networking features at a larger industry event.
An event platform will also give your meeting a more professional feel because it introduces several advanced features like breakout rooms, live streams, and tools to help you with event marketing. Online event software offers a robust range of features and functionality you need to deliver a great live event in a virtual setting while maintaining the personal appeal for a larger audience.
3. Virtual Event Platforms Can Handle Complex Agendas
In order for your virtual event to be as power-packed as an in-person event would be, you will need to be able to hold multiple sessions at one time. This is not something that can be done on basic commercial platforms or with ordinary video conferencing tools because online event software offers event organizers the ability to upload and change the agenda as needed across all users in the event.
Virtual event platforms can give you the ability to have multiple speakers, some live and others pre-recorded, break-out sessions, and even hybrid event features. You can even have an app just for your event to help participants find the information they need and attend sessions throughout the day. These platforms can also create far more opportunities for sponsorship and exhibitors which helps you both in terms of finances and exposure.
4. Virtual Event Platforms Include Automation & Registration
When it comes to determining the success of your virtual event and using the event to create more opportunities in the future, having accurate data is vital. Virtual event platforms use registration and automation to help you understand the people who attend your event better.
You will be able to determine which guests interacted with each other and your sponsors, how long they stayed in which sessions, and other information that you can use to create better events and targeted event marketing in the future.
5. Video Conferencing Tools Are Integrated Into Virtual Event Platforms
The nature of their use means that video conferencing tools are integrated into virtual event platforms. The real difference between video conferencing and virtual event platforms is that you get so much more with virtual event platforms!
When you choose a virtual event platform, you are able to have whichever integrated tools that you need. This means that you get the normal video conferencing tools that you are used to as well as other specialized tools to help you host the exact event that you want the exact way that you want to host it.
Virtual Event Platforms for Business Meetings of All Kinds
Virtual event platforms like BeaconLive give you the opportunity to do so much more than just video conferencing.
With a virtual event platform, you can hold conferences, webinars, marketing events, trade shows, shareholder meetings and more. You can host any type of event that you can dream of. Start planning your next event on a great virtual event platform and take your business to the next level.
---