Improve Your Patient Experience With An Engaging Webinar Series
Leading companies across all industries use webinars to share knowledge, attract new customers, and hone internal processes. But, why webinars? How does this method of communication effectively deliver in these areas, and why is webinar usage relevant in specific industries?
In the healthcare industry, utilizing modern forms of technology—such as posting webinars—helps to continuously optimize the execution of care and streamline processes that support and enable efficient care delivery. Communicating via webinars can also break down geographical barriers that inhibit collaboration, thus aiding clinical discovery growth.
Let's look at what webinars entail and six reasons why you need to add them to your digital marketing strategy to grow your healthcare company.
Photo by Ivan Samkov
What Is A Healthcare Webinar?
A webinar is essentially a seminar or presentation conducted online. In the healthcare industry, these virtual events can target healthcare providers or patients and cover a variety of essential topics, such as:
Patient Safety

Disaster Preparedness

Population Health Updates

New Patient Care Strategies

Regulatory Updates
Since webinars are meant to cover a specialized topic, they can be limited to one session or developed into a webinar series that covers the content more extensively. You can even use them to present case studies or use them to introduce your clinicians and other healthcare providers to new patients.
Still, wondering how you can leverage webinars to take your healthcare system to the next level? Let's look at six reasons why healthcare organizations are implementing webinars as one of many innovative approaches to growing their brand.
6 Reasons Why Healthcare Companies Are Harnessing The Power Of The Webinar
In healthcare, you can utilize webinars to address a number of different areas, such as sales, patient audits, compliance, and education.
Managers, sales teams, and practitioners can use them to meet their patients' needs, offer insights into the healthcare system, and provide new ways to access critical information.
Here are some specific ways healthcare professionals can take advantage of webinars:
1. Know And Educate Your Target Market
If healthcare professionals are hosting webinars, they can use the webinar dashboard to "see" their audience, including who's got their hand raised and how many viewers are paying attention.
They can also launch polls to involve their audience and offer Q&As to monitor and respond to questions. Then, after the presentation, they can get feedback by asking attendees to complete a survey. Reports will show all poll, Q&A, and survey data, as well as attendee interest levels, and registration information.
General practitioners and other health professionals are very willing to attend webinars presented by key opinion leaders, such as consultants. Webinars help to position healthcare institutions as knowledge leaders and, thus, reliable beacons of valuable information.
Offering educational content helps to both attract and retain customers, and, according to a study conducted by Bain and Company, a 5% increase in customer retention can increase profits by 25% to 125%.
2. Reach customers over a wide geographic area
Health professionals can attend from anywhere they can access the Internet, including mobile devices. According to a 2020 study by the American Medical Association, nearly 9 in 10 physicians saw an advantage in using digital health tools.
This level of accessibility is key in the post-Covid19 pandemic world and helps expand a company's reach. Average webinar attendance is about 40% of the total registrants but, due to the pandemic, the average number of registrants has increased significantly to about 260. That means each webinar is reaching, on average, 100-110 people all around the world simultaneously, which leads to greater exposure and, inevitably, brand recognition.
3. Save money
When hosting an in-person event, there are many overhead costs you don't think about during the planning stages. Between travel and accommodation fees, catering, and venue costs, both hosts and attendees may find themselves shelling out more than they anticipated.
Webinars are a much lower cost alternative to in-person meetings because they are held virtually, so all attendees will need is a device and an internet connection.
Additionally, you can partner with a virtual event platform to record your webinar, which allows you to transform it into OnDemand content that your audience can access. This increases ROI for your webinar and gives you a resource to share with your customers.
ENJOYING THIS BLOG? CHECK OUT OUR EXPLAINER VIDEO ON YOUTUBE!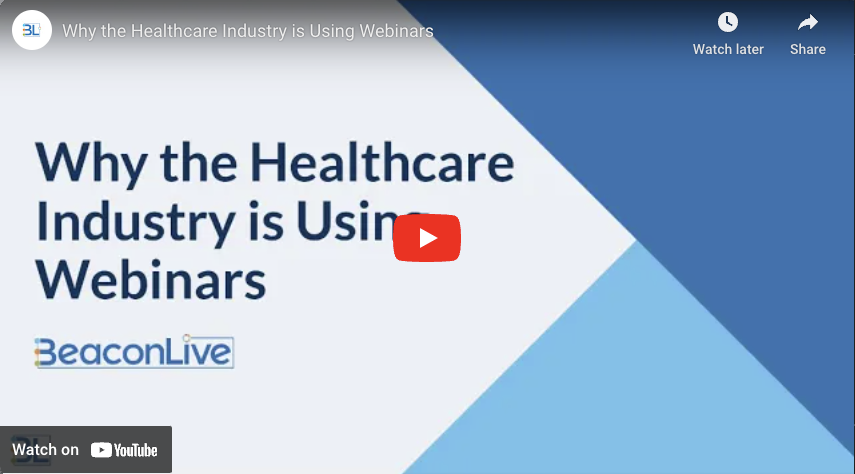 4. Networking
People within the healthcare industry use webinars to grow their networks. Doctors and other health professionals can gain a credible, noteworthy reputation within their industry. They can become a resource and a potential provider, mentor, or teacher.
Using webinars for professional networking is also an excellent way for healthcare leaders to connect, collaborate, and find solutions for pressing issues like staffing shortages, mental health resources, and infection prevention.
Webinars remove geographical barriers and allow professionals from across the globe to connect. They also allow interoperability so healthcare data can easily be shared and utilized in other areas. This means you can create a unique ecosystem of healthcare professionals who can offer quality improvement to various healthcare settings.
5. Convenience Viewing
Webinars can be recorded for later viewing OnDemand, depending on your virtual event platform. Health professionals can then post or email a link to the recording.
Webinars receive 47% of their views up to ten days after the initial event. This means you need to offer recordings of your event to really engage your audience and provide maximum value.
OnDemand recordings of your webinar are great for audience members who could not attend and for supporting your content marketing strategy. Consider using clips on your social media accounts to increase engagement and demonstrate what your healthcare company has to offer.
6. Build a sales funnel
A sales funnel is the process users go through to convert into customers. Each stage is designed to take people closer to purchasing or engaging with your services. You can incorporate webinars into the process of building a sales funnel because they show you exactly who is already interested in what you have to offer.
Healthcare companies can also use webinars to create a potential customer list. 85% of all webinars are designed to educate existing and potential customers, and 77% are made to generate new leads (eMarketeer). No matter which approach you choose, if you market your webinar correctly, you'll end up with a group of attendees who want to know what your healthcare company is all about.
Your registration list will offer qualified leads that you can channel into a sales funnel that will help build ROI for your healthcare system.
Photo by Karolina Grabowska
Partner With BeaconLive For Your Upcoming Webinars
Webinars are a great way to increase brand awareness, demonstrate thought leadership, and generate new customers and revenue. So you must take the time to plan and execute them correctly.
Since more consumers are watching videos online today more than ever, webinars simply make sense. Healthcare professionals should be devoting a good portion of their time to creating compelling, informative webinars that add value to their brand.
With the right approach, webinars can help leaders of any healthcare system share their passion with their unique audience, create a lasting impression, and move their business forward.
Want to discover how the healthcare industry is using webinars? Leading companies across all sectors use webinars to share knowledge, attract new customers, and hone internal processes.
Connect with the Team at BeaconLive to get started.
---