Leading companies across all industries use webinars to share knowledge, attract new customers, and hone internal processes. But, why webinars? How does this method of communication effectively deliver in these areas, and why is webinar usage relevant in specific industries?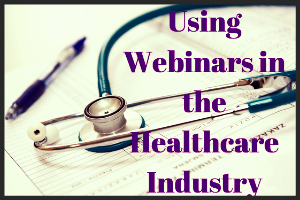 In the healthcare industry, for example, utilizing modern forms of technology – such as posting webinars – helps to continuously optimize the execution of care and streamline processes that support and enable efficient care delivery. Communicating via webinars can also break down collaboration barriers, thus aiding in the growth of clinical discovery.
In healthcare, webinars can be utilized to address a number of different areas, such as Sales, Patient Audits, Compliance, Budget Impact Models, and Education. Managers, sales teams, practitioners, and patients can use them to meet their needs. Here are some specific ways healthcare professionals can take advantage of webinars:
Know target market - If healthcare professionals are hosting webinars, they can use the webinar dashboard to "see" their audience, including who's got their hand raised and how many viewers are paying attention. They can also launch polls to involve their audience and offer Q&A to monitor and respond to questions. Then, after the presentation, they can get feedback by asking attendees to complete a survey. Reports will show all poll, Q&A, and survey data, attendee interest levels, and registration information.


Educate target market - General practitioners and other health professionals are very willing to attend webinars presented by key opinion leaders, such as consultants. Webinars help to position healthcare institutions as knowledge leaders and, thus, reliable beacons of valuable information. Offering educational content helps to both attract and retain customers; and, according to a study conducted by Bain and Company, a 5% increase in customer retention can increase profits by 25% to 125%.



Reach customers over a wide geographic area

- Health professionals can attend from anywhere they can access the Internet, including mobile devices. A study of the healthcare industry last year showed 86% of healthcare providers used smartphones in their practice and 53% of providers used tablets in 2013, an astonishing increase of 34% from 2012 (Groove Digital Marketing). This level of accessibility is key in this digital age and helps expand a company's reach. Averaging 54 live attendees at a time, according to e3Marketing, webinars allow you to reach people all around the world simultaneously, which means greater exposure and, inevitably, brand recognition.


Save money - Webinars are a much lower cost alternative to in-person meetings.



Watch at convenience

- Webinars can be recorded for later viewing OnDemand. Health professionals can then post or email a link to the recording. A whopping 96% of OnDemand webinar registrants view the content at their convenience (Corporate Visions).


Build a sales funnel - Webinars can be used to create a potential customer list. 85% of all webinars are designed to educate existing and potential customers, and 77% are created to generate new leads (eMarketeer). Webinars are a great way to increase brand awareness, demonstrate thought leadership, and generate new customers and revenue.
Since more consumers are watching videos online today more than ever – 2 out of 4 people (Marketing Your Hospital) – webinars simply make sense, and people in healthcare should be devoting a good portion of their time to creating compelling, informative webinars that add value to their brand, share their passion with the audience, create a lasting impression, and, of course, move their business forward.
Want to discover how the healthcare industry is using webinars? Leading companies across all industries use webinars to share knowledge, attract new customers, and hone internal processes. Download the White Paper below to gain deep insights into the purpose and importance of healthcare webinars.