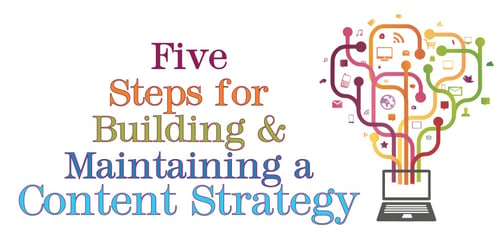 Building a content strategy is important, but following up with ideas jotted in your notebook or shared via email doesn't a strategy make. While attending the Legal Marketing Associations Annual meeting this year, we met with several marketers who shared that they not only do not have a documented strategy, but they do not have a shared concept of what strategy should be throughout the departments of their firm.
As we do, we researched the topic share with you on how to build and maintain a content marketing strategy for your organization. Taking it a step further (again, as we do) we found a well published legal marketing expert on this very subject to partner with us in delivering a webinar on how to get started in Building your Content Strategy. Register today for the webinar, and check out our extensively researched notes below to get prepared for building your document.
During our extensive research on the topic. we have found the agreed upon 5 steps of building your strategy (amongst the reputable marketing sites listed below) to include:
Audit and Analysis

-Research

Strategy (plan)

Plan (strategy)

Create

Maintain
While we won't go into great detail on each of these topics, we will touch upon the basic elements within each step, and provide you with sources to learn more. (Why won't we go more into it? We know we're not content experts, we're webinar experts! Also, we have a webinar with a Strategy expert coming up that we'd like you to attend)
Audit and Analysis
It's important to know what content you already have and understand how it can be repurposed for future content. In the content world, we always hear why recreate the wheel when you can repurpose what already exists?
For example, remember that awesome customer testimonial video you got last year? Sure, it got a few views on YouTube, but don't you want to share your customers glowing review of your product/service with prospects? Repurpose the video by transcribing it and turning it into an blog interview. Use sound clips of a few key points the customer touches upon and create a montage of several testimonials to show before your next demo.
Often, it's difficult to Audit and Analyze all of your existing content. We found this awesome Content Auditing Worksheet from Hubspot (under worksheets, http://academy.hubspot.com/itd14-inbound-content) that allows you to document every piece of content that you already have. Further, after reviewing all the existing content, you can analyze where the missing gaps or possible repurposing possibilities by mapping which persona and stage in the buying journey that the content was created for.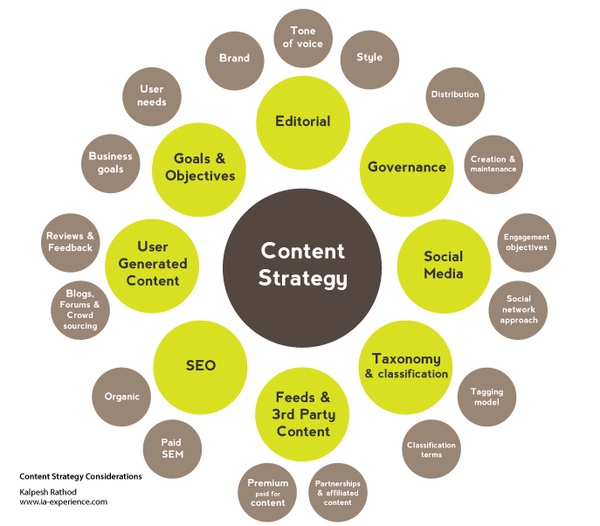 Research
While research is not officially one of the five steps of building your strategy, we believe it is important to ensure that everyone involved now and in the future truly understands your company, prospects/customers, and plans for the future. After all, if you don't know answers to these questions, then you really cant create awesome and remarkable in-depth content. The Content Marketing Institute came up with an awesome eBook to get you started by providing you with 36 Questions to Answer during this phase your development.
The research phase becomes increasingly important the further you go into building your strategy. By the time you reach the Creation and Maintenance phase, you will want to make sure that your content is purposeful and directed at the right audience to not skew the future analysis of that contents success.
Strategy and Plan
We feel that the next two topics go hand in hand, so we combined them. First, you must have a strategy on how to achieve your goals, then you have a plan tactics to fulfill the strategy.
For example, If you want to reach a large audience to deliver your knowledge on a difficult subject matter, you might want to deliver a webinar or webcast. Here's the plan, Your goal is to get X number of new prospects to attend your webinar. The strategy is to use a thought leader to deliver their subject matter, and you will work with a webinar vendor to actually deliver the content. Many tactical elements go into fulfilling the strategy to ensure the goal is achieved.
Some of the tools you may need for this part of the plan include Content Management Systems (CMS) to organize and track your content and prospects and Project Management Software to document who is responsible for each element of the project.
This blog by the marketing agency Distilled, has great suggestions on how to effectively create a strategy and plan for each project. To provides you with questions to ask yourself (or your team) like What are the problems your audience is facing and how can you help resolve those? It also shows you how to create personas matrix to ensure you are staying inline with your plan.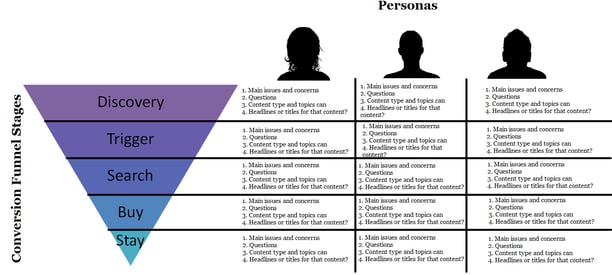 Image: Distilled
Create
Often, if you don't have a documented strategy, you will see people taking creative authority in how to design and develop your content. You need to be precise on what and how your branding will represent your company. This includes building a style guide for your company.
Style guides can include you brands 'voice,' writers guidelines, colors, fonts, image styles, tone of language/material, link policies, structure, point of views to use, and more. Never underestimate the importance a style guide plays in providing your company with a professional and pulled-together appearance.
In Moz's blog Content Strategy, you're doing it all wrong they discuss why you should creating content and why you should not create content. They also include an awesome 'obligatory infographic' that visualizes how your campaign should be laid out for success.


Another project you will need to take on before getting started with creating content is the development of a living a breathing (continuously growing and changing) editorial calendar. An editorial or content calendar will keep you on track for meeting your goals, attending to your strategies and keeping the your associated tactics on schedule. While new important projects that require all hands on deck will take precedence in your calendar, its important to set a priority on the content you need to in order to meet your end goals. CMI developed a great 3-Step Process (that allows you to build your content calendar that fits within the different phases (seasons, sales cycles, terms) of your company.
Maintain
The final step of building your strategy is the maintenance stage. You will want to plan for periodic auditing of the content you are doing. Ensure that your content is actually being consumed by your audience and guiding them through the buyers journey that you designed for them. Simply creating content for contents sake is a waste of the companies time.
During these maintenance periods, you will also want to reexamine your audience. Is your Business Development team still selling to the same personas? Have the personas moved their attention or are they consuming their content in a new method?
UX Magazine posted an article on the importance of keeping up appearances that suggests questions to ask yourself about each type of content that you produced during that period. Questions like What content do users say they want? What content do they actually use? And After reviewing a piece of content, do they know what to do (or where to go) next? These are some of the few questions that you need to ask yourself to ensure that you are continuously keeping your content remarkable, useful and awesome.
This blog only slightly steps into the mammoth area of building your content marketing strategy, but should provide you with endless resources to find the best way to build your content strategy.
You may also like: 3 Essential Elements for Your Publishing Firm's Positioning Strategy
---