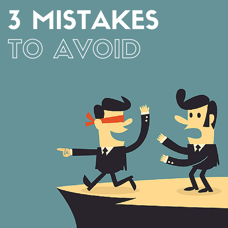 Continuing education seminars are here to stay, so it makes sense to understand the strategies for developing and presenting the very best online seminars possible. Most of us know all too well how technology hiccups can occur at the most inconvenient times, and there's never any way to predict what element of your event may fail. That's why preparing for the worst case scenario is always the safest bet! You can do so here by learning the 3 mistakes to avoid when delivering continuing education seminars.

MISTAKE #1
Avoid difficulties or roadblocks, such as requiring app or software downloads, which can prevent your attendees from accessing the presentation. Webinar providers that require an app/software download, can cause their attendees frustration by getting your content blocked by their firewall—resulting in numerous attendees having to miss out on the webinar or arrive late. Use a trusted provider to avoid this issue. Besides, it looks and feels more professional when you don't force your users to crowd their computer with another app.
MISTAKE #2
Not having a back-up plan for the "worst case" scenario is a rookie mistake. Prepare for what might happen if your speaker's call drops half-way through the presentation. This is one of the many ways in which having a trusted provider comes really handy; your moderator can notify the attendees of the brief interruption while he/she dials out to the speaker and connects them back in. This service feature is not offered by many vendors, so it's important to seek out solutions providers that do.
MISTAKE #3
Don't forget to do a dry run—one, two and three times. Rehearse the webinar in the room you'll be presenting in, on the computer you'll be presenting on, and on the phone or VoIP you'll be presenting with. That's the only way you'll be able to experience potential issues. And we can't stress this enough... don't use a cell or cordless phone during the rehearsal or the live event (because of potential echoes and battery problems). In fact, during the rehearsal, you should really practice on the phone you're going to use for the live event. Rehearsals are especially important when you have a guest presenter. It's essential that you have your guest presenter rehearse in the room/place in which he or she plans on conducting the live webinar.
As you can see, a lot more goes into a successful webinar than a PowerPoint presentation and an Internet connection. Work with an experienced vendor that can provide you with the customer service you need, prompt account managers, skilled producers, and adept moderators—in addition to superior conferencing technology. Make your next webinar the best that it can be!