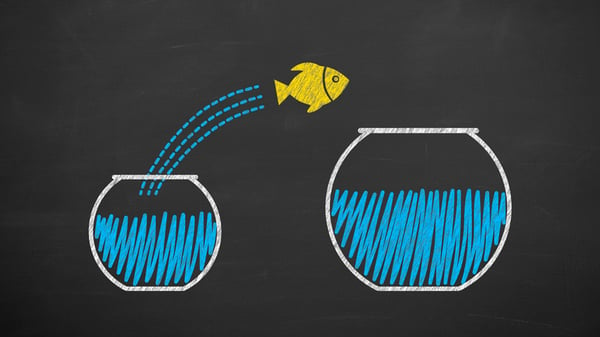 Are you happy with your current solution for CLE delivery? If the answer is no—or even a conflicted hmmm—you are not alone. In fact, recent industry data shows that 26 percent of people are dissatisfied or very dissatisfied with their current Learning Management System. And just a few years ago, Capterra reported that 31 percent of LMS buyers switched over to a different platform.
As Continuing Education demands and best practices change (particularly in the legal world) and technology evolves alongside these changes, the way you deliver, manage and monetize your programs needs to keep up, too. But how do you know if your CLE platform is on par with today's standards? That's the topic of this post!
In addition to cost, user-friendly design, and overall reliability—which all obviously play a part in how you evaluate solutions—there are a number of other key factors that can help you make a swift decision with conviction. Here we outline seven reasons why it's time to say goodbye to your current solution and look for a new CLE platform.


1. You're Still Using Multiple Vendors
Ask yourself this: how many different platforms is your organization using to run your Continuing Legal Education programs? If you think about all the moving parts… eLearning event delivery, e-commerce, OnDemand content creation, content management, course registration, certificates (and the list goes on), that number can add up if you're not using an "all-in-one" solution built with CE in mind.
While your platform should be able to sync up with other external systems, that doesn't mean all the critical elements you need in order to deliver and manage CLE can't be housed in one convenient place. Wouldn't it be ideal if your CLE platform served as a one-stop-shop? Don't settle for having to piece together solutions and relationships with a variety of disparate vendors when you can get all of the LMS essentials you need, as well as state-of-the-art webinar and webcasting technology, all from one more powerful platform.


There are several qualities you should look for in a top-notch CLE provider, including OnDemand content, automated certificate delivery and data protection & security.
2. The Interface Isn't Mobile-Friendly
Have you heard of the term responsive design? In a nutshell, it refers to how developers, designers, software engineers, etc. create website pages and digital solutions that "respond to" various devices and screen sizes by automatically reordering and resizing the content. It's an important piece of what makes a solution "mobile-friendly". So if you've ever seen a website or online tool for which you have to zoom in, scroll sideways, and strain your eyes just to view the content, you've already experienced the frustrations of a design that is not responsive. And more than likely, you were quick to stop viewing that content and bounce. Hopefully, that's not what your online resource library or CLE content looks like!
In addition to providing a dramatically better user experience, your platform's interface should be mobile-friendly simply because more and more attorneys are turning to mobile to complete their CLE. Just think about some of the popular CLE apps that have been emerging in the past few years. And, what's more, research shows that smartphone learners complete course material 45 percent faster than those using computers—and 70 percent of learners feel more motivated when training on a mobile device, like a smartphone or tablet.


Other features you want to be sure your CLE delivery platform offers are:
Audience interaction (chatrooms, live polling, quizzes & questionnaires)

White-label capabilities to display sponsor & exhibitor branding

Integrated APIs
3. You're Not Working With a Partner With Industry Experience
When you work with partners and vendors that know the legal industry very well, you can feel the difference. They understand your needs and the requirements with which your organization must comply (across various states and provinces), as well as the experience your end users are looking for. Everything runs more smoothly—and the administrative and technical issues you've worried about in the past all seem to melt away.
Plus, if you partner with a full-service team, they can do all the heavy lifting for you (and even manage the entire back-end of your CLE program) while you focus on content creation and customer relationships. When assessing new options, ask the company's sales rep if they have experience working with bar associations, AM200 law firms, and other professional CLE providers. Moreover, it's ideal if you can team up with a company that can help you obtain content accreditation nationally or in multiple jurisdictions.


4. The Platform Doesn't Integrate With Your Existing Data Systems
You already know how much information you collect from your CLE customers. It's a lot of data, right? The ability to support the flow of that data across multiple platforms—like a marketing automation tool that leverages personalization and smart content, or a customer relationship management system—is going to make your life SO much easier and more organized.
Your administrative team (and maybe that includes you) won't have to deal with spreadsheets or manually uploading files anymore if you have a CLE platform that not only helps you deliver programming but also manage it. If your existing solution doesn't enable you to seamlessly sync data back and forth, or it's a cumbersome process to integrate it with another platform your team regularly uses, it's a clear sign you're operating with technology that's simply out-of-date.
5. Revenue Support Capabilities Are Not Included
Does your CLE solution allow you to monetize your program from directly within the platform? Can it support sponsorship and advertising? Are the financial transactions your customers are completing to pay for CLE entirely secure—and is their personal information processed and stored in a way that adheres to the strictest data privacy regulations? These are all questions you should be confidently answering with yes, of course. If not, it's time for a change.
As an online Continuing Legal Education provider, you're in the business of e-commerce. Your solution should give you the tools to build out a secure, revenue-generating resource center where your customers aren't required to use a third-party in order to make purchases and get what they need. Look for a platform that keeps this type of functionality under one roof. We also recommend taking a look at your current provider's privacy policy and checking out whether or not it measures up to modern security standards. If they don't even have a privacy policy, that's not a very good sign…


6. It's Difficult To Automate Administrative Tasks
One goal nearly all CLE providers have in common is to achieve compliance in an automated fashion. To be quite frank, automation is the key to a CLE admin's happiness. And if you're using best-in-class CLE delivery and management technology, this should be very attainable. First, a platform that enables the creation of highly customizable certificate configurations and templates is going to streamline a number of manual tasks. The right solution will help you take care of every available credit type that your organization offers to legal professionals, drilling down to the individual state or province level.
Plus, a modern platform for CLE delivery and management will enable you to create the optimal CLE workflow for your end users. From registration and/or payment to exam grading to certificate delivery, all of these functions should be automatically taken care of by the system you're working with. You shouldn't have to manually administer any of these steps. If it's a challenge (or it's not possible) to automate the processes that occur in a typical CLE workflow, you can do better than your current solution.


7. Your Virtual Events Still Utilize Adobe Flash
The importance of video content in relation to eLearning cannot be understated. This is the way the majority of learners prefer to consume content, and in many cases, it helps us retain what we learn much more effectively. Leveraging a platform that enables you to easily incorporate video into your CLE course is going to give you a distinct competitive advantage.
That being said, live video—whether it's a webinar, webcast or some other type of virtual event—also needs to be taken into consideration. While many states and provinces allow attorneys to obtain OnDemand CLE credit, live online courses are still essential to the CLE ecosystem. And if your platform is still using Adobe Flash to execute these virtual events, you're in a bit of trouble. Here's a more detailed explanation as to why Flash is problematic. But to summarize, in addition to mobile incompatibility and the inconveniences of necessary plug-ins, using Adobe Flash poses certain security risks.

If you're on the fence about leaving your CLE delivery solution in the dust, we hope this article provided some helpful insight. If you'd like to learn more about our (dare we say… awesome?) BeaconLive platform—which, of course, is meant to help out CLE providers like yourself—please don't hesitate to contact us. We are happy to provide you with a complimentary consultation and demo to answer any questions you may have.
---