Why Do Hackers Target Virtual Events?
2020 was the worst year ever for a vast array of cyberattacks. Then, 2021 was even worse. It's not hard to guess that 2022 will see cyberattacks continue.
As more schools, private sector organizations, and business professionals turn to virtual events to share information and connect, cybercriminals are exploiting vulnerabilities in platform providers and computer systems to disrupt an event and steal data from participants and event hosts.
You have probably heard about major cyber attacks that have affected government agencies, school systems, and even hospitals and healthcare systems. While most people think their online event won't be the target of a data breach or cybercrime, the truth is that all event planners of online conferences and virtual events need to think about cybersecurity.
In the last few years, teachers have seen educational meetings hacked, pastors have had religious meetings interrupted, and even public figures have had their meetings and conferences hacked.
Photo by Tima Miroshnichenko
The Growth Of Virtual Events In Business
Virtual events have been gaining popularity over the last decade because they are both cost and time-effective. They help people to connect quicker and better which makes businesses move faster and see more profits. However, cybersecurity experts are starting to raise red flags about cybersecurity as more people turn to online conferences.
The threat of cyber attacks that could jeopardize confidential information for all sectors like financial services, board meetings, and even law enforcement organizations only continues to grow.
Every day, more companies join the ranks of those communicating online through virtual events and meetings. This is why hackers are seeing them as fertile ground for their shenanigans and crimes.
Let's take a look at why hackers target virtual events, and some tips that cybersecurity firms recommend organizations take to keep their attendees and hosts safe from unwanted distractions or data breaches from hackers during an online conference.
Why Do Hackers Target Virtual Events?
Hackers target virtual events for many reasons. Sadly, there is no one specific profile that makes it easier to avoid them.
Some hackers attack to get your registration lists and information that you gather about your attendees. This allows them to target and spam your attendees, which can have a negative impact on your brand and how much participants trust your online events in the future. Others want inside access to your company where they can gain access to sensitive information about your employees and other proprietary information.
During hybrid events, room block poaching (which involves hijacking room reservations) and stealing credit card information is a huge problem. With online-only events, not only do you have to watch out for those who would want to steal credit card information, but who also run email scams and steal passwords.
Some hackers attack for political or personal reasons because they specifically want to hurt you and your company or simply to further their own agenda.
As you can see, there are lots of reasons for hackers to choose a vulnerable target's network and hack an online event. From social engineering to stolen data, your organization needs to keep cybersecurity at the forefront of its efforts from the very beginning to ensure hackers are unable to infiltrate your online event or virtual conference.
How Can You Make Your Online Meetings More Secure?
If you want to ensure that your online meetings are secure, start with a platform that gives you a wide variety of beneficial security features that will allow you to make your own choices about protecting your event. Here are a few more tips for making your online event a little bit more secure.
1. Invite Your Audience Directly
When you invite your audience directly, it allows you to have more control over who even knows about your online event in the first place. Try directly inviting your attendees, and if you are going to advertise, try using your own email lists or another form of direct marketing.
You can also provide a secure link that is unique to each participant, as this approach applies a layer of authentication that will prevent unwanted attendees from gaining access to your event. This is one way how we at BeaconLive keep our events safe.
2. Hide Video/Streaming URLs
Hiding video or streaming URLs will protect your content from unwanted sharing. This is important because unprotected videos and other content could end up all over the internet without you even knowing.
Just think of the number of scandals, the amount of bad publicity, and the cybersecurity problems that could have been avoided if this advice had been followed. You never want to see your business' private communications leaked online for the world to see, and hiding URLs for media can help thwart cybercriminals from accessing and sharing sensitive information.
3. Pre-Screen Potential Guests
Pre-screening your potential guests is a great thing to do. It gives you the opportunity to enhance your security by auditing your attendees and making sure every guest has cause to be there.
At BeaconLive, you can pre-screen your guest using biometric authentication. BeaconLive is the only platform in the industry using this level of encryption and security protocols to maintain privacy & security for virtual events and webinars.
It also gives you the opportunity to collect information that you can use to build your own email lists and better target your own advertising to your attendees. Cybersecurity experts agree that the best way to avoid cyberattacks is to prevent them from the start, and pre-screening participants before they enter your event is a great way to avoid unwanted guests from joining the event.
4. Make Sure Your Attendees Understand Online Security
Making sure that your guests understand online security will help to protect your meeting and company overall. It is always great to either send a reminder about best practices in online safety or address the issue at the beginning of the meeting or even in the waiting rooms.
5. Monitor Your Audience To Remove Unwanted Guests
You should appoint one or two people to monitor your audience during your online meeting or event. Actively monitoring your event's cybersecurity is an essential part of this solution. It is vital to monitor unknown vulnerabilities that exist with your provider and computer network to ensure your guests and organization are protected at all times.
In case a bad apple slips through, you need to have someone there to supervise and remove unwanted or unruly guests. You will want to eject them immediately to try and prevent as much damage as possible. Then, use your security features to make sure that the unwanted guest cannot re-enter the meeting to cause even more trouble.
With BeaconLive's fully-managed events, your designated moderator will be monitoring for any hackers, scammers, trolling or unsolicited and inappropriate behavior.
These surprise guests are one of the biggest problems when it comes to security of online meetings. Even when long term damage isn't done, the disruption is time-consuming and money-wasting. Preventing this issue should definitely be a top priority.
Photo by Vanessa Garcia
How Do I Implement Biometric Authentication & Advanced Security for My Virtual Events, Webinars and Continuing Education?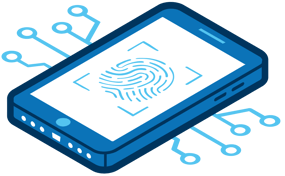 With BeaconLive, advanced security and biometric authentication for your virtual events, webinars and continuing education is made easy. Our platform allows you to authenticate attendees before, during and after events to make sure that the person consuming your proprietary content, voting in polls and participating in conversations is who they say they are.
Your BeaconLive account manager and event producer can help you implement this integration for advanced security and authentication. Feel free to contact us with any questions - our team is looking forward to launching your organization into this new realm of online events and content delivery.
Conclusion
If you commonly host online events, meetings or webinars or you are considering hosting one in the future, it is of the utmost importance that you understand how to keep your meeting secure. Choose a platform that has features that help you and practice online safety while planning and executing your event. Online events are a great way to grow ideas, grow revenue, and grow your business. Just be safe about who you are growing them with.
---