Regardless of the industry, it's hard to deny that virtual and hybrid events are quickly becoming the go-to solution for large companies and organizations. Not only do virtual and hybrid events provide attendees with the information they need to advance their education and team spirit, but they also allow businesses to reach a global audience in varying time zones.
Promoting, planning, and hosting a virtual event requires the same attention to detail as an in-person event. However, virtual events require specific marketing strategies to ensure your online program won't go unnoticed.
How can you use your marketing expertise to chart the unnavigated waters of virtual event planning? Let's take a look at how your current marketing skills fit into a virtual event strategy.
Where Does Marketing Fit Into Your Virtual Events?
Crafting a virtual event experience isn't much different than a marketer designing an in-person conference or trade show. You need an effective combination of content and marketing to motivate potential attendees to respond favorably to your event.
Just like when you plan a live event, you need to attract relevant audiences and inspire them to take action.
The good news is that virtual events require a lower marketing budget than their in-person counterparts due to the virtual nature of the event. This means that you can use a number of innovative and effective marketing strategies to increase attendance, attract high-quality presenters, and use your event as a springboard for your corporate marketing strategy after the event has ended.
Take a look at these 9 marketing strategies that are sure to cultivate success in your next virtual event.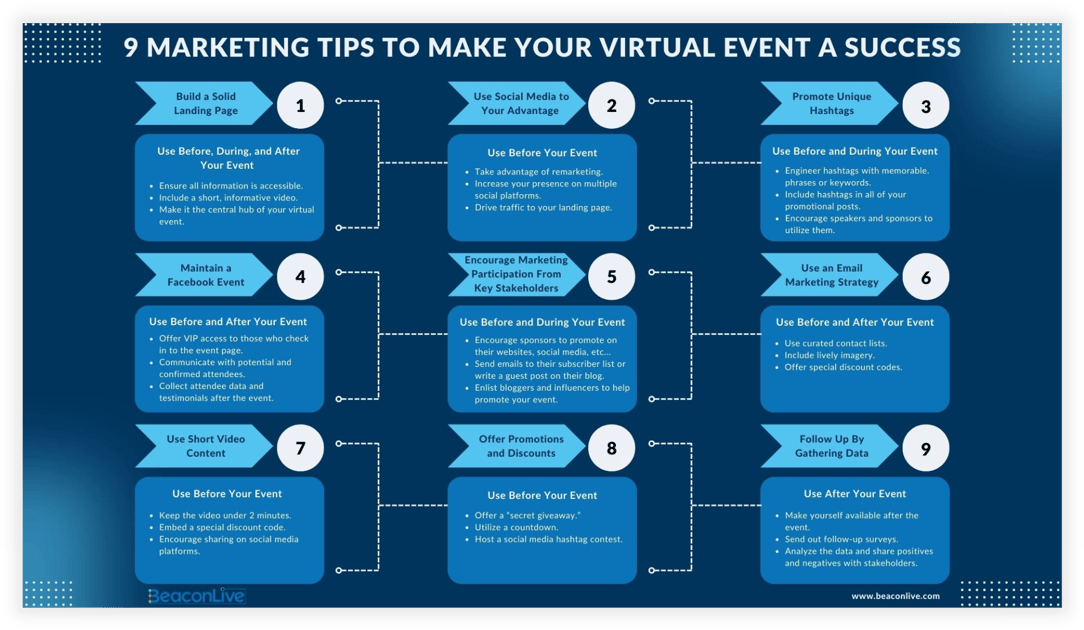 9 Marketing Tips To Make Your Virtual Event A Success
1. Create An Event Landing Page
There are countless marketing strategies you can use to market your next virtual event. From Google Ads to blogging, there are a number of great marketing tactics that can help you get in front of the right crowd to drive higher attendance and build awareness in your industry.
However, the fact remains that you need an amazing landing page to convert interested readers to registered attendees and your event landing pages are critical to this conversion process.
The event landing page is the focal point of your virtual marketing campaign. This event website serves two main functions: to facilitate communication with your target audience and to capture data from interested visitors for higher conversion rates.
A high-quality, effective landing page should be eye-catching and contain all of the important information related to the virtual event, such as an agenda, schedule of events, and FAQs.
Landing pages can also be utilized to push ticket sales, as a central location during your event and to administer follow-up surveys. As you can see, you will need several landing pages to engage with your target audience throughout the lifecycle of your virtual event.
Marketing Tip #1

What To Do

When To Use It

Build a solid landing page

Ensure all information is accessible.

Include a short, informative video.

Make it the central hub of your virtual event.

Before, During, And After Your Event
2. Leverage Social Media Remarketing On Facebook and LinkedIn
As you plan your event marketing strategy be sure to think about who your target audience is and where those people spend their time online. One of the best ways to drive engagement for your upcoming virtual event is to run remarketing ads on Facebook and LinkedIn.
Both of these social media platforms are likely frequented by your target audience, and these platforms offer cost-effective remarketing campaigns that you can use to engage with people who showed interest in your event but did not register for an event in the past.
Remarketing features track visitors to your social media page who did not register. Social media platforms like LinkedIn and Facebook use online technologies to allow you to display ads to these same people using insight tags and will drive more traffic to your landing page.
Utilizing remarketing will increase conversions as potential attendees are reminded of exciting your virtual event will be.
.
Marketing Tip #2

What To Do

When To Use It

Use social media to your advantage

Take advantage of remarketing.

Increase your presence on multiple social platforms.

Drive traffic to your landing page.

Before Your Event
3. Build Momentum With A Twitter Hashtag
Your target audience is on Twitter as they look for the latest news in their industry. You can take advantage of this social media platform by using specific hashtags to ensure your Twitter messages reach people based on their interests.
Hashtags are keywords or snappy short phrases used by event hosts to plan and monitor event attendees' conversations about their event. These snippets of text connect you with your audience who have expressed interest in a specific topic so you can speak directly to your ideal attendee and showcase the value of your upcoming virtual event.
You can also use hashtags to attract the attention of attendees throughout the entire event. You can tweet quotes, highlights, and other interesting content on Twitter and use a hashtag to ensure your message reaches the right people on the platform. This is a great way to keep attendees engaged throughout the entire event and direct them to information on your event landing pages or website.
Marketing Tip #3

What To Do

When To Use It

Promote unique hashtags on Twitter.

Engineer hashtags with memorable. phrases or keywords.

Include the hashtag in all of your promotional posts.

Encourage speakers and sponsors to utilize it as well.

Before And During The Event
4. Create A Facebook Event For Event Registration
Facebook is one of the best social platforms that you can use to drive engagement and awareness about your virtual event. Not only is Facebook the largest social platform in the world, it also offers some useful tools that you can use to get more people to register for your event and engage with content throughout the event's schedule.
One of these useful tools is a Facebook Event Page that allows you another centralized location to post updates, news, and other important information. You can use an Event Page as a trusted place for attendees to learn about upcoming speakers, post updates, and even offer registration options through the social media platform.
This allows you more contact with your audience and provides vital push notifications that will alert page members of updates and remind them of event times.
You can also track attendance by encouraging visitors to RSVP through the Facebook event.
Marketing Tip #4

What To Do

When To Use It

Maintain a Facebook Event page

Offer VIP access to those who check in to the event page.

Communicate with potential and confirmed attendees.

Collect attendee data and testimonials after the event.

Before And After You Event
5. Include Sponsors, Speakers, And Influencers In Marketing Efforts
Your event marketing strategy needs to include content and contributions from your sponsors, speakers, and other influencers in your industry. You can increase your reach and ensure your overall success by tapping into the networks of all parties associated with your event.
While it can be difficult to build a marketing strategy that includes speakers and influencers, the benefits make it well worth the extra effort. Be sure to communicate clearly how they can help and provide specific guidance to ensure their approach matches your event marketing strategy.
Influencers and bloggers in your industry can utilize their social media platform, social networks, and individual marketing reach to promote your virtual event in exchange for free tickets and some event swag.
Marketing Tip #5

What To Do

When To Use It

Encourage Marketing Participation From Key Stakeholders.

Encourage sponsors to promote on their websites, social media, and other web content.

Send emails to their subscriber list or write a guest post on their blog.

Enlist bloggers and influencers to help promote your event.

Before and During Your Event
6. Utilize Email Marketing
In the era of social media marketing, it's easy to forget that email is still relevant. Email marketing is a tried-and-true method to communicate with your target audience because it provides you direct access to your attendees without the need of a social network.
You can use email marketing throughout your entire event to discuss upcoming sessions, request survey information, and even promote other events coming up in the future that your attendees might be interested in!
Take time to think through your overall marketing strategy and find ways to use email marketing to get the most out of your marketing campaigns. Be sure to utilize curated email lists, but don't bombard your potential event attendees' inboxes. Limit correspondence to exciting event updates, ticket sale discounts, and post-event wrap-up information.
Marketing Tip #6

What To Do

When To Use It

Use email to provide another layer to your marketing strategy.

Use curated contact lists.

Include lively imagery.

Offer special discount codes.

Before And After Your Event
7. Offer Sneak Peeks With Video Previews And Podcast Plugs
Potential attendees have a lot to think about, and most of your target audience doesn't have time to read long blog posts about the benefits of an upcoming virtual event. So, instead of forcing them to read your content, you can create short videos that are engaging and educational to use on social media networks and across your marketing campaign.
Short video content and infographics are popular ways for consumers to take in content.
Create a short video to showcase your event and share it on all social media platforms. Be sure to not exceed two minutes to ensure your audience remains engaged.
Make your video fun and offer a special discount code only visible to those who view the video.
Also, reach out to popular podcasts in your industry for promotion and event marketing opportunities. This allows you to utilize a popular form of entertainment and extend the reach of your marketing.
Marketing Tip #7

What To Do

When To Use It

Use short video content to engage potential attendees.

Keep the video under 2 minutes.

Embed a special discount code.

Encourage sharing on social media platforms.

Before Your Event
8. Humanize Your Event With Swag
From t-shirts to bookmarks, attendees love swag!
Whether you are offering general discounts or free items with early bird ticket purchases, you need to drum up interest to ensure conversions. Humanizing your virtual event is a great way to offer the comforts of an in-person event in a digital environment.
Be upfront and clear with promotional material and drum up interest with special deals or free t-shirts. Continue promoting your business during the event by offering special prizes for participation.
Marketing Tip #8

What To Do

When To Use It

Offer Promotions And Discounts

Offer a "secret giveaway."

Utilize a countdown.

Host a social media hashtag contest.

Before Your Event
9. Send Polls & Surveys To Guests After Your Event
Just like after an in-person event, you'll want to stick around to answer questions and offer additional information. This is a great opportunity to make connections, network, and ask about previous events they have attended.
Once the event is over, upload slideshows, video recordings, and other information for event attendees to access and share with their colleagues. This step is vital because you can get use content from the event to build excitement for other events or webinars that your company will offer in the coming months.
Don't forget to send out surveys or polls to gather important data for shareholders. Find out what guests liked and disliked to make adjustments for future events.
Marketing Tip #9

What To Do

When To Use It

Follow up by staying late, gathering data, and identifying event successes

Make yourself available after the event.

Send out follow-up surveys.

Analyze the data and share positives and negatives with stakeholders.

After Your Event
Use These Event Promotion Ideas For Your Next Event
Planning and promoting a successful virtual event takes persistence, time, and knowledge of how to navigate virtual event planning. The results are well worth the effort.
As long as you keep tabs on the promotion, follow up with participants, and make data-driven decisions, you'll be proud of yourself and your virtual team when your successful event is said and done.
---