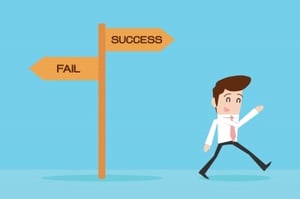 Registration page design may seem like a pretty straight forward concept: simply describe what your webinar is about, include all necessary event details, and collect as much information as possible. While all this is true, there is a science behind increasing registration rates and it truly varies depending on your desired audience and target industry. Thus, the best way to analyze what will yield the best results is by testing every element in your registration page; from your presenter's bio to your CTA's button color.
1. Number of Fields
You may tempted to require registrants to give out as much information as possible to better understand your audience and have more knowledge on what makes them your ideal "persona". However, there is a limit to what people will go through before they decide that the amount of work it takes to fill out the form is not worth completing their registration. We often suggest keeping your field requirements as close to 5 as possible; that should give you enough opportunities to collect their name, email address, phone number, company name, and job title.
2. Design Layout
Again, this is probably something people don't spend a lot of time thinking about because they're often so distracted by the small details that the big picture gets neglected. However, your registration form has to have a user-friendly design layout to keep your audience interested after the first few seconds of visiting your page. Those first few seconds are critical --too much going on and you will overwhelm your audience; too little information or "guidance" and they will feel lost. The best layouts use their company branding, provide a bullet-point list of the important details, and leave any unnecessary information out. Your registration form should only steer your audience in one direction: to register, and nothing else.
3. Button Color & Copy
Your CTA button should be visible on the first half of the page, as well as direct and inviting. Keep it simple and clear with short copy such as "Register Now" or "Share" (if you'd like them to have the ability to send your link to friends and coworkers). Picking a color for your CTA button that stands out, such orange, but that doesn't make people feel forced, such as red, is an important part of your registration page's design --it leads people to the action you want them to take without coming off as aggressive.
4. Presenter's Bio
Lastly, it's important to highlight what makes your webinar presenter so qualified to speak on your webinar's subject matter --however, it may be something people only want to quickly skim through. We often place our speaker's bio off to the side or bottom of the registration page so it's there for the people that want to read it, but it's not taking imports "real state" for those who don't have the time or trust your quality of content.
Understanding what drives your audience to register for your webinar and what scares them away will require more than one test, but it's worth the time and work. After all, learning what impacts their way of thinking is the surest way to creating effective registration pages that result in high registration rates.
---