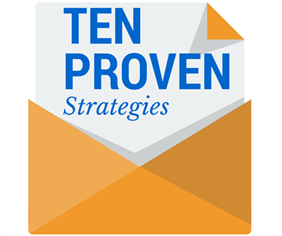 According to our research, there is a 65% drop in Email open rates if you don't change the subject line of your webinar invite after the first Email blast (as if creating a webinar Email invitation that people will actually want to read after they open it wasn't hard enough already). But if you don't do it, how are you going to attract registrants to your event?
In this post, we have gathered 10 proven strategies you can use to increase your event's reach by adjusting the effectiveness of your Email invitation.
Be brief, and use an active voice. People don't want to dig for information, they want to know - in 1 second or less – what your Email is about. Using an active voice such as Sign up now! or Register Here lets them know right away that your email is an opportunity to attend an event.

Optimize your email for HTML, plain text, and image-free viewing. Make sure your Email can be opened in all of these formats.

Test days of the week on your audience to see what day and time receives the best open rate. You can also try emailing them on unusual days (such as a Sunday night) because there will be less competition in their inbox.

Resend to unread prospects and try a different angle/subject line each time by changing the message, image, or layout of your Email – you never know what message will resonate with them the best until you try it.

Your Email's subject line is perhaps the most important part of your webinar invite. It should be personal and provocative, as well as 30-50 characters maximum. If the subject line is not interesting or relevant enough to capture your audience's attention, they will never click on your Email invite. You should also try out a few different subject lines at the same time (A&B Testing) to see which one receives a better open rate.

Use bullet points and numbered lists. We can't stress this enough. People loooove lists – they are just easy to read and our eyes naturally gravitate towards them.

Create a sense of urgency to get the audience to register right away – otherwise, they may forget to register later.

Include a brief description and key points of what the webinar will provide to the audience.

Make sure the email design matches the landing page/registration (color and themes) so you don't confuse people.

Try using personalization features when inviting people. There is a 23% increase in open rates if you use the recipient's name in the first line of the email, or in the subject line.
Email invites should not feel like spam, but instead like an exclusive invitation to a virtual event where your subscribers will gain a lot from. Make sure your Email makes your subscribers feel this way by listing clearly the benefits of them participating.
---