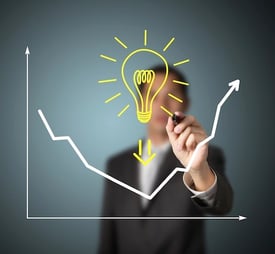 It's very common for businesses to shy away from the idea of starting a new learning/training initiative at their company that requires new technology or online software (such as an eLearning webinar) -it's no easy undertaking regardless of the company size- however, its becoming even more increasingly common for companies to look past the perceived obstacles and proceed anyways as, "74% of companies currently use Learning management systems (LMS) and Virtual classroom/ webcasting/ video broadcasting" (elearningindustry.com).
Corporations, specifically, are embracing the various benefits that e-Learning brings. For example, its no surprise that "e-Learning saves businesses at least 50% when they replace traditional instructor-based training with e-Learning. Not to mention that e-Learning cuts down instruction time by up to 60%" (elearningindustry.com). Many would agree that this benefit is often the main reason why companies look into delivering information and trainings via webinars in the first place. However, its something that more companies need to keep in mind as they start looking into the various e-Learning options and price points each webinar provider has. Though some may seem pricier than others, keep in mind that you're actually saving significantly more at the end (by cutting back on traditional costs) and the value your elearning platform is bringing to your service.
Another eLearning benefit perhaps we don't often talk enough about is the benefit to the client and their information retention success rate. Traditional trainings or classes at a company require employees to complete their learning requirements under a strict timeline and specific work environment. The main reason for this is that the person leading the training is on site only for a limited time and they need to "cram in" as much learning time as they can around that one person's schedule. However, it doesn't have to be that way.
The reason why eLearning delivery is so accepted in the education industry is because (according to The Research Institute of America), "e-Learning has the power to increase information retention rates by up to 60%. That means that, not only is e-Learning more cost efficient, but also it's also more effective (in terms of how much knowledge is truly acquired during the learning process)". That's because humans only have so much "processing speed" and "information capacity" they can master at a time, so by breaking down information across time like webinars allow us to (and using elearning to reduce costs), is actually more beneficial to your students/employees in the long term.
eLearning trends may come and go, but providing an exceptional learning experience will always stay with your attendees. Learn how you can optimize your eLearning experience by contacting BeaconLive today.
---