Offer Employees Access to Corporate Events, Online Training, and Personal Development
The popularity of online education has skyrocketed over the past few years. Whether users seek basic tutorials or an online degree, there are countless eLearning platforms and employee training systems to choose from.
More and more companies are turning to online learning management systems, or LMS, to provide accessible, high-quality training for their employees.
However, not all LMS options are created equal.
With so many eLearning platforms available, it can be challenging to figure out which one offers all-in-one solutions for your business needs.
Let's learn more about eLearning platforms, how to tell which one is right for you, and compare five LMS to see what they have to offer.

What is an eLearning Platform?
Traditionally, an eLearning platform is an information system utilized by universities, corporations, and schools to teach or train their audience.
Whether the topic is new eCommerce strategies or a computer science refresher, a quality LMS will allow your employees to improve their skills from anywhere.
There's no consistent definition of what features an online learning management system must have to be successful.
Some eLearning platforms may function like a content management system, or CMS, that serves as a central location for learning materials.
Others provide a computer-supported collaborative learning system or CSCLS, or simply a knowledge management system of tutors, students, and subject matter experts sharing knowledge.
Because we are focusing on the best software for corporate online training and events, an LMS should automate the tedious and boring training components while offering engaging features that participants can access from anywhere and on any iOS or Android smartphone.
Choosing the right eLearning platform for your corporate training streamlines the training process for both managers and employees.
Let's look at what features you need to look out for when choosing a virtual learning management system.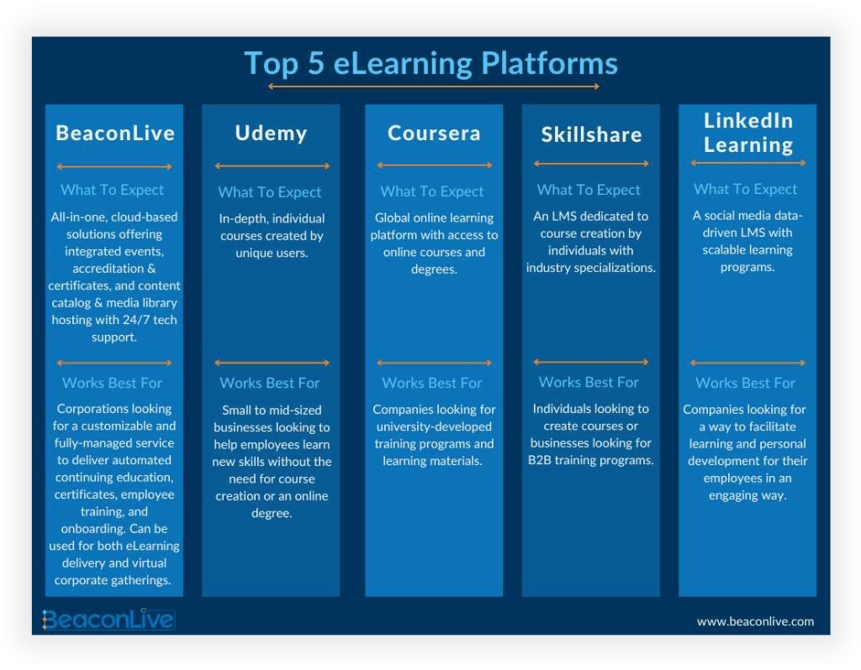 Features to Look For in an LMS
With so many LMS vendors to choose from, figuring out which one offers the best features and is the most intuitive for your company can be stressful.
You will need to evaluate whether the eLearning platform is suited for educational or corporate use. Corporate LMSs tend to allow for easier content management and service flexibility, with more participants allowed to join.
Academic learning management systems are more rigid and can limit the number of users allowed on the platform.
Here are some non-negotiable features you need to consider before choosing an eLearning platform.
Dashboard Displays Of Real-Time Views And Compliance

Data Collection Of Users

Quizzes, Questionnaires, and Surveys

Streamlined User Experience

Engaging Features Like Gamification

Centralized Content Catalogues And Media Libraries

Optimized for Remote Employees And Mobile Use
Keep your industry in mind when choosing the best eLearning platform. For example, if you are a legal or healthcare organization, you will need an LMS that seamlessly integrates with the management system your company utilizes.
You will also need to anticipate all the use cases you may require from an LMS. It should allow you to host corporate events, execute employee onboarding, and offer the choice between live events and on-demand content, like video lessons.
The Five Best Online Learning Platforms for Employee Training and Corporate Events
Once you have identified what features are non-negotiable for a corporate eLearning platform,
Here is an overview of the top five corporate eLearning platforms and what you can expect from them.
| | | |
| --- | --- | --- |
| eLearning Platform | What To Expect | Works Best For |
| BeaconLive | All-in-one, cloud-based solutions offering integrated events, accreditation & certificates, and content catalog & media library hosting with 24/7 tech support. | Corporations looking for a customizable and fully-managed service to deliver automated continuing education, certificates, employee training, and onboarding. Can be used for both eLearning delivery and virtual corporate gatherings. |
| Udemy | In-depth, individual courses created by unique users. | Small to mid-sized businesses looking to help employees learn new skills without the need for course creation or an online degree. |
| Coursera | Global online learning platform with access to online courses and degrees. | Companies looking for university-developed training programs and learning materials. |
| Skillshare | An LMS dedicated to course creation by individuals with industry specializations. | Individuals looking to create courses or businesses looking for B2B training programs. |
| LinkedIn Learning | A social media data-driven LMS with scalable learning programs. | Companies looking for a way to facilitate learning and personal development for their employees in an engaging way. |
Now that you have an idea of what each LMS has to offer, let's look at each one.
1. BeaconLive
BeaconLive offers cloud-based solutions that are intuitive for both users and facilitators. The expansive LMS features allow you to provide training at every step of the employee journey, from onboarding to ongoing training.
Not only does BeaconLive allow you to create extensive content catalogs and host media libraries, but you can also design online courses using webinars, webcasts, or live virtual events. This means your video lectures and multimedia content is safely stored to be accessed on-demand.
You can also offer your participants accreditation tools because BeaconLive works closely with accreditation organizations to ensure the training provided can be used officially, which takes an administrative task off your already complete to-do list.
BeaconLive allows for fully customizable authoring of your course content with integrated content cataloging and media hosting connecting directly to the virtual classroom.
Most eLearning platforms only focus on content delivery and, occasionally, data collection. Another bonus is that Beacon Live also is fully equipped to host corporate gatherings and virtual events of all sizes. This means that you will have a one-stop location for all your company's training and corporate event needs.
Pros

Cons

Choose Solutions as a Package or A La Carte

Cloud-Based Services

Offers Accreditation Assistance

24/7 Tech Support

Full Integration of Features

Advanced Reporting and Data Collecting

Mobile App Available

Intuitive Design

No Traditional Discussion Forums

No Free Plan
2. Udemy For Business
If you're looking for a cloud-deployed selection of courses, Udemy For Business allows users to select which courses interest them. Your employees can access Udemy from a mobile app, which will enable them to access learning resources from anywhere.
Participants can create questions for the trainers through the Udemy For Business platform, which offers interaction between the trainee and trainer.
For facilitators, Udemy For Business offers data and metrics on how the participants engage with the learning process.
The downside is that anyone can upload a course, meaning you may have to take time sorting through multiple classes to find the right one for your business.
Also, certificates issued on Udemy are not endorsed by any institution, meaning they cannot be used towards accreditation or certification if needed. You also cannot offer live meeting sessions through this platform.
Pros

Cons

Marketplace Content Model

5,000 Business Courses Available

Lifetime Access for Purchased Courses

Relevant, Up to Date Knowledge

Create Custom Courses

Unorganized Platform

Cannot Use Certificates for Accreditation

No Brand Integration

Category Groupings Unrefined

Not All Content is High-Quality

No Assessments or Surveys
3. Coursera For Business
Coursera For Business is an open platform LMS with nearly 3,000 courses and online degrees to choose from. It allows participants to apply their knowledge to projects, earn career credentials, and showcase their skills.
Coursera equips organizations with high-quality content and relevant insights to support long-term skills development. They also offer job-based learning programs for organizations and teams.
Content for some key industries, like the medical field, is lacking on Coursera For Business. The features are clunky and hard to use, while the website lacks intuitive functionality that streamlines the online learning experience.
Participants are limited to communicating through message boards with no alternative means of communications within the eLearning platform.
Pros

Cons

Inexpensive and Free Courses

Clear Framework for Learning

Goal-Directed Outcomes

Videos, Tests, and Discussion Forums as Learning Tools

Website Lacks Functionality

Lacks Content for Key Industries

Features are Clunky

Limited Communication Tools

No Live Project Possibilities
4. Skillshare
Skillshare is a unique LMS because it is essentially a place for individual users to sell courses they designed for a specific training purpose. They emphasize an education movement rather than acting as a platform to sell or buy online courses.
Pros

Cons

Free Trial Available

Subscription-Based Pricing

Reasonable Costs

Selection of High-Quality Courses

Some Knowledgeable Instructors

Difficult to Interpret Course Quality from Search Results

Huge Variation in Teaching Styles and Course Quality

Unvetted Educators

Limited Business Classes

No Course Ownership or Customization
5. LinkedIn Learning
Yes, THAT LinkedIn. The social media heavy hitter launched their learning management system to meet the modern learner's needs and help employees develop relevant skills.
Using skills data from the popular professional social networking site, LinkedIn Learning offers a modern learning experience, data science-driven course recommendations, and a seamless desktop and mobile experience. They also use this data to inform the development of future online classes.
While the content offered by LinkedIn Learning is highly engaging, it is still a relatively new LMS, so there is a severe limitation on course offerings.
Course completion certificates are automatically added to your personal LinkedIn profile. However, these certificates are not accredited, meaning they hold any value outside of the eLearning platform.
Pros

Cons

Certificates are Posted to Your LinkedIn Profile

Downloadable Courses for Offline Viewing

Multiple Languages

Self-Paced Learning

1 Month Free Trial

Certificates are Not Accredited

Limited Course Topics

No Online Degree Programs
Use Online Course Platforms for High-Quality Employee Learning Experiences
Now that we've examined the top five eLearning platforms for corporate training, you can see how this choice can make or break your training program.
While all learning management system solutions may seem similar initially, each one comes with its unique offerings.
Facilitators like you need to make sure that the eLearning platform they choose offers fully accredited courses and certificates and a variety of communication tools to keep employees engaged.
If you want a straightforward LMS platform that is user-friendly and offers exciting features beyond eLearning, contact BeaconLive to learn more.
---