Are you looking to launch an enterprise learning management system that can help your organization deliver virtual training, assessments and other learning content? Don't know where to start when selecting a platform?
This blog post offers a list of 6 key considerations for any decision-makers who are on the hunt for their perfect LMS solution.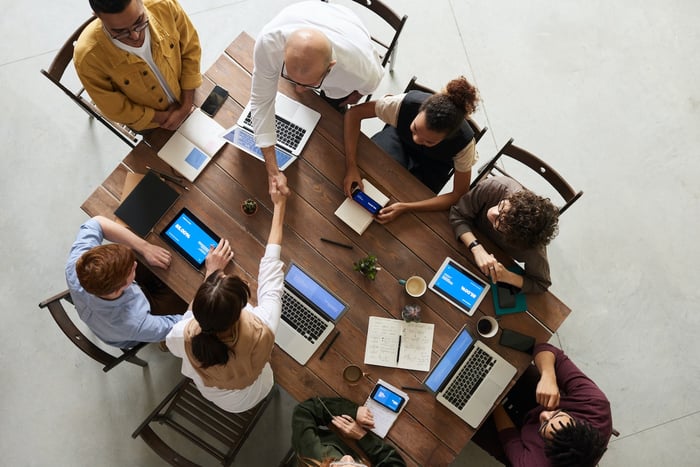 Photo by fauxels
1. Easy User Interface
Ensure that the system is intuitive and easy to navigate
The ease of using a system can make or break a company's success. That's why it's essential to prioritize the development of an intuitive and easy-to-navigate user interface. Putting yourself in the shoes of the end user is key when designing a system.
Taking into consideration the user's familiarity with the software and how easy it is to discover and execute actions is pivotal. A well-designed user interface can save time, prevent frustration, and increase productivity, leading to an overall positive user experience.
2. Comprehensive Reporting Capabilities
Look for a system that offers detailed insights
As technology continues to revolutionize the way we learn and teach, educators and training professionals must also adapt to the changing landscape. One critical aspect of this adaptation is finding a system that offers insightful reporting capabilities to track learners' progress and success.
A comprehensive reporting system can provide valuable information on individual performance, comprehension levels, and areas of improvement. It can also help educators make data-driven decisions to optimize learning and enhance the overall training experience.
When searching for a system, be sure to look for one that offers detailed reporting capabilities, enabling you to monitor and evaluate each learner's progress effectively.
3. Automation Features
Explore whether the system automates certain Course tasks
Automation features have become a staple of digital systems, offering increased efficiency and flexibility to users. When it comes to educational platforms, automating certain tasks such as course enrollment, reminders, certificates, and notifications can make the learning experience smoother and more streamlined.
By taking care of these administrative tasks automatically, students and teachers can focus on what really matters: the educational content itself. Whether you're a seasoned educator or a lifelong learner, it's worth exploring how automation can enhance the educational experience and help you achieve your goals more efficiently.
4. Security Features
Make sure the system implements robust security measures
In today's digital age, the security of sensitive data has become a top priority for businesses and individuals. It is crucial to make sure that the system being used has robust security features in place to prevent data breaches and cyber attacks.
From firewalls to encryption, there are various security measures that can be implemented to protect your data from prying eyes. A well-secured system not only provides peace of mind but also safeguards against potentially catastrophic losses. It is important to take security seriously and ensure that the proper measures are in place to protect sensitive data.
5. Flexible Deployment Options
Consider accessibility on multiple platforms and devices
When choosing an LMS, one important thing to consider is its flexibility in terms of deployment options. This means assessing whether the platform can be accessed on multiple devices and platforms, such as desktop computers, laptops, tablets, and mobile phones.
Having this flexibility is essential in today's fast-paced world, where learners are not always sitting in front of a computer. Mobile access allows for learning anytime and anywhere, which is increasingly becoming the preferred mode of learning for many people.
Integrating your LMS with other webinar platforms can be a great way to enhance the learning experience for both students and teachers. By connecting their LMS with popular webinar tools, educators are able to share their knowledge more effectively through video lectures and interactive sessions that take place in real-time. This integration allows learners to access course materials and participate in activities without having to leave their homes or offices.
6. Learning Content Library
Understand what content types and customizations are available
When choosing an LMS for educational purposes, it is important to examine what type of content library is included and how customizable it is.
A comprehensive content library should include a wide range of materials such as lectures, notes, quizzes, audio/video clips, multimedia presentations, and webinars that can be easily accessed. It should also encompass a range of materials that accommodate different learning styles, such as online videos, interactive modules, and written tutorials.
Additionally, the library must be constantly updated to ensure learners have access to current and topical information. A well-curated content library not only enhances the user experience but also provides learners with the knowledge and skills they need to excel in their respective fields.
Having the ability to white-label your LMS content library with your own design, layout, color scheme, logo placements, and font selection, is an important tool for any business or organization looking to provide quality educational material. By customizing the look and feel of the content, businesses can create a more engaging and personalized learning experience while also reinforcing their brand identity.
This ensures that learners have a consistent visual experience across all learning materials associated with a particular company or institution. Additionally, it helps build trust between learners and educators by making sure that course materials are clearly identified as coming from a reliable source.
Conclusion
An enterprise learning management system is an essential tool for organizing and delivering training to people in a business setting. Its features and capabilities are designed to maximize the effectiveness of both trainers and learners. When evaluating an LMS, consider factors such as its user interface, reporting capabilities, automation features, security measures, deployment options, and learning content library.
Having a great partner like BeaconLive can equip an organization with a powerful mechanism to develop skills in their workforce while efficiently tracking learner performance. Choosing the right system is key to creating a successful learning program that benefits everyone involved.
---