Set Yourself Up For Success At Your Next Virtual Networking Event
Personal development (PD) is the cornerstone of any professional looking to expand their horizons. Webinars and other online networking events offer you to make new connections, hone your craft, and grow your knowledge in a specific area.
While virtual conferences and webinars are great for introverts, they can be difficult because you could get sidetracked by distractions and miss critical takeaways from the event.
Virtual events offer attendees the opportunity to learn at their own pace in the comfort of their homes. As a participant, you can do some simple tasks to thrive in this new style of professional development.
Let's take a look at some easy and effective ways to get the most out of your next virtual event!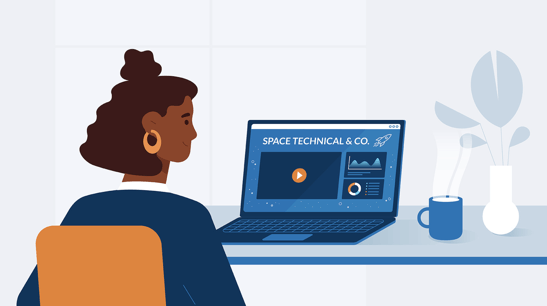 1. Remove Distractions From Your Desktop
Before your session starts, take a few minutes to eliminate any clutter on your computer screen. This is especially important if you communicate with other conference-goers because no one wants to see how many emails you have in your inbox (or how much time you spend looking at Instagram).
It'll help keep the focus where it belongs—on what's happening during the event!
2. Connect With Other Attendees Through Chat
A common challenge is balancing the time we're focusing on the presentation with our desired level of interactive socialization. Variety is vital – if you're focused 5 minutes into a session, reach out to someone in chat and have a casual conversation for 10-15 seconds.
That way, when you come back from chatting, you can resume being fully engaged in what's happening at your presentation or breakout session. This is also a great way to connect with collaborators, and you can meet a lot of people throughout the virtual conference.
Live chat helps you meet people, connect on a professional level, ask questions, and see questions other people have.
All of these factors can help you maximize your learning time and get the social aspect that you might be missing compared to a standard face-to-face learning environment.
3. Attend Live Sessions If Possible
If you're new to a virtual event, it's important to get comfortable with how things work before the session starts. One of the best ways is to actually attend live sessions and see how they run from start to finish.
Live sessions offer the opportunity to ask questions, get feedback from staff members and other participants, as well as take notes so you can refer back to them later.
An added bonus is that live virtual presentations often include more interactive content than video recordings of past events due to changes in technology over time!
4. Take Notes During The Webinar Sessions
If you're entirely new to virtual events, one of the best ways to start is by showing up early and taking notes during a webinar session. You'll be able to see how slides are used and how conversations flow between the presenter and other participants in the chat.
This will help reduce your feelings of being overwhelmed when it's time for your event or even show you how attendees might take different approaches depending on their comfort level with questions/chatting (or both).
It also allows you to ask any burning questions that weren't addressed before starting so that they can be answered while everyone else is still tuned into a live video stream!
5. Give Your Virtual Presenters Feedback (And Grace)
It's a new world, and it might take some time to adjust. When you're in live chat, make sure the presenter knows how much they mean to you by sending supportive messages during their presentations--even if that means saying "thank you" or "that was great!"
Virtual presenters rely on feedback from attendees as well as other participants to know how effective their presentation is for everyone involved.
If there are any questions, feel free to ask them privately (rather than interrupting the speaker). It will allow more people who might have been thinking about asking those same questions to participate in the conversation instead of feeling intimidated. And last but not least: don't forget your manners!
6. Network During Breakout Sessions
Virtual events offer a chance to collaborate and network with like-minded professionals. Follow the presenter/speaker on social media, mention how much you enjoyed their session in live chat, or take that bonding opportunity during an unoccupied breakaway session!
The networking tips are pretty straightforward: research each speaker beforehand so you know what type of person they are when connecting (i.e., via email vs. Twitter).
Afterward, check out their bio page for any information about how they prefer to be contacted and jump right into making contact while conversations might still be fresh in both your minds!
7. Offer Feedback At The End Of The Event
At the end of your event, you'll be asked how valuable this session was.
Please take a few seconds to reflect on how useful it would have been for you had it been in person rather than virtual and offer feedback accordingly (positive or negative).
The presenter will then use that data to inform future sessions while also understanding how much time is spent talking versus listening during their presentation(s) to adjust accordingly.
If you're looking for more content like what's given at these events, we recommend checking out our resource library, where there are many articles about different topics related to professional development.
Get The Most Out Of Your Virtual PD Event Today!
If you want to thrive in this new style of professional development, we've provided a few simple tasks for your next virtual event.
Attendees can learn at their own pace and do some easy but effective things to get the most out of these events.
---