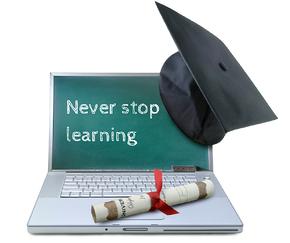 Distance learning (eLearning) is the most cost-effective and accessible form of furthering your education post-college. It is a booming industry, the "market research firm Global Industry Analysts projects it will reach $107 Billion in 2015" (Forbes.com), establishing itself as a highly profitable market. Though the traditional classroom setting is unlikely to dissappear, continuing education is clearly on the rise. Below are some tips and tools to consider when developing and delivering online programs, whether they are mandatory or not.
Let's Get Started
The first step to delivering successful CE webinars is identifying the need for an online program that is not fully satisfied or that will generate enough interest. You also want to clarify which industry your program belongs to and how many CE credits particpants will gain from it: Continuing Legal Education and Continuing Medical Education are two major ones but there are many more to consider.


Determine the requirements and obstacles you will face when trying to get your program accredited and make sure you have a clear action plan to overcome them. BeaconLive can help you get your content accredited.


Find a vendor that has extensive experience delivering continuing education programs and that can lead you before, during, and after the event. There is a lot of work leading up to the event and just as much after.


Create a captivating registration page that will motivate your potential registrants to sign-up right away. BeaconLive can build a branded registration page for you (with your branding), collect payment and send reminder emails.


Secure a prominent speaker within your industry and have him/her work with your webinar provider to prepare all of the technological components (audio quality, powerpoint presentation, etc.) in advance to avoid errors during the live CE webinar.


Test every detail before the live event, specially if your webinar requires verification of participation, polls/surveys, and quizzes. BeaconLive can administer your exam and transfer the results to the participant to lighten up your workload.


Provide proof of completion to your attendees;

BeaconLive can follow up with your attendees and deliver the certificates of completion confirming attendance to your eLearning webinar.




Create an optional evaluation form to share at the end of your presentation and encourage attendees to provide feedback. Their responses can help you improve your program or provide ideas for a future one.


Extend the life of your webinar by making it available OnDemand for your attendees to re-visit -you can still charge a fee for this option and continue to generate a revenue past the live delivery.


Always follow up with your attendees; whether it is to thank them for attending, or to ask them for feedback, or to provide a link to your OnDemand site, its important for brand awareness.
READY TO LEARN MORE ABOUT HOW BEACONLIVE CAN WORK WITH YOU?