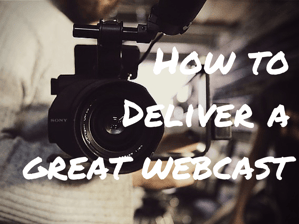 According to Google, spending on desktop online video alone is projected to grow 21% every year until 2019. Meaning, being able to stream online your live in-person event via webcast is more important than ever. Especially when you take into account that an online presentation can average up to 54 live attendees at a time (e3Marketing), giving you the opportunity to reach a second audience simultaneously.
Delivering a successful webcast is also one of the easiest ways of generating new video content for your website without the burden of coordinating a video production team. Its as easy as finding a webcasting team to show up on the day of your event! And when you broadcast your presentation on video, you're making the 55% of event registrants who would rather watch the recorded video than attend the live event (Adobe) very happy.
Here's How to Deliver a Great Webcast in 5 Easy Steps:
1. Set Attendance Goals
Set a goal for how many on-site and online audience members you hope to reach. This will help you determine the type of location you will host the event in, and the kind of webcasting provider you will need.
2. Create A PowerPoint
Work with your presenter to come up with a PowerPoint slide presentation that works for the in-person attendees as well as the online attendees. Keeping the presentation short, with little verbiage works best for keeping the attendees tuned into the presenter, not reading the screen.
Check out these 10 slidedecks we're loving right now.
3. Select Your Webcasting Platform
Select and schedule your webcasting platform and crew. Discuss lighting and audio set up as well as online preparation for the virtual audience. Some other details to consider are: Can they set up a registration page for the online portion of the event? Can they provide any handouts or PowerPoint slides to the virtual audience on the day of the event? Can they help promote and recruit an online audience?
Look for a webcasting platform that provides you with event producers, moderators, tech support to execute a professional and seamless production.
You will also likely want to partner with a webcasting platform that provides ample white-labeling capabilities for your event sponsors and exhibitors.
4. Ensure on-site technology has been checked & prepared
Introduce the webcasting team to the site's point of contact so their internet, electricity, and lighting needs are attended to promptly during the event.
5. Provide a Microphone
Have a microphone set up for the in-person attendees to use when asking a question. When taking a question from the on-site audience members, be sure to have the presenter or a member of your team repeating the questions for the online audience to hear clearly.
Whether you call your in-person event a seminar, conference, or meeting, the need to capture and broadcast the presentation to a wider audience is there. Read our blog, 9 benefits of webcasting your event for more helpful information.
---