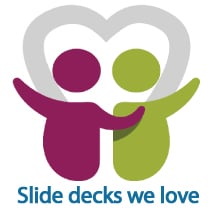 At BeaconLive, we're surrounded by slide decks all day while attending and delivering webinars. They're a great alternative for visual learners who are tired of long reports and white papers for learning new information. When a slide deck is well thought out, it can tell a great story with a simple design, making the learning process that much more enjoyable.
Below the list of slides we love, we created a quick checklist of what you can learn from these slides, for creating your next webinar slide deck. So, without further adieu,
10 Slide decks that we are loving right now
You can learn from these slides:
KISS. Keep It Simple Stupid. The cleaner simple slides work best for all presentations. Use yoru slides as an aide for the story you're telling – don't tell your webinar story on the slides.




Find a relevant theme and stick to it. Whether that be a recent trend in the news, or a popular TV show, try tying your event content back to that theme – but don't force it.


When in doubt, Check out Slideshare for inspiration ideas. Don't deliver a webinar that's not visually engaging.


Don't try to fit 30 ideas into 10 slides. During a webinar, you should be flipping your slides at least every minute to keep the audience engaged.



Provide the webinar audience with an idea of what you will present (an agenda) and include transition slides when you move onto a new topic. These title/transition slides are also a good time for doing a survey of the webinar audience.
What slide decks do you find the most inspiring? Want to learn more, check out this blog. Tweet us at @beaconlive to let us know.