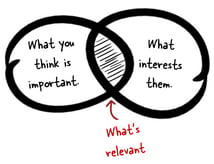 In a recent study, attorneys were asked about their leading factors for choosing a CLE program. Results show that, more often than not, attorneys will choose to attend a CLE program that's relevant over one that's free, or local. This blog post details the four factors in how attorneys choose CLE events, so read on to get the scoop.
1. Relevant Content Is Key
When turning your content into a legal program that provides credits to attorneys, the most important factor should always be answering the needs of your prospective audience. If you are discussing an irrelevant topic, you will receive an indifferent audience at best. The leading approach to delivering a successful event is to find what your audience wants to learn about, and craft your program around it. Not all attorneys have the same interests or needs, so be sure to segment your content to fit a specific audience and their knowledge gap.


2. Price vs. Relevant Content
Attorneys have plenty of choices and sources to accomplish the completion of their mandatory CLE credits, so it's important for providers to recognize and explain the benefits of their program over others. If you plan to charge for your event, you will be competing for an audience with niche interests with bar associations that often offer free CLE programming to its members as an association benefit.
Another factor to consider includes who is paying for the event. Attorneys are more likely to select a less expensive event if they are paying for it themselves, whereas content will be a leading deciding factor if their firm is picking up the check.
Choosing the right price for your event will help determine the value of the knowledge you are delivering. Do research on what other providers are charging for similar events to select your program's ticket price. You may find that there is a higher demand for your content but little competition solely based on the delivery format you choose (on site or online).


3. Location vs. Relevant Content
While some attorneys look at traditional educational events as an opportunity to network, we are seeing more and more people moving towards accessing their CLE remotely because it works with their busy schedule. While there are benefits to both on site and online learning, it is important to determine which option works best for delivering your content.
If your program requires lengthy interaction with the presenter, you might consider hosting your program on site, while capturing the event for future repurposing for the people who prefer to attend the event at a later time. If the engagement between the attendees can be captured via a chat pod or surveys, delivering your program online may suit your needs better.
When delivering online CLE, find out what your accrediting bureau requires for verification of participation within the event. Then select a webinar or webcast provider that can build the testing function into the webroom. More often than not, you can kill two birds with one stone by delivering your program on site and online simultaneously.


4. Big Name Providers vs. Relevant Content
Those who are new to delivering CLE are often worried that they're competing with providers delivering established legal programming series. While there are some attorneys that will rely heavily on their bar associations or firms to provide them with the appropriate CLE events, three times the number of attorneys are likely to choose an event based on content they want to learn over the reputation of the provider. When you clearly identify what your program will entail, as well as the benefits or key takeaways from your event, you are placing your program at a higher importance on your event over the known provider's generic events.

Creating relevant content for your CLE program is the most important factor for how attorneys choose their CLE. Also consider: when developing your CLE programming, it's important to work with professional providers who will help you establish your own brand's credibility. Take every opportunity to turn your event into a branded experience for your attendees—whether that be placing signage around the room, or delivering certificates to the attendees immediately after the completion of your event.
---