Learn About Cost-Effective, Accredited CME E-Learning Opportunities
Methods, treatment protocols, and equipment are constantly developing in the medical world. Your patients expect you to be updated on the latest information, so it's your responsibility to keep up with the rapid pace of the healthcare industry to keep a competitive edge.
Continuing medical education credits, or CME credits, are required to maintain licensure, but it ensures your staff is up-to-date on the latest developments in the medical field. It can be overwhelming to think about CME credits and courses, but the good news is that there are many e-learning opportunities for private medical practices.
E-learning allows private practices to design, implement, and track continuing medical education activities geared toward their staff and others who operate in their practice area.
Let's take a closer look at why your private practice should offer CME opportunities, the benefits of developing your own e-learning courses, and five strategies you can use to help take your continuing professional development (CPD) to the next level.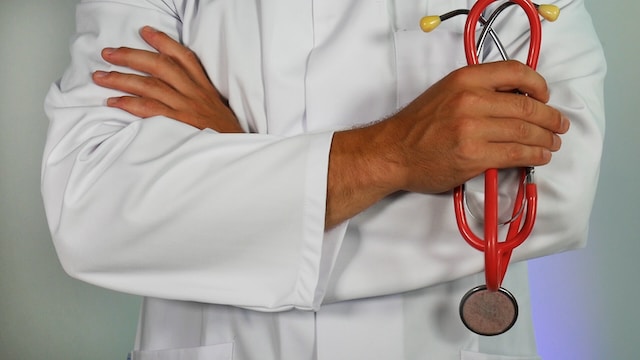 Why Should Private Practices Offer CME Courses?
According to the American Medical Association, 49% of physicians practice medicine in a physician-owned private practice.
Private medical practice owners don't always have access to the same CME budget as larger practices, but they have the same responsibilities towards their staff and patients.
So that means the staff responsible for organizing continuing medical education opportunities need to get creative to ensure there are training courses available to their employees to keep their skills sharp and up-to-date.
Here are some reasons why your private practice needs to offer CME courses to your health professionals.
Fill gaps in CME offerings: If your private practice specializes in a specific niche, there may be a limited range of courses for practitioners. Designing your own CME allows you to connect with others in your practice area and add essential knowledge to your niche.

Provide opportunities for healthcare professionals: Offering online CME to your staff is a great way to help them meet their continuing medical education requirements.

Improve your practice's reputation: Designing accredited CPD courses allows you to show off your extensive knowledge and expertise, which helps to amplify your brand and attract new patients.

Offer high-quality care to your patients: CME e-learning courses help the health professionals who make your practice shine learn new skills and techniques that will improve patient care and enhance the functionality of your private practice.
CME credits are required for all practicing healthcare professionals. However, smaller private practices may not have the budget or staffing for a separate continuing medical education staff.
CME E-Learning Strategies For Private Practices
Continuing medical education activities allow you and your staff to become well-rounded and develop skills that will elevate your practice. These courses also give your doctors, nurses, and office staff the opportunity to learn about the latest industry trends to help them offer the best patient care possible.
The more holistic your team is, the more services you can offer your patients. However, this can be challenging, especially when operating on a tight budget or with limited staff availability.
On average, private practice owners budget about $2,000 a year per employee for continuing medical education expenses. The best way to maximize your practice's CME budget is to develop an accredited online training course program since this method reduces overhead and offers increased accessibility for staff participation.
Let's look at some practical strategies you can use to offer top-notch e-learning opportunities for your health professionals that will elevate your private practice.
1. Choose the Best E-Learning Platform for Your CME Courses
The first step to offering high-quality e-learning opportunities to your staff is choosing the best learning management system to host your course.
The virtual platform you choose can make or break your e-learning courses. Look for one with the following features:
User-friendly dashboards: A well-designed and intuitive dashboard simplifies navigation, making it easy for users to access courses, track progress, and view course materials. This enhances the overall learning experience.

Live polling and breakout session capabilities: To keep learners actively involved, e-learning platforms should incorporate interactive features, such as live polling to gauge opinions and facilitate discussion, as well as breakout sessions for small-group collaboration and problem-solving exercises.

Recording and e-learning library storage: Providing a repository of recorded sessions and e-learning materials allows users to revisit content at their convenience, reinforcing learning and accommodating various learning styles and schedules.

Pathways to accreditation: E-learning platforms should facilitate the accreditation process by integrating with relevant certification bodies, offering relevant courses, and providing tools to track progress toward required credentials, ensuring that learners achieve their professional goals.

Accessibility features for e-learners with disabilities: Inclusivity is essential in e-learning. Platforms must accommodate learners with disabilities by implementing features such as closed captioning, screen readers, adjustable text sizes, and alternative navigation options.

24/7 technical support: Timely and efficient technical support is vital for a seamless e-learning experience. By offering around-the-clock assistance, platforms ensure that users can quickly resolve any issues they encounter and focus on learning.
The right e-learning platform will increase engagement, reduce time spent organizing CME opportunities, and offer an abundance of value, especially if you choose an all-in-one LMS.
2. Offer a Variety of Learning Activities
If you want your learning modules to be engaging, you must offer a variety of learning opportunities that will appeal to your audience. You also want to offer CME trainings that are relevant to different professionals in your office so each individual can receive adequate training based on their job requirements.
For instance, hosting live webinars and webcasts is a great way to engage your e-learners. You can choose topics, such as mental health indicators, primary care best practices, and healthcare sustainability, that will help enrich your staff and bring new skills to your practice.
Additionally, you can record these virtual events for on-demand viewing for future employees. You can also cultivate an online learning library, complete with case studies, training videos, and notifications of new initiatives to share with your team.
This is a cost-effective way to ensure your staff members are always learning and you stay within budget. Not only can you use this content library for future educational activities, you can also build on it as your staff discovers new updates and opportunities in the marketplace.
3. E-Learning CME ACTIVITIES Streamline Your CPD
Your medical office is always busy, especially when new initiatives, practices, and information are introduced. As the medical field continues to evolve, your staff need to be updated on the latest trends and industry insights while balancing their existing workload and responsibilities.
Help your staff streamline these tasks by taking advantage of your e-learning platform's in-house staff of experts.
These professionals can help you design, implement, and launch your online courses, which will free up your staff to complete other tasks. They can also moderate live events, allowing you to focus on the learners looking to expand their knowledge.
This is especially helpful for small private practices that may not have a dedicated CME team.
4. Automate Your CPD E-Learning Experience
Because all state licensing boards require continuing medical education, learners must document their CME activities, especially when completing training courses on mandated topics.
This can be stressful for learners and course designers, especially if they already have a lot on their plate. Automation is critical for making your medical e-learning courses fit your private practice's budget. That's because there is a lot of data and reporting involved in keeping up with CME.
Here are a few tips that you can use to automate your CME programs and make the overall e-learning experience more enjoyable for your audience:
User tracking: Monitoring learner progress and engagement helps medical offices identify areas where learners may require additional support or resources. User tracking enables instructors to assess learner comprehension, course effectiveness, and tailor future educational content based on user behavior.

CPD certificate delivery: Continuing Professional Development (CPD) certificates are crucial for medical professionals to maintain their licensure and demonstrate their commitment to ongoing education. E-learning platforms can automate the delivery of CPD certificates upon course completion, streamlining the process and making it more convenient for learners.

Data entry and tracking: Efficient data management is essential for the smooth operation of e-learning programs. Medical offices should have a system in place for entering, tracking, and updating learner data, including enrollment status, progress, and course completion. A centralized database allows for easy access, analysis, and maintenance of learner information.

Analytics reporting: Analytics reporting provides insights into the effectiveness of e-learning courses and learner engagement. This data can be used to improve course content, identify patterns in learner behavior, and inform future e-learning initiatives. Regular analytics reports can help medical offices make data-driven decisions that optimize their e-learning programs.

Email marketing: Email marketing is a powerful tool for promoting e-learning courses, sending reminders, and engaging with learners throughout their educational journey. Medical offices can use email campaigns to target specific audiences, share relevant content, and encourage course enrollment. Personalized, timely, and well-designed email communications can help increase learner retention and satisfaction.
E-Learning Courses Support Your Medical Office & Staff
Your medical practice does everything in its power to provide the highest level of patient care to those who need it most.
So it's no surprise you want to ensure your health professionals are armed with the knowledge and skills to offer that care. To do that, you'll need the right learning management system with a team of experts behind it.
BeaconLive combines our state-of-the-area virtual event platform with our learning management system to create a seamless experience for your CME activities. Our team is ready to answer your questions and help build a great CME experience for your staff today!
---