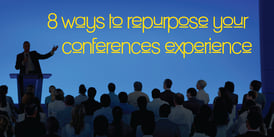 We always say an event experience does not begin and end with the live show. Preparing for an on-site conference or meeting is a lot of work, so it's important to understand how you can reap the benefits of your conference's success even after it ends. In this blog, we'll give you 8 ways to repurpose your conference's experience so you can continue to build upon its success for the months ahead.
1. Recording Event Content
More often than not, when you are hosting a conference or on-site meeting, you are having multiple sessions occur in different rooms and attendees frequently have to make a tough decision over which session to attend. When you capture popular sessions, you can provide the recording to your conference attendees who opted to attend another – giving them a bigger benefit than they are already receiving, increasing their experience with your organization.
2. Distribute Recordings of Event Sessions
Professionals have a lot of work to juggle, and when it comes to adding a conference to their schedule, they often cannot justify being away from their desks for long enough to attend. Providing a live (or recorded) broadcast of your conference's keynote, meetings, and sessions allow for more people to access the conference content that you are presenting. You would be surprised at the number of additional attendees who will access part, if not all, of your conference who might not otherwise have been able to attend.

3. Ask Your Attendees to Share Content
When we attend a conference that provides us with exciting new information, we run back to the office to share the new ideas with our team members. Wouldn't it be great if we could show them a recording of the event so they grasp the full idea? When you provide a recording for future sales, you can boost the viewings by asking your on-site attendees to share the experience (and a link to the recording) with their peers, or revisit the content at a later date.

4. Reduce the Price of OnDemand Content
Selling access to your online broadcast or recording doesn't have to go for the same ticket price as attending the on-site event in-person. By reducing the price, you are more likely to reach your attendance goal by acknowledging the people who want to attend your event without the financial or time justification of actually doing so.
5. Create Video Promos For Future Events
Events shouldn't begin and end within the hours of the conference room. When you record your keynotes and breakout sessions, you can create video promos to share for your next event's marketing and promotion plan. If a registration page says 500 words, then consider how much you could say (or show) a prospective audience member with a clip of last year's successful event. Simply put, your conference's experience should go beyond closing the on-site doors.
6. Create Commercials
Create commercials with the footage of your on-site event for promoting a speaker or your organization's offerings. These are shareable experiences that can be hosted on your organization's social networks and in email newsletters to promote your organization, brand or upcoming events.
7. Distribute on Social Media
Crop the event recordings into snackable video clips to promote on social media. Statistics show that people are 50% more likely to watch a 2-minute video than to read 1 webpage of content. Adding video to your conference marketing plan may be just what you need to boost attendance next year.

8. Build a Content Library
Build a library of content from the recordings of your onsite event. If you had a live audience, then there is more of a chance that you would have a larger OnDemand audience, regardless of whether you host the full event, or segments of it.
---