Virtual and Hybrid Events are here to stay. But attendee fatigue across too many events can erode ROI for you and your Event Sponsors and Exhibitors. Attendee engagement is amongst the most important, yet difficult aspects of achieving a positive ROI. Event Producers and Marketers must continuously innovate ways to keep both your attendees and your sponsors committed to a worthwhile Virtual and Hybrid Event experience that still generates strong brand awareness, website visits, and qualified leads. Follow this simple guide to guarantee ROI for your Virtual Event Exhibitors and Sponsors and keep your attendees coming back for more:
(If you are having trouble landing key Sponsors, read our blog post on How to Attract Sponsors to Your Webinar or Virtual Event.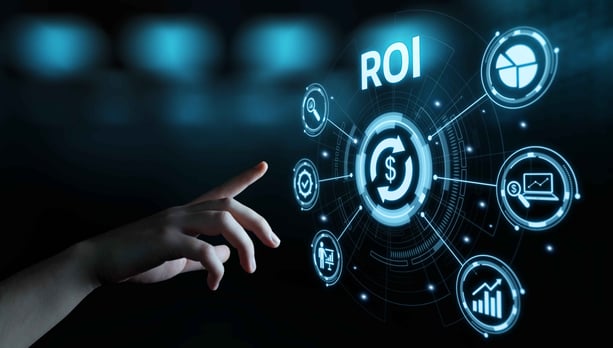 Continue to Deliver Sponsors' Content OnDemand
Many of your attendees, unfortunately, will not have the virtual attention span to listen and engage during the entirety of your live presentations and curated conversations. Virtual attendees will often log-in to get an adequate amount of desired information and then log-off, expecting to still access the information they missed later on their own time.
Don't miss the post-event opportunities to capture your audience's attention and lead them to sponsored content and landing pages.
OnDemand Content allows for Sponsors and Exhibitors to maintain a continuous marketing presence and revenue stream well after the event. Your OnDemand content can include press releases, social media posts, event data & analytics that link to the recorded, edited versions of the presentations and conversations that happened during your event.
Work with a Virtual Event platform that can house your recordings in your branded OnDemand Content Catalogs and Media Libraries for public or private access. Better yet, make sure the platform can integrate eCommerce so that Sponsors can continue to monetize their content with OnDemand viewings. Sponsors can keep the conversations going, enlist more engagement after the event, and build out a branded catalog where they can turn audience members from attendees to subscribers to customers.
Sponsored Segments
Much like during in-person Events, give your Sponsors and Exhibitors the opportunity to sponsor different segments of the program. This allows for heightened brand exposure and opportunities to circulate downloads, handouts and exclusive information with the Sponsor's information and brand.
Work with your Virtual Event Producer to seamlessly play videos or commercials from your Sponsors or Exhibitors at the beginning, end or in-between sessions. These video clips are most effective when audience members' attention is already captured. Clever videos can also boost the energy during longer stretches of content or to re-engage the audience as they return from scheduled breaks in the agenda. Make sure to thank the Sponsor or Exhibitor throughout the Virtual Event, reminding attendees to visit their website for more information.
Let Your Audience Be In Control
When you circulate pre-event emails and reminders, it is a good idea to gather data on why your attendees have signed up for your event. Include surveys and write-in responses on specific topics or questions they wish to discuss. Giving your attendees an opportunity to steer the conversation even before your event begins will show them the unique value-add that participating in your event will give to them and will increase the chances that they will actively engage.
If you are producing a multi-track event, use these survey responses to recommend specific content segments for each participant. Make their schedules feel intentional and personalized, which will show your attendees that you are centering the Event around their interests and desired experience and keep their engagement high. Read our blog on 6 Pro Tips to Humanize Your Virtual Events to learn how to make their experience even more compelling.
Sponsor's Voices Should Be Heard
Your Sponsors and Exhibitors are often regarded as thought-leaders in the industry. Capitalize on the clout of your Sponsors' C-Suite and SME's to host segments, stimulate conversations, and share their unique knowledge and insights with your community.
Your Virtual Event platform should enable your attendees the opportunity to engage with these high-level executives in virtual small group breakouts to give your attendees a more intimate and exclusive Event experience. Allowing Sponsors and Exhibitors to address the audience directly will make the attendees feel more aligned with the brand and will increase their chances of further engagement, thus increasing ROI. Don't let your Sponsors and Exhibitors get lost in the shadows of your Event, instead make them a forefront of the curated content and conversations.
Offer Incentives for Interacting with Sponsors
Incentives are always a good idea. Incentivize interactions between attendees and sponsors with free versions of products, one on one conversations with keynote speakers, access to exclusive information or discounted registration to future events. ROI is all about gathering contacts and generating leads. Start by making your attendees want to talk to you, and let your sales team take it from there.
Create a Microsite
Microsites are a great way to push clear, concise information about your Virtual or Hybrid Event. As HubSpot explains "A microsite is an individual web page or small cluster of web pages that act as a separate entity for a brand. With our attention span shrinking below that of a goldfish, it should come as no surprise that we're beginning to crave more focused content at a smaller scale, too."
Sponsors and Exhibitors can brand these microsites and embed relevant Event information such as links to register, event descriptions and speaker profiles to help attendees stay organized. They can also be opportunities for the Sponsors and Exhibitors to market additional services with links to other websites and landing pages. Reducing friction for your attendees while increasing brand exposure will go a long way towards achieving ROI.
Grant Sponsors Access to Attendee Information
After all, your Sponsors and Exhibitors are paying a premium to be at the forefront of your Virtual or Hybrid Event. Determine if it is appropriate for you to give them names, emails and other information about your attendees so that they can implement additional email marketing and Account Based Marketing strategies.
There are other ways for your Sponsors and Exhibitors to communicate with attendees if you do not feel as though they should have access to contact information. Consider using your Virtual Event Campaign Manager features to send email blasts to all attendees on behalf of a Sponsor, and create thank-you messages with Sponsor links for further information.
You can also allow Sponsors and Exhibitors to chat directly with attendees during the Event with private chat windows or curated Slack channels. Conversation-based marketing is one of the most effective ways to reduce friction within your sales funnel. Chat directly with your audience to increase the chances they will become a lead.
Integrate Continuing Education and Certificates
Brand, market, and sell the valuable information your thought-leaders and keynote speakers are presenting as opportunities for your audience to earn professional development credits. Continuing Education (CE), Certificates & Compliance are a surefire way for attendees to stay engaged during your Virtual Event, and for Sponsors and Exhibitors to further monetize their Live or OnDemand content long afterward.
Use a Virtual Event platform that integrates robust CE features so you can easily automate the delivery of Certificates and CE credits to attendees (and their professional associations) in recognition of their participation in your Virtual and Hybrid Events. Issuing Continuing Education Credits in exchange for attendance makes your Event more dynamic and compelling, and the tangible take-aways are a value-add to your attendees and Sponsors.
The most critical way to ensure ROI for your Virtual and Hybrid Event Sponsors and Exhibitors is choosing an Event Platform that is right for your organization. Consider using BeaconLive's integrated suite of solutions for delivering your Virtual and Hybrid Events & Exhibits, Webinars & Webcasts, Continuing Education & Certificates, and Content Catalogs & Media Libraries.
BeaconLive's cloud-based events can scale to 40,000+ simultaneous attendees. Our in-house Event Producers and Tech Support will help you to professionally customize, manage, and deliver all of your Virtual and Hybrid Event requirements. Contact the team at BeaconLive to learn more.
---