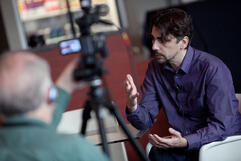 "What if I told you I could increase your Email response rates by 25%?" asked Jim Sinkinson, from Fired Up! Marketing, during his Email marketing session at a conference last month. As a marketer, I was immediately intrigued -increasing email response rates, website traffic, and audience engagement is all I think about all day.
The answer was very simple (and not surprising at all): Video. In Jim's scenario, adding the word "video" to your subject line can increase your Email response rates by 25% (but you actually need real video before you do this).
Another study by DigitalSherpa found that websites with video content are 50 times more likely to appear on the first page of search engine results. DigitalSherpa also found that 80% of online visitors will watch a video, while only 20% will completely read a piece of written content. You get the point - video is crucial to your content marketing plan, now how do you start including video in your content plan?

You don't need a professional video marketing team to start. Here's 5 ways you can use your current content and creativity to start generating new video content:
Webinars: The next time your company delivers an online presentation, such as a webinar, make sure its recorded and made available for OnDemand playback. This will give you a video link to include in your next Email blast.
Video snippets: Webinars are often so heavy on information that you can break down the material into dozens of short videos with a little simple editing,

highlighting key points.

Interview your webinar presenter on video about the webinar topic they will be presenting and what people can expect to learn from him/her to garner interest in the speaker before the webinar.

Create a 'video teaser trailer' to promote your upcoming webinar: give away a 'secret tip' in the trailer and encourage your audience to register for the webinar to obtain more.
Video blog: identify your most sucessful blog and turn it into a video-blog by recording yourself on camera discussing the key points and providing real life examples. This is really easy; simply use your camera's internal web cam and make sure there is no background noise. If the content is interesting enough people will overlook the low production value just so they don't have to read the original post (but still obtain the same information).
How do you stand out in the contest for attention?