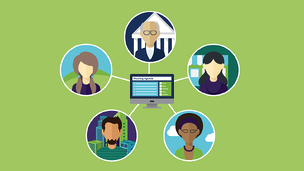 Virtual conferencing is becoming more common amongst companies that have remote employees but still have the need for team collaborations. However, there is a lot more to virtual conferencing than choosing a time and topic for the meeting. Below are 8 tips you can use to get the most out of your next virtual collaboration.
Around 65% of people are visual learners. If you want your colleagues or partners to remember your message past the day of the event try using visual aides to communicate your point.

Time is of the essence. Choosing the optimal time for the meeting is crucial to your participant's engagement and contribution. We all hate Monday morning meetings, so keep the other attendee's schedule in mind when selecting a date and time.

Studies show that communication and collaboration increase when there's human connection. Consider using the talking-head/webcam feature to connect with your coworkers in the webroom. A little camera shy? Upload a professional headshot into the presenter's pod to give a face to the voice behind the webroom.

Add logo and branding whenever possible.

Have a plan and make it happen. There is nothing worse than sitting in a room (virtual or not) waiting for the presenter to get organized. Prepare for your meeting by uploading any necessary materials or visual aides prior to the event. Having an agenda is also a good way to stay on track.

Occasionally, side conversations need to occur during a meeting, but if the attendees are leaving the webroom to send emails or make calls to one another, you risk losing their attention. Choose a platform that allows attendees to communicate with each other, ask questions to the presenter and provide feedback.

One of the biggest benefits to audio conferencing is that no one has to know where you're calling from as long as there is no background noise. Whether you're calling from your office, your car or living room make sure the level of background noise is not going to interfere with your call.

Finally, before your participants leave, make sure to ask them to submit any questions they may still have and feedback to improve your next conference.
---