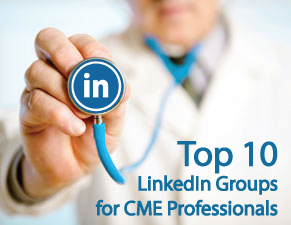 Statistically, we've seen that the healthcare industry has been a little slower than other industries to join the social media movement. However, with changing HIPAA laws, medical professionals are finally finding ways to use professional networking sites like LinkedIn to connect and collaborate with their peers around the world.
While it's important to have a complete profile created on LinkedIn, the professional social networking site has many underused opportunities to further the development of your interests and professions. Most importantly, LinkedIn Groups.
Did you know that LinkedIn has over 1.5 million groups for the 332+ million users on its site? While many are likely irrelevant to your interests, you might be amazed at how many LinkedIn groups and sub groups for the Medical Education industry there are out there.
For example, when you type in 'Continuing Medical Education' in the groups category, there are 83 suggestions. LinkedIn does a great job of understanding our bandwidth and limits each person to only belong to 50 groups, so its important to be selective when choosing which group to invest your time and energy.
We did a little research, and interviewed some of our colleagues and customers to find out which groups on LinkedIn continually provide the most useful and collaborative experience for its users. Below, you will find our top 10 LinkedIn groups for CME professionals.


Continuing Education groups for Healthcare Professions
Don't forget to connect with BeaconLive on LinkedIn! We continually share relevant articles that we feel will help you with your day. Connect with us here!
What LinkedIn groups do you think are worthy of this list? Comment below or tweet us @BeaconLive.
---