Statistically, we've seen that the healthcare industry has been a little slower than other industries to join the social media movement. However, with changing HIPAA laws, medical professionals are finally finding ways to use professional networking sites like LinkedIn to connect and collaborate with their peers around the world.
While it's important to have a complete profile created on LinkedIn, the professional social networking site has many underused opportunities to further the development of your interests and professions. Most importantly, LinkedIn Groups.
Did you know that LinkedIn has over 1.5 million groups for the 332+ million users on its site? While many are likely irrelevant to your interests, you might be amazed at how many LinkedIn groups and sub groups for the Medical Education industry there are out there.
For example, when you type in 'Continuing Medical Education' in the groups category, there are 83 suggestions. LinkedIn does a great job of understanding our bandwidth and limits each person to only belong to 50 groups, so its important to be selective when choosing which group to invest your time and energy.
We did a little research, and interviewed some of our colleagues and customers to find out which groups on LinkedIn continually provide the most useful and collaborative experience for its users. Below, you will find our top 10 LinkedIn groups for CME professionals.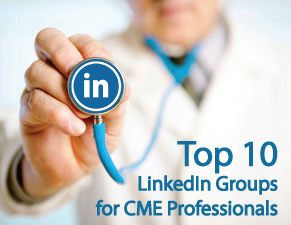 Continuing Education Groups for Healthcare Professions
1. Alliance for Continuing Education in the Health Professions (official group)
Join Group
The Alliance for Continuing Education in the Health Professions is a community dedicated to accelerating excellence in healthcare performance through education, advocacy, and collaboration.
2. American Telemedicine Association
Join Group
The American Telemedicine Association is the leading resource and advocate promoting access to medical care for consumers and health professionals via telecommunications technology. ATA seeks to bring together diverse groups from traditional medicine, academic medical centers, technology and telecommunications companies, e-health, medical societies, government and others to overcome barriers to the advancement of telemedicine through the professional, ethical and equitable improvement in healthcare delivery.
3. Continuing Medical Education (CME) Collaborative Think Tank
Private group, Request to join.
A collaborative opportunity to engage CME professionals and experts for targeted discussions relevant to the challenges of designing, implementing, and analyzing effective CME programs.
4. Medical Education Online
Join group
Medical Education Online (MEO) on LinkedIn has been established as an addition forum to support the dissemination of information on the education and training of physicians and other health care professionals.
5. MAACME
Private group, Request to join
The Mid-Atlantic Alliance for CME member section is the newest member section and represents the Mid-Atlantic region. This group is intended to share best practices b/w the founding members of MAACME.
6. Telemedicine and E-Health
Join Group
An E-Space to bring together people who have a dream to change Healthcare delivery through effective use of Telemedicine & E-Healthcare technology.
7. HIMSS
Private group, Request to join
The HIMSS Group is for constructive and stimulating discussion regarding the optimal use of health IT (HIT) and management systems for the betterment of healthcare worldwide.
8. Continuing Medical Education Buzz Group
Private group, Request to join
The goal of this group is to connect continuing education professionals, planners and providers from around the World.
9. Global Alliance for Medical Education
Private Group, Request to join
The Global Alliance for Medical Education was established in June 1995 to serve as a forum for the exchange of ideas among nonprofit and for-profit organizations involved internationally in the development and marketing of CME and health education programs.
10. Pharmaceutical

and Health Marketing
Private group, Request to join
Join the biggest pharmaceutical marketing group on LinkedIn!
Don't forget to connect with BeaconLive on LinkedIn! We continually share relevant articles that we feel will help you with your day. Connect with us here!
---