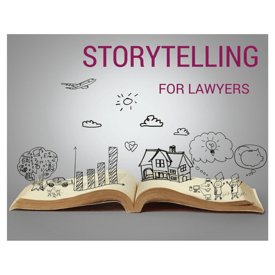 A thought leadership strategy is a must in today's legal services marketplace. If done well, its execution will develop existing and prospective client relationships. Thought leadership not only extends visibility, but it can demonstrate your knowledge and understanding of a client's business.
In order for lawyers to position themselves as industry thought leaders, they need to create compelling content. Storytelling is an excellent way to accomplish this. People relate to stories. They see bits of themselves in your the characters and story arch. They associate the antagonist and conflict with the problems in their own lives and they share in the joy and reward when the main characters finally achieve their goals.
What's So Great About Storytelling?
It is not just about language; it's about telling and creating stories in a powerful way. In doing so, the storyteller generates a story that is easily remembered and unique to their company. The challenge is in figuring out how to share that story in a way that aligns with the needs and priorities of prospects and customers. Brand storytelling is not about your company; it's about your customers and the value that they get when engaging with your business. When lawyers develop their story, they need to identify how their services help their customers. What problems do they solve? What benefits (not features) do they offer? What differentiates their services from competitors'?
Guiding Lawyers Out of Their Comfort Zone
Typically, telling stories through content creation is a bit out of a lawyer's comfort zone. So, how can storytelling for lawyers help to successfully leverage their content? Here are 4 key questions they should be asking themselves:
What is the story and narrative behind everything you do as a company? How can you get to that story instead of to just the cold, hard facts?

How do you actually connect with people in the language they understand best, the language they can visualize in a story-like context? And, how do you create the stories that will cause a change in behavior or a change of perception?

What types of stories appeal to your content marketing personas? (Content marketing is key. Currently, 91% of B2B companies and 86% of B2C firms use some form of content marketing.)

What about the stories your audience is already telling? How can you incorporate them into your content?
Telling Stories With Webinars
Once legal content can be successfully transformed into compelling stories, it can be shared in multiple ways. Lawyers should repurpose content and leverage channels, such as webinars, to reach the target audience. Storytelling over webinars is an effective method because it's an engaging way to educate the right people – people who are genuinely interested in the topic.
Strong legal webinars have the ability to position lawyers as thought leaders, improve sales, and build their brand. So, it's no surprise that 68% of companies deliver at least 1 webinar a month, and the number of companies following this trend grows steadily every year (e3webcasting). Lawyers can turn business development, thought leadership, and client retention content into a story and deliver it in an engaging webinar. These types of interactions can help to humanize your law firm and make clients feel more comfortable with your services. Telling a story that connects to clients on a personal level will keep your business top-of-mind.
Thought leaders need to be committed to providing provocative forward-leaning points of view. When lawyers leverage this type of information as storytellers, clients and prospects undoubtedly notice – and appreciate it. In the legal realm, building trust through captivating and useful content is a powerful method for lawyers to grow their businesses.
---