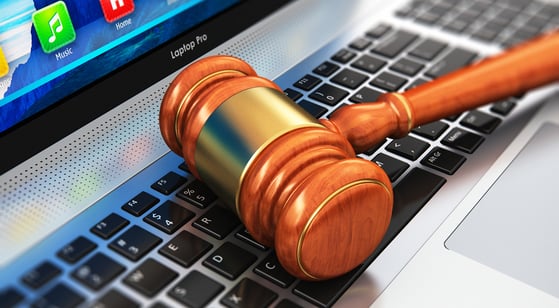 Up until recently, the success of many law firms and other legal organizations was primarily built on referrals, where word-of-mouth was currency. Bringing in new leads and clients was all about reputation management, networking, and making the most of the visibility you would receive through large industry events and well-known publications.
Today, however, 96% of people searching for legal advice now use a search engine – and 62% of these legal searches are non-branded.
The majority of people looking for legal services and solutions aren't using a specific company name. In fact, they're statistically a lot more likely to use a geographic term in conjunction with the topic of their interest – so for instance, defense attorneys in Boston. Therefore, from a business-to-consumer perspective, your online presence and content, as well as a well-designed, well-optimized and easy-to-navigate website are going to make a significant difference in the way your firm or institution is perceived.
It's no secret that marketing is going digital across all industries. And to keep up with competitors, law firms need to follow suit and adopt fresh legal marketing strategies that accommodate the needs, research habits and buying behaviors of the modern prospect.
Without further ado, here's a look at four legal marketing tactics you may not have tried yet that can pay off big in terms of lead gen results without breaking the bank.

1. Webinars
Whether you're distributing industry insights to your clients and prospects or delivering mandatory Continuing Legal Education to your firm's attorneys, it's essential to be able to reach your audience members where they are. Producing engaging live programing or virtual seminars allows you to share your knowledge and information in a way that is accessible to your audience members no matter where they're located.
Specifically in the legal industry, video is becoming bigger and bigger. We're now seeing that 25% of people researching legal topics visit YouTube during the process. And to make the argument for webinars even more compelling, we found in a recent survey that 47% of the respondents polled said they preferred to access content from a webinar, as opposed to other methods.
But why are webinars such a powerful and enduring form of content and communication?
Thought Leadership. For starters, webinars serve as a convenient medium for repurposing business development, thought leadership and client retention content that you already know matters to your audience.

Company Culture. Webinars also help to humanize law firms and make clients feel more comfortable with the services they offer. Connecting to clients on a personal level will help keep your business top-of-mind when the customer starts the buy cycle.

Live webinars are a form of interactive content. And that's particularly important. If you read up on content marketing trends, interactive content—not only webinars but apps, assessments, calculators, configurators, and quizzes—gained a lot of ground in 2016. Interactive forms of content actually generate conversions moderately or very well 70% of the time, compared to just 36% for "passive" content. So webinars really have a lot of potential to contribute to your visit-to-lead generation efforts, as well as lead nurturing programs.
Note that there are a number of self-managed products on the market today that equip you with the tools to deliver powerful and professional webinars. But if you're not comfortable executing them all on your own, or you'd simply rather not worry about all the details, search for a vendor that has extensive experience delivering legal marketing webinars who can lead you before, during, and after the event.

2. Pop-Up Forms
Marketing automation giant HubSpot has integrated pop-up forms (formerly known as their Lead Flows tool) as part of their HubSpot Marketing Free package—and it really is free to use! Basically, marketers can create pop-up forms on specific website pages to promote a piece of helpful content for which a website visitor would exchange their contact information. And presto! You have a new lead in the blink of an eye.
This tool is particularly helpful for building up your list of blog or newsletter subscribers, as well as leads who would like to download educational guides, papers and checklists. With a steady flow of website traffic, there is certainly potential to generate a good number of new contacts in a short amount of time, particularly if all you ask for is an email address.
Here are some helpful links to get you started…
To make the most out of the pop-up forms tool, follow these two bits of advice:
Assess your content inventory. What offers do you have that are the most compelling? Do you have a new content offer – or something you're trying to actively promote? Or can you serve up a company blog or newsletter subscription to website visitors? The amount of information you can ask for with these forms is relatively limited, so think about the value of each offer, and what you're willing to "give away" for a Name, Email and Company Name in return.

Research top performing pages. Take a look at your website analytics. Which pages are getting the most views? Which pages tend to have higher bounce rates? Leverage the opportunity to offer content to the large number of eyes that are already passing over these pages. And if there are pages where your current Call-to-Action isn't getting very many clicks, use Lead Flows to supplement it!
3. Fully Committing to Social Media
The operative words here are fully committing. Did you know that 23% of legal organizations have no social media presence whatsoever? (Source: American Bar Association Technology Survey Report) Yes, it's tough to justify dedicating time to social media when the ROI seems minimal. And to be frank, many people in the legal field aren't typically too keen on social selling.
However, the right social strategy (executed on a regular basis!) can be a powerful branding tool, and ultimately a legal marketing lead generation tool. It just requires a commitment to consistent publishing and building your name. Here are a few steps you can take to improve your social media presence:
Follow influencers and engage with them online. Before you get started, make a list of important legal publications, authors, CLE institutions and/or legal professionals that have social accounts. While you build up your own content, comment on and share their Retweet their content. Become a part of the conversation – and they'll be much more likely to reciprocate.

Abide by the 60-30-10 rule. Despite what you might think, 60% of your content should actually be third-party content your target audience will find helpful. This will help you accumulate followers and develop a reputation as a go-to resource for your field. Then 30% of the remaining posts can be your own educational articles, press releases, blog posts, video content, etc. And leave the last 10% for purely promotional content.

Maintain a schedule. Publishing content regularly may feel like a time-consuming uphill battle. But it doesn't need to be something you spend time on every day, even if it appears that you're posting material every day. Use a scheduling tool (like HootSuite, for example) and set up posts in advance to save on time.
In addition, there are a number of effective and affordable paid social advertising options you can use to gain exposure and generate leads. LinkedIn sponsored posts, Facebook ads and Google Remarketing are all great ways to promote registration for an upcoming webinar, a webcasted event, a new eBook or thought-provoking video. The primary benefit is that you can really dig into targeting a specific audience – based on demographics, interests, job role (and the list goes on!)

4. Personalization, Segmentation and Relationship Marketing
One way you can really build strong relationships with your prospects is through personalized content marketing. 97% of all law firm websites fail to deliver any kind of personalized content. So if you can do that, you're already one-upping everyone else!
CMO Council also reports that 90% of consumers find custom content useful, and 78% believe that organizations providing custom content are interested in building good relationships with them. And to further drive home that point, 60% of consumers feel more positive about a company after reading custom content on its site.
Now, what do we mean by customized and personalized content?
In a nutshell, it's about creating content—emails, blog articles, dedicated website pages, eGuides and white papers, explainer videos, infographics, etc.—that specifically address the needs of the prospect based on information you already know about them. This also may apply to an entire target segment of your audience (as opposed to blasting the same emails and promotions to your whole contact database). Yes, this takes more time, but in the end, it's worth the extra effort. Here are a few additional tips…
Send out a monthly or quarterly newsletter. You can use topic-specific newsletters to promote related events, special offers, insights, company news, or anything else your audience would like to read about! You can also include a featured quote or testimonial from an upcoming speaker or a partner offering a unique opportunity. As long as the content is relevant to your audience, a newsletter will keep your firm or organization in front of prospective customers.

Consider loyalty programs, referral programs and discounts. Change up your pricing model for those customers who return time and time again. You'll be a lot more likely to get a referral if your clients can benefit from a sustained relationship.

Use automated lead nurturing and follow-up emails. If someone fills out a form on your website, the contact should immediately receive an email with more information, or a link to a helpful resource, preferably that is hosted on your website. Surprisingly, only 14% of law firms send an automated follow-up email to contacts who fill out a form on their website, so again, it's another way to stand out. If the prospect happens to download a brochure about environmental law, for example, funneling him into an email lead nurturing campaign that delivers related content is going to be a lot more helpful than sending them a white paper about immigration law a week later.
Most importantly, deliver on what you promise. In legal marketing (or marketing any service for that matter), there is no tangible product customers can see or hold, so they put their faith in what you tell them before signing on the dotted line. In the services industry, keeping your word is absolutely essential!
---