From Onboarding To Record-Keeping, Ensure Your Human Resources Practices Are Legally Compliant
Whether the United States government is auditing your company or you want to do a temperature check of your human resources practices, an HR compliance review is overwhelming.
That's because the HR department has a lot on its plate. HR professionals must train and onboard new employees, monitor employee benefits, and maintain impeccable personnel files for their organization.
Typically, a formal HR audit is done every 18 months. But HR professionals like you know it's best practice to conduct one annually.
So whether you work in the HR department for a small business or a large corporation, the best way to perform a human resources audit is to use a comprehensive checklist. This will ensure you don't miss any key components that may lead to issues with your audit.
Let's look at how you should prepare for your HR compliance audit or checkup and the complete HR compliance checklist you can use to ensure your company's human resources policies are on the right track!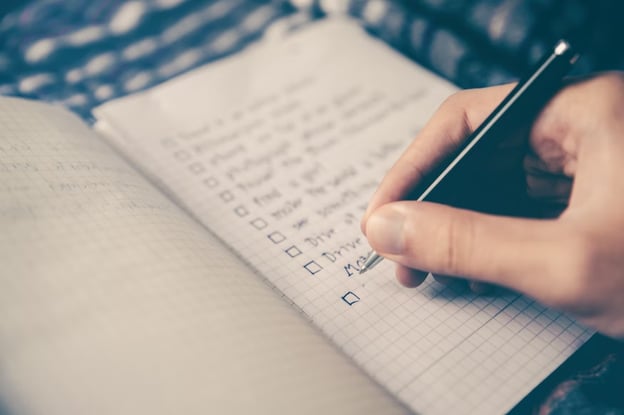 Why Are HR Audits Important?
An HR compliance audit is the practice of evaluating your company's human resources practices to identify issues and find solutions to problems before they get out of hand.
There are many benefits to performing a yearly HR compliance audit.
Audits ensure your company is implementing best practices for its HR policies.

They enhance your organization's reputation.

They help keep hiring practices up to date and employee retention up.

It streamlines workflow for HR professionals to prevent burnout and overwhelm.

An audit keeps your business within the parameters of employment law.
If your company has a dedicated HR director, they will be well versed in human resource compliance and all the federal and state laws your company is subject to.
Otherwise, you'll need to take the time to understand the nuances of the HR compliance regulations your department is responsible for.
No matter your situation, choose a CE platform that will allow you to track essential metrics, organize information, and automate manual tasks like certificate delivery and tracking employee training completion.
Important Employment Laws You'll Need To Consider For HR Compliance
As you prepare to audit your company's HR compliance, you'll need a working knowledge of essential labor laws to ensure your HR practices are compliant.
Here are a few employment laws you'll need to consider during the audit process.
The Fair Labor Standards Act: Also known as FLSA, this law establishes a mandatory minimum wage, overtime guidelines, and child labor laws. It also clearly defines both employee exemption and non-exemption.

The Affordable Care Act: The ACA requires large companies to offer affordable health insurance options to their employees.

The Age Discrimination In Employment Act: This employment law discourages companies from discriminating against job applicants who are 40 years and older.

The Affirmative Action Program: requires employers to actively recruit and offer training programs to minorities, women, disabled individuals, and veterans.

The Equal Pay Act: Also known as EPA, this act mandates that women and men be paid the same salary for the same job.

Occupational Safety And Health Act: The Occupational Safety And Health Act, or OSHA, provides workplace safety standards and enforces record-keeping compliance.

Family And Medical Leave Act: Also known as FMLA, this act allows eligible employees of covered employers to take job-protected leave in the event of a medical or family emergency. While this leave is unpaid, it protects the employee's job.

Americans With Disabilities Act: ADA protects individuals with disabilities from being discriminated against in the workplace.
Once you understand the federal laws and local and state regulations, you'll be able to take a closer look at your company's HR practices to determine if they comply with employment laws and regulations.
The best way to administer an audit is to use an HR compliance checklist to ensure no small details are overlooked that could grow into more significant issues.
Let's look at a comprehensive HR compliance checklist that will help companies like yours remain compliant.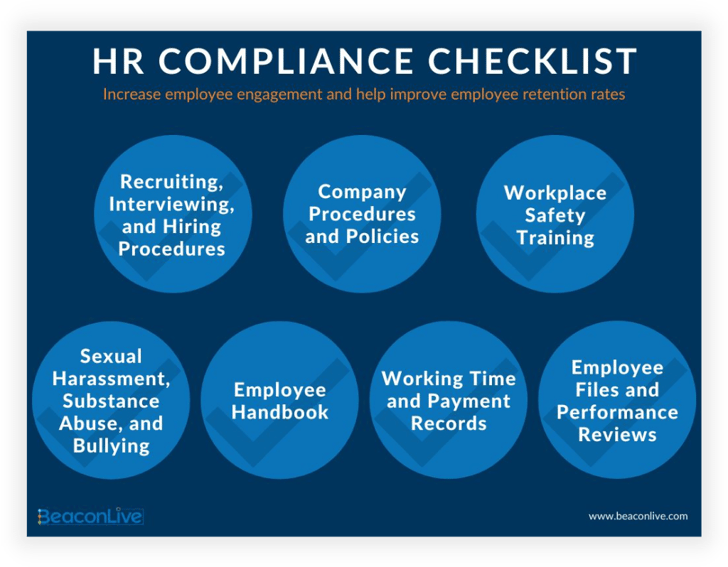 The Only HR Compliance Checklist You'll Need
Having compliant HR and company policies will increase employee engagement and help improve employee retention rates.
Use this HR compliance checklist to avoid administrative nightmares and keep all of your HR policies compliant.
Recruiting, Interviewing, And Hiring Procedures
Start your compliance check by evaluating your company's information on recruiting, interviewing, and onboarding new employees.
Use templates to ensure non-discriminatory job descriptions, offer letters, interview questions, and job applications.

Check job descriptions and interview questions for discriminatory language.

Ensure your company provides equal compensation for equal work, regardless of internal job descriptions.

Implement an applicant tracking system to help HR professionals generate audit-ready documentation, compliant job descriptions, and interview scripts.

Maintain records of all application forms, interview evaluations, and documentation of reasons for hiring or not in case of an EEOC investigation.

Check your state's labor laws for information on compliant background checks to ensure your company is compliant with these regulations.
Company Procedures And Policies
Next, check the employee handbook and your company's policies and procedures.
This analysis will help ensure that your organization complies with all state and federal laws and COBRA and unemployment benefits.
Reviewing these policies and procedures, consider specifications for a drug and alcohol-free workplace, rehab services, and possible ergonomics issues.
Workplace Safety Training
All employers must ensure their workplace is OSHA compliant and all safety standards are followed.
For instance, if your company uses chemicals, you must include handling requirements in your employee training program.
Be sure to include emergency and disaster procedures and any safety rules all employees need to know.
Sexual Harassment, Substance Abuse, And Bullying
All managers and employees should participate in training for substance abuse, bullying, and sexual harassment.
It sets a tone that will make new hires feel safe and prevents issues in the workplace.
Set guidelines for a drug-free workplace that will prevent substance abuse in the workplace and give employees a way to report issues.
Consider using an eLearning platform to streamline the training process and generate automatic records of employee participation.
E
mployee Handbook
Your company's employee handbook must offer guidelines for all employees that help maintain company culture and compliance in the workplace.
Since it concerns employment and HR issues, You must review this document annually to ensure it's compliant and accurately reflects the company values.
Each employee handbook should cover the following:
The Equal Employment Opportunity policy, or EEO, should follow all regulations at the federal, state, and local levels.

The dress code clearly states specific policies on tattoos, extreme hair color, and scents that may bother other employees.

Cell phone usage policy, including taking calls, making texts, and general cellphone usage in the office or during work hours.

Acceptable use policy for company technology and internet usage.

Appropriate and inappropriate relationships at work.

Policies discussing salaries or benefits with coworkers.

Social media usage and policies.
Support the handbook by placing posters and reminders around the workplace. These will act as visual reminders for employees and help reinforce company policies.
Working Time And Payment Records
Review your record-keeping practices for logging employee work time and payment.
Remember that employers must pay their employees, even if the work time is unauthorized. So ensure your onboarding includes company policies related to working time.
Ensuring that these records are well organized will help your company if it's subject to an IRS audit or when you need to handle a workers' compensation claim.
Additionally, ensure employees are correctly classified as exempt or non-exempt. Non-exempt employees receive protections under the Fair Labor Standards Act, meaning you must meet minimum wage and overtime requirements to be in compliance.
Employee Files And Performance Reviews
From pre-employment paperwork to performance review documentation, it's up to your team to keep track of essential paperwork.
Your company should have a set action plan for dealing with employee files. Ensure your HR policies include compliant timelines for how long you need to maintain this paperwork, where it is stored, and who is allowed access to it.
You'll also need to prove that your employees' tax information, credit score, and criminal records, as well as any medical information, are securely stored according to requirements like HIPAA.
Let BeaconLive Help You Optimize Your HR Compliance Practices
HR professionals must do their due diligence to ensure that their department complies to help their company avoid costly fines and penalties.
To help you streamline HR workflow and make HR compliance easier on your team, turn to BeaconLive for help.
Our platform offers cloud-based solutions that automate manual tasks and allow you to elevate your company's organizational system.
If you are looking for new and innovative ways to offer employee trainings, our live webinar platform offers scalable solutions and 24/7 tech support that will allow you to reach even more employees and revolutionize your company's training program.
Contact us today for more information on how our platform can help make your upcoming HR audit or review more efficient and less time-consuming.
References
Kumar Sundaray, D. (2022). HR Audit. Utkal University. https://utkaluniversity.ac.in/wp-content/uploads/2022/06/HR-AUDIT.pdf
---