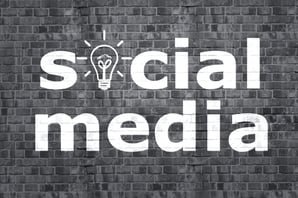 There isn't a single success story in the business world of today that doesn't involve leveraging the power of social media to raise awareness and achieve mass influence. "Being social" is the new standard of marketing and people WILL doubt your legitimacy if they can't find you on Facebook or Twitter; 66% of marketers believe social media marketing is core to their business [...] and have a dedicated social media team" (Salesforce). Your organization may not have a 'dedicated social media team' but there are still tips and strategies that you can utilize to establish and grow your relationship with your virtual audience:
Curate.
Finding fresh new ideas to write about and share on social media everyday is not only hard for most people, it's basically impossible. Research and editing takes up so much of our time that often we find it easier to share an article that we enjoyed by someone else. Luckily for us, that is something we should be doing anyways because we're not experts in everything. And as content creators we know where to find the "good stuff" worth reading -so why not share it while you come up with the next big thing?
Ask for help.
Ask your online audience to help you promote your services and solutions by sharing your content and upcoming events (accompanied by a hashtag or your company's twitter handle) to start creating an online presence.
Be modest.
"Most of your social media communications should not be about yourself and your product [...] The right proportion can vary. It might be 5 percent about you, 95 percent about others. But it should never be 50 percent about you" (Inc.com)
Add images.
Most of your posts should be accompanied by a 400-500 pixel wide image. People are more likely to read and share your posts when there's an image attached so don't skip out on this little but very important detail.
Respond.
Have at least one person dedicated to monitoring your conversations on Twitter; its useful to know what people think about your presentation and what kind of content gets them excited enough to share their thoughts on social media.
Continue the conversation.
If you like the idea of finding a place for attendees to collaborate and network, we recently saw a great way to use social media for before and after a live event. Writer and webinar presenter Debra Gordon recently did a fantastic webinar on The Awesome Power of Whitepapers, and upon registration, the participant received an invitation to join a private LinkedIn group that is accessible only to the webinar attendees. This was a fantastic way to use social media to start and continue the conversations about your subject matter.

Are social media platforms making their way into your marketing duties? The social media trend is here to stay and allotting resources to keep a social media presence active is becoming more common. Sign up for our webinar, "Social Media for Legal Marketers" to discuss how to create a social media strategy, sustain its growth, and social media tips to be efficient.