Improve Audience Engagement For a Successful Virtual Event
As you plan your next virtual event, one of the most important decisions you will make is your choice of keynote speaker.
The speaker you choose to feature sets the event's tone and encourages attendees to join to hear what the industry thought leader has to say.
Virtual event speaking engagements are wildly different than speaking on stage during a live event. Even the most seasoned event speakers need to adjust their approach to capture the audience's attention.
To make your audience feel as invested as they do during in-person events, your speaker will need to find creative ways to keep them entertained and engaged.
Let's take a look at ten tried and true ways your speaker can engage your target audience during your virtual events.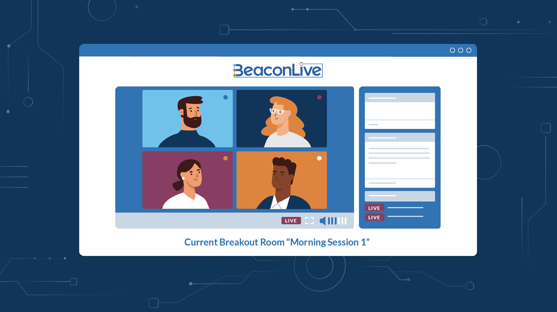 Ten Interactive Presentation Ideas To Help Speakers Keep Audience Members Engaged
Mastering the art of timing, storytelling, and entertaining your audience takes lots of practice. Speakers should be able to quickly pick up on visual clues that they are losing their audience.
This practice is much easier when you are in the same room as your attendees, but virtual speakers can still pick up on cues that their viewers aren't engaged.
Here are ten best practices speakers at your virtual conference can utilize to make a significant impact on your audience members.
1. Encourage Audience Participation
Public speaking is never easy, even in a virtual setting. But if you have the audience on your side, suddenly, everything falls into place.
Audience participation instantly improves the interactivity of your virtual event.
Utilize "show of hands" questions to draw the audience in and pique their interest in your topic. You can display the questions on your PowerPoint presentation as you share your screen with the attendees.
This will encourage them to keep their cameras on, which will help your speaker gauge whether or not they are attentive during the presentation.
Continue sprinkling these types of questions throughout the entire presentation. You may want to keep a list in the margins of your notes to use if you notice a lull in your production.
2. Pay Close Attention To The Details
Event attendees can quickly become distracted by details or background noise during the keynote speaker's address.
Ensure the speaker's background is neutral and uncluttered. Their lighting should not cast shadows, and their webcam should be at eye level. Have your speaker check for background noises, like a running dishwasher that can distract attendees.
Remind the speaker to maintain good posture and eye contact with the camera rather than looking at their screen. Energy levels need to be high as the speaker carries a confident tone.
If you make an error or your speaker flubs a line, embrace it! Sometimes "bloopers" are just as engaging as the interactive features of your virtual event platform.
3. Use Gamification And Live Polling
Just because you are hosting a professional online event doesn't mean the fun is off the table. Gamification and live polling are two features in high-quality virtual event platforms that work well to engage virtual event attendees.
Gamification involves infusing games into your presentation, such as trivia questions or brief competitions.
Live polls launch exciting questions for your audience members to answer in real-time. Speakers will use those polling results during their presentations to drive engagement.
4. Use Storytelling Techniques
If you've ever been glued to the screen during a Ted Talk, you know how powerful storytelling techniques can be when engaging an audience.
Start your presentation off with a story and maintain the narrative thread throughout. Here's how to use traditional storytelling techniques to engage your audience.
Craft A Strong Introduction

Maintain A Compelling Narrative

Bring Out Your Audience's Emotions

Keep It Short

Use Surprise To Catch Listeners Off Guard

Use Presentation Content As Transitions

End On A Positive Note
The goal is to make your presentation so engaging that your audience is hanging on to your every word. Make sure your story connects with the virtual event theme while infusing humorous components throughout.
5. Choose An Engaging Event Theme
When you theme your event, you provide your audience with an experience. The theme will take them on a journey that will make the virtual event more memorable.
Event themes are fun and provide opportunities for icebreakers that will draw your audience in. Ask your event attendees to bring themed items to the virtual event and use them as audience participation tools. This will offer an opportunity for a much-needed laugh and increase audience engagement.
6. Host A Social Media Contest
Since your event is being held online, it makes sense to leverage social media to increase attendee engagement. Have your event team craft a catchy hashtag that connects with your event theme.
Because hashtags are inherently trackable, launch a social media contest that has attendees post pictures of their pets or craft a themed background and posts images to their Twitter, Instagram, or LinkedIn using your unique hashtag.
This will increase audience interaction as you show the images during your event. Be sure to offer a fun prize, like swag or a discount code to encourage participation.
7. Virtual Event Swag Bags
An excellent way to drive audience engagement is to send event bags directly to your attendee's homes.
When putting together the swag bags, include quality swag, like t-shirts, can koozies, or anything your audience member can use or share. Incorporate these items into your social media contest and encourage participants to bring them to share during the event.
By sending goodie bags, you will reduce your no-show rate and increase engagement for your virtual event.
8. Try User-Selected Presentation Paths
People love choice. It makes them feel in control of their situation and allows them to say what happens next.
Give your audience members the option to select what will be presented. This means the presentation will be more relevant to your audience, which will inevitably increase engagement.
This method can make breakouts sessions better but may be more challenging for main keynote speaker sessions.
If your speaker is flexible, you could ask them to provide you with two or three speech topics and encourage audience members to vote on which they would like to hear during pre-event activities.
9. Use Quizzes For Some Friendly Competition
Quizzes and surveys offer endless opportunities for engagement. You can create quizzes on random topics or connect them to your event theme.
Make your quizzes competitive and offer fun prizes for the winner. Because your virtual event platform can host these quizzes so your event attendees can remain on the event app.
To make your quizzes extra challenging, choose questions that they cannot quickly lookup on a search engine.
10. Don't Rely On Just Your Words
Sure, talented speakers can engage their audience with their public speaking skills, but it's going to take more than highlighting your key points to capture their attention.
Embed videos or an infographic in your PowerPoint presentation to drive conversation and bring visual aids to your online presentation.
Always test your media ahead of time to avoid broken links or awkward pauses during your speaking engagement. Your virtual event platform may be able to create a media library or content catalog to ensure your visual aids don't fail at the worst possible time.
Plus, when your audience knows that your presentation materials will be available on-demand, they will be more invested in what you have to say instead of taking screenshots and feverishly writing notes.
Get Creative With BeaconLive For Engaging Virtual Events
Whether you're planning to host your first virtual event or a seasoned professional, you can use these engagement techniques to ensure your online audience is invested in your speaker's presentation.
BeaconLive offers all the tools you need to engage your audience and host a successful virtual event. From 24/7 live tech support to cloud-based solutions, our platform is second to none.
Contact BeaconLive for more information on how you can make your next virtual event a hit.
---