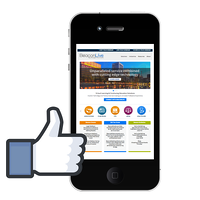 Business marketing is hard, and every year poses a new challenge for marketers trying to stay current on the latest marketing tools available, "2015 will have a record-high number of technologies, channels, and tactics to choose from" (Salesforce). With so many tactics and technologies vying for your time and effort, choosing the right channels to share your business goals with can be the hardest part of being a marketer.
Fortunately, deciding where to start can be determined based on what other marketers have already tried and found successful. To help you create your most effective marketing plan yet, this post will discuss the two main areas where most marketers will be increasing their spending this year: social media and mobile.
Some businesses may be reluctant to increase spending on social media and mobile due to the unclear ROI these channels can provide; it can be very difficult to prove (in a linear way) how social media engagement can influence sales, because, as we all know, a facebook "like" doesn't necessarily translate into a potential customer. However, we can't ignore the fact that content marketing is "the number one priority among marketers" (eConsultancy) and that social media is usually the top method of distribution for all that content.
Many businesses may say they've tried the 'content marketing method' and have seen little improvement, "70% of B2B marketers have adopted content marketing, but only 37% think it's actually effective" (kapost). But a possible reason why they're not receiving the desired results is because producing and publishing content isn't enough; how you distribute your content to the consumer matters greatly as well. The marketers that are on top of the most recent marketing trends and optimize their content for the top 3 channels of distribution (social media, website, and organic search) are the ones reporting major success. Here are two ways you can optimize your content marketing for social and mobile:
"The goal of modern marketing is to elevate the customer experience across every channel" (Salesforce)

Social Media
As marketers, we are constantly looking for new marketing tactics to grow our brand's prominence and reputation, turning to any channel that promises success. The rise of social media introduced new challenges, for sure, but it also provided us with a new method for reaching out to people that's faster and fun. We're even at the point where having several social media accounts is the new standard, so much so that people WILL doubt your legitimacy if they can't find you on Facebook or Twitter.
"66% of marketers believe social media marketing is core to their business [...] and have a dedicated social media team" (Salesforce)

Here are some ways social media can help you overcome your business challenges:

Social Media builds brand awareness. If you're having a hard time finding your audience online, you can always try running an ad campaign --but that will only work as long as you continue paying for it. The best way to gain an audience for the long run is by sharing content on social media that others will find helpful. That's why it all comes back to content marketing, if you don't have anything valuable to share, how will others find you?
Social Media is a great channel for sharing important company announcements, new product developments, and engaging with your followers. Not only is constant communication vital for your prospects (so they don't forget about you), but it also helps your current customers feel connected to your brand, reducing the likelihood of them leaving.
The best part about social media is that when people love you, they're not afraid to say it. And there's nothing more powerful than a "word-of-mouth" recommendation. Getting people to share their love for your brand is your ultimate goal on social media.
In short, the next time your director tells you that content marketing is not working fast enough, ask him/her to consider expanding the company's social media efforts.
Mobile
If your company website hasn't been optmized for mobile viewing you're living in 2002, "the year the smartphone revolution really took off" (mail2web.com). Having responsive web design is not an option when your business depends on people visiting your website and filling out a contact form, it's expected. If people can't access your form within seconds, you've already lost them.
"One study claims that more than 80% of small businesses that invest in mobile marketing see increased business as a result" (TIME)

Here are some proven reasons why going mobile can help you overcome your business challenges:
A significant portion of internet traffic comes from mobile, usually during a quick search on the subway or while waiting in line at the bank, so providing clarity and speed for your mobile users is very important. Those visitors will remember your website experience and form an opinion about your brand based on that experience.
Having a mobile-friendly website will prevent your visitors from leaving your site and finding your competitors whose website is easier to use (Forbes).
If the majority of users who are attempting to navigate your website via a mobile device feel frustrated and leave right away, search engines will take that into consideration when ranking your website. One of the many ways search engines rank your site is by looking at how long visitors stay there and how quickly they return to the search results home page to try a different link.
"71% of marketers believe mobile marketing is core to their business" (Salesforce)

Applying these marketing tactics will surely enhance your user's experience --ultimately, increasing the probability of them doing business with you. To further understand how user experience affects customer satisfaction we recommend reading, "
Why User Experience Matters In the Webinar World
".