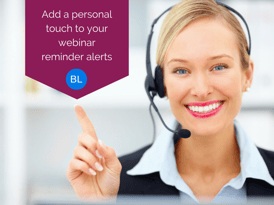 BeaconLive has added a new feature to its full service a la carte package; webinar reminder calls days before the event. We will continue to send reminder email alerts to your registrants days and hours before the event, to ensure maximum attendance, but we will also encourage the use of this new phone reminder service due to the increase in attendance and engagement we've observed since we started testing the impact of the calls.
As you know, people love a real person-to-person interaction and this offering not only gives them that, making it easier to remember the event, but it also gives them the opportunity to clarify any questions regarding access to the webroom before the day of the event.
Companies who deliver free webinars and implement this new feature into their package will definitely see an increase in attendance; as those are the most typical types of webinars people forget and miss. However, while the paid-to-attend market will only see a slight change in attendance from before (because people are less likely to skip something they paid for), they will certainly notice an increase in positve feedback as your audience starts to acnowledge the level of professionalism and preparation involved; making them feel like they are truly getting what they paid for.
As you may or may not know, all of BeaconLive's services are optional; we don't believe that "one size fits all" and prefer giving the customer the option to customize a plan that works for them. For this reason, our services are not delivered in bundled packages where you're forced to choose between Option A or Option B. Instead, we ask you what you need and provide only what you want. This way, you don't have to pay for features that you're never going to use in your web room. So, if you feel that our new feature can help increase your event's attendance, let us know. However, if you feel it's unncessary, there are still many other features in the BeaconLive platform that you can benefit from, just ask us.
Have any questions? Check out our FAQ page for more information or visit our blog!