Use This Guide To Integrate Networking Opportunities Into Your Upcoming Webinars
One of the main concerns we hear when a company is debating delivering their event virtually is the loss of networking during the webinar.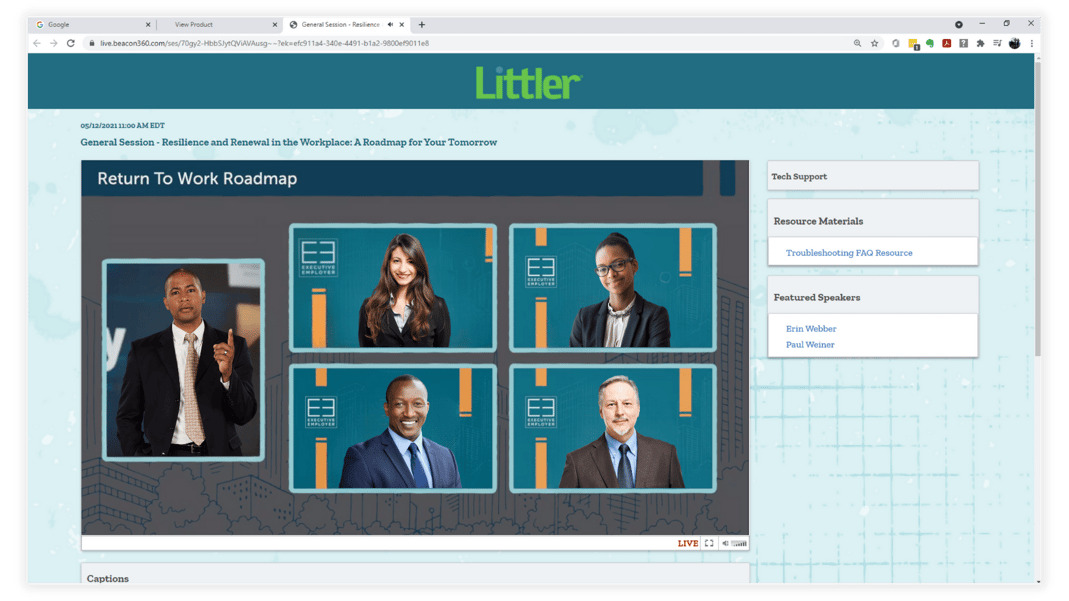 We get it. As marketers, we belong to many local and virtual networking groups so we can discuss and collaborate on new ideas.
There is a time and place for networking and for education. And if you plan accordingly, you can offer quality networking opportunities before, during and after your upcoming webinars.
While it's nice to combine these elements within one event, they are not always convenient for everyone's busy schedule. However,
Fortunately, webinar service providers, like BeaconLive have found a way to meet the needs of the event host, sponsors, and attendees to ensure a full event experience is delivered before, during and after the webinar.
Here's why networking is important during your webinar series and how you can incorporate professional networking opportunities every step of the way.
Why Networking During A Webinar Is Important
You probably envision webinars as spectator events that have attendees watching a target presentation on a specific topic.
While that is true to some extent, it's important to reimagine the old fashioned webinar and offer dynamic, engaging opportunities that will draw your audience in and keep them wanting more.
Webinars are undergoing a digital transformation and being reimagined as interactive experiences that engage and educate audiences. Even pre-recorded webinars have the potential for networking with a bit of preparation on your part.
There are many benefits to incorporating networking opportunities into your live event.
Foster Engagement: When attendees interact with each other, it automatically connects them to the content, making it a more meaningful experience.

Build Trust: Networking is about building genuine relationships. Your target audience needs to know you aren't just in it for the sale.

Increase Brand Awareness: Networking before, during, and after your webinar will help make your target audience more aware of your brand and its message.

Encourage Repeat Registrations: If attendees enjoy themselves, they are more likely to register for your next webinar.
With the right webinar service provider, you can even offer networking opportunities during prerecorded or OnDemand webinars.
Let's take a look at some ways you can integrate networking into your webinars.
How To Offer Effective Networking Opportunities Before, During, And After Your Webinar
Networking is a meaningful experience that your webinar attendees shouldn't lose during a virtual event.
Between the advent of remote work and automation, professionals crave interactions with peers who can offer mutually beneficial relationships and new ideas to drive their careers forward.
Your webinar series is a great time to offer your target audience an educational experience and an opportunity to network with others in their field.
Here are some ways you can offer networking opportunities before, during, and after your virtual event.
Pre Event
Before an in-person event, attendees often mingle outside the conference room, learning more about the sponsors of the event, upcoming webinars from the host, and exchanging business cards with their peers.
So you'll need to offer similar opportunities to allow your attendees to reach out to others and make valuable connections.
Virtual Lobbies
BeaconLive developed a unique browser-based lobby for your virtual event audience.
The fully customizable lobby allows you to provide links, logos, and videos for your sponsors and promote upcoming events.
The virtual lobby is accessible within the web room before the live webinar, so no one misses a moment of the presentation.
Breakout Sessions
Your webinar service provider should also offer extensive roundtable networking functions so that you can host multiple breakout rooms for audience members to dive deeper into conversations.
You can also utilize our advanced breakout sessions feature to connect more audience members with each other and give them access to multiple sessions at a time, with the opportunity for meeting people in each of them.
Connect On Social Media
Consider inviting participants into a Facebook or LinkedIn group to engage in discussion and collaboration before the event.
Include a roster of who is registered for the event with their corresponding LinkedIn accounts so your attendees can make connections on their own.
There are many things you can do on your social media channels that will foster a networking environment.
Post Questions And Polls

Link Interesting Content And Ask For Feedback

Engage Your Audience Through Comments

Post-Curate Humorous, Industry Related Content Like Memes, Cartoons, And Short-Form Videos
Take the time to engage with your audience by having your team members and event host join in on the conversation.
This will help them get to know more about each other and your brand to create partnerships and connections before the webinar even begins. These interactions may even illuminate new topics or touchpoints you'll want to include in your live webinar.
During The Webinar
While separate conversations shouldn't occur during an educational presentation, the most interactive webinars seem to be the best received by the audience.
Here are some ways you can incorporate networking opportunities during your live webinar.
| | |
| --- | --- |
| Network During The Webinar By... | How It Helps |
| Offering Live Polling | Attendees can voice their opinions and help guide the discussion. |
| Integrating Public And Private Chats | Your virtual audience can interact on a public forum or directly message another attendee privately to discuss the topic. |
| Build In Time For Q&A | Making sure your audience can ask questions and interact shows you are considerate of their needs. |
| Work In Introductions | This helps other attendees know who is present and gives them an opportunity to add them to their network. |
Even though you have a lot of quality content to cover in your live webinar, offering networking opportunities at critical points will foster engagement and prevent attendance dropoff.
Post Event
Often, ideas need to be fully digested in both in-person and virtual events before attendees are ready to act.
Continue The Discussion In A Private Chat
Allow your Event Moderator to push out a link to a private chat room to allow the conversation to be continued beyond the presentation.
Participants who choose to join will all be interested in the topic, meaning they all have something in common and are willing to share ideas. Give brief introductions so that attendees are more comfortable participating in the conversation.
Members of your team should be present in the chat to facilitate and drive the conversation. They can invite attendees to participate and help build those crucial relationships that lead to professional network expansion.
This will allow your participants to do more of a deep dive into the webinar topic and perhaps learn new information from their peers.
Follow Up On Social Media
If you facilitated networking opportunities on your social media channels, continue the conversation after the virtual event is over.
Ask for attendee feedback through a survey. Post more questions and polls. Be sure to encourage your team to interact with attendees to continue building relationships.
Attendees who feel they have made connections through your webinar will likely participate in upcoming webinars.
Webinar Networking Best Practices
Because virtual events are limited on time, it's crucial to maximize your networking opportunities to ensure your runtime remains within the optimal time frame.
Here are some networking best practices you can follow during your webinar to ensure your virtual attendees are comfortable enough to jump right in and make connections.
Get To Know Your Tools: Make sure you understand how your virtual event tools work beforehand to avoid real-life mishaps that take time away from your webinar.

Be Fully Engaged: Much like an in-person event, avoid distractions like your phone or environmental factors. Engage fully in all networking activities to encourage your audience to do the same.

Keep The Conversation Flowing: Watch out for off-topic comments or tangents that can cause attendees to become disinterested. Offer a private chat if these issues arise.

Optimize Your Landing Page: Be sure to include links to and information on networking opportunities on your webinar registration page and copay landing page to make networking accessible for all attendees.
Meaningful networking takes time, but building solid relationships is a great way to identify qualified leads that may convert. So be sure to keep networking on your mind as you plan your webinars.
Offer Engaging Networking Opportunities During Your Upcoming Webinars
When you choose to deliver your event online, it doesn't mean you lose the ability to meet and collaborate with your peers while learning.
We already know that webinars are one of the best ways to deliver your content and enhance your audience's experience by allowing them to learn more through networking.
BeaconLive offers a suite of products that can engage your virtual attendees. Our feature list includes 150+ add-on items, including:
Live Polling

Public And Private Chat Rooms

Breakout Sessions

Q&A Facilitation
Download our complete feature list to see what our webinar platform can offer your company. When you're ready to launch the next generation of engaging webinars, contact BeaconLive!
---