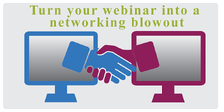 One of the main concerns we hear when a company is debating delivering their event virtually is the loss of networking during the webinar. We get it. As marketers, we belong to many local and virtual networking groups so we can discuss and collaborate on new ideas. But there is a time and place for networking (hopefully with a cocktail in hand) and for education. While its nice to combine these elements within one event, they are not always convenient for everyone's busy schedule, so BeaconLive has found a way to meet the needs of the event host, sponsors, and attendees to ensure a full event experience is delivered before, during and after the webinar.
Pre Event
Prior to an in-person event, attendees often mingle outside the conference room, learning more about the sponsors of the event, upcoming webinars from the host, and network with their peers. We understand that networking is an important experience that shouldn't be lost during a virtual event.
BeaconLive developed a unique browser-based lobby for situations like this. The fully customizable lobby allows you to provide links, logos and videos for your sponsors, and promote upcoming events. The BeaconLive lobby is accessible within the web room prior to the live webinar so no one misses a moment of the presentation.
But what about Networking? Consider inviting participants into a LinkedIn group to begin a discussion or virtual collaboration prior to the event. Further, include a roster of who is registered for the event with their corresponding LinkedIn accounts so your attendees can make connections.
Live Event
While separate conversations shouldn't occur during an educational presentation, the most interactive webinars seem to be the ones best received by the audience. Some providers allow you to divide your attention by integrating social media widgets into the web room, but BeaconLive holds a strong believe that the attendee is in the web room to receive education, so their attention should be spent on the presentation (which is why we built our integrated continuing education platform). So, as you would set aside your cellphone in a conference room, consider setting aside your twitter account while in a web room.
To meet some customers needs, we also understand the need for collaboration with networking during the webinar. For this occasion, a host has the option to choose to open the chat-pod within the web room for attendees to send private messages to one another, sharing ideas and connections.
Post Event
Often, in both in-person and virtual events, ideas need to be discussed to fully grasped. Allow your Event Moderator to push out a link to a private chat room that will allow the conversation to be continued beyond the presentation. Even if they are short introductions, its an important factor to consider when creating a virtual event.
When you choose to deliver your event online it doesn't mean you loose the ability to meet and collaborate with your peers while learning. We already know that webinars are one of the Best Ways to Deliver your Content, so don't let your audience miss the opportunity to learn more through networking.
Are you interested in learning more about how networking and webinars can go hand in hand? Click the button below to schedule a guided tour of BeaconLive today!