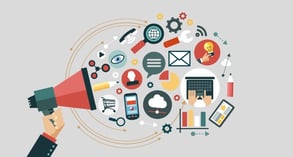 As if putting together a webinar content calendar wasn't challenging enough, identifying the best channels for webinar promotion is an additional distressing obstacle itself. There is never one clear path for reaching your audience when consumers move and switch platforms before we've even had the chance to learn about the next technology trend—leaving us in constant fear that what worked yesterday may not work the same way today. However, not all is so bleak and unpredictable; there are a number of tested methods that have stood the test of time and are important to securing your webinar's success. You can learn how to promote a webinar following these five simple steps:
Step One
One of the first steps a webinar provider will want to complete upon securing all the event details (speaker, topic and date/time) is creating a registration page. Make sure that your registration page allows registrants to add the event to their calendars, and to share the event on their own social networking sites.
Step Two
Create pre-event graphics for promoting your event on social media. Each social networking site has different dimension requirements for their images. Stick to these design specs to make sure your images are posting as clearly as possible.
Facebook = 1,200 x 630 pixels
Twitter = 1,200 x 675 pixels
LinkedIn = 1,104 x 736 pixels
Step Three
Send a segmented email to your (relevant) online subscribers, clearly stating why the event is worthy of their time (and money, if applicable). It's very helpful to include a bulleted list of the number of items the registrant can expect to learn during the webinar (people are motivated by benefits). Check out these 10 proven strategies for creating effective email invitations.
Step Four
Ask the speaker to share the event with their email and social media following; one of the benefits to collaborating with other industry leaders is gaining access to an audience that you may not have been able to reach before.
Step Five
Statistics show that the majority of attendees will register for a webinar within 24 hours of the live production. Take advantage of this by sending a final email invitation with "today" in the subject line.
Take your promotion strategy further by learning how BeaconLive brands your registration page, emails and login page to secure maximum exposure.
---